Tesla Vintners has been a landmark in Livermore for many years. Last  fall we decided to visit the Singing Winemaker again, only to be distracted away by the grand opening of Ehrenberg Cellars in the Tesla Vintners parking lot. The grand opening was a lot of fun, and as a result, we did not make it to the Singing Winemaker that day. On this day, we steeled ourselves against distraction. We were determined to make into the Singing Winemaker tasting room!
Our best intentions were nearly cast aside. To our surprise, the Tesla Vintners parking lot now not only serviced the Singing Winemaker and Ehrenberg Cellars, it now also served Pat Paulsen (yes, that Pat Paulsen) Vineyards. Sorely tempted, we press on to the Singing Winemaker tasting room, past the beautiful stained glass window, past the stoic, wooden statue, and finally into the calming and tastefully-decorated tasting room itself. Finally, we have arrived!
Our fortitude is immediately rewarded. As we start our "Sparkling Survey" we are serenaded by the famous singing winemaker, owner and wine maker Steve Powell. Steve is a rare double-threat: he makes amazing wines and has a major-label-quality singing voice. The tasting room is cleverly outfitted with a sound system that picks up Steve's guitar work wirelessly while his singing voice fills the room without need for amplification. What a great environment for tasting wine!
Back to the Sparkling Survey! We started with the California Sparkling, a nice, not too sweet sparkling wine that was ready for a Friday night by the fire. We learned that it also formed the base for three additional flavored sparkling wines! Our survey continued with a Peach Sparkling (a great balance of peach and grape), Raspberry Sparkling (a truly amazing nose!) and an Almond Sparkling (lots of almond notes). The crescendo of the survey (you're right, sorry) was an in-glass blend of Peach and Almond sparkling wines. Done with the Survey, now on to the still wines!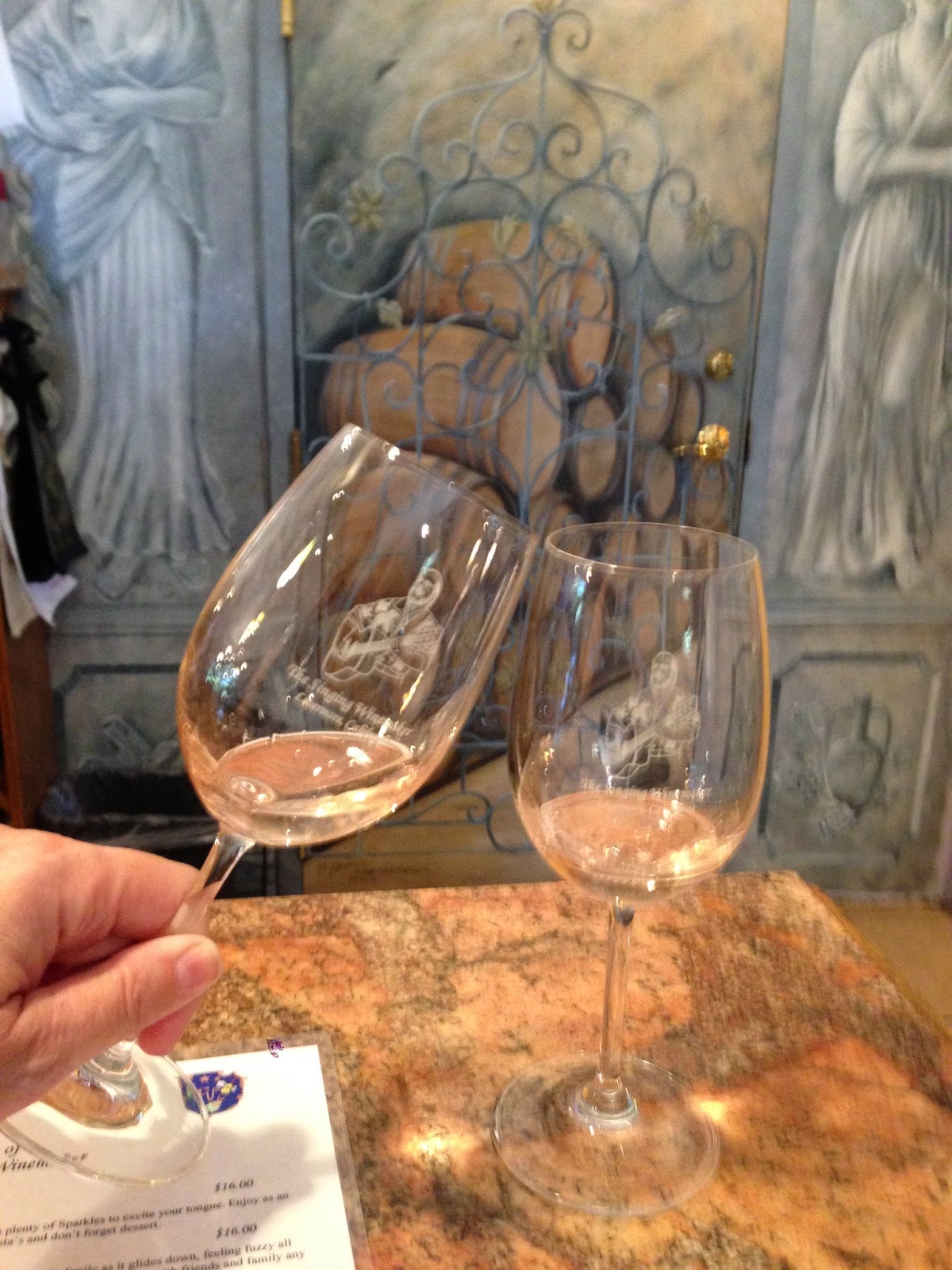 With Steve's acoustic rendition of "The Time of Your Life" as a wonderful background, we moved on to his Dolcissimo, a Cabernet Sauvignon blush created as "serenity on the palate." Next was a personal favorite, a bold Barbera with lots of fruit up front and a lasting finish. Another group favorite was the Zinfandel, with its engaging nose and great balance. We also enjoyed the Melody, as 50/50 blend of Malbec and Tempranillo. Surpisingly sweet with fun notes of fruit.
Steve hung up his guitar for a bit, and invited us to explore his ports. Yes, ports plural! We settled ourselves to appreciate the four (yes, four!!!!) ports on the tasting menu. We started with Karen's Kisses, named for Steve's wife. This is a classic, medium-sweet port with clean raisin notes and a dry finish. Next up was a Ruby Port, with berry and yellow raisin notes. This is a great "gateway" port for people who don't yet know that they love port.
The Con Amoré is Steve's classic tawny port. Bring on the chocolate and crackling fireplace! Wrapping up the port flight was a true Chocolate Port, with a true Hershey finish. Steve recommended adding a splash to vanilla ice cream. What an idea!
Happy people, great wine and wonderful music; what is not to like? We had a great time with the Singing Winemaker and friends! See you again soon!
---
About the Author
: John grills a mean steak and is always in the market for another wine fridge. Believes that if a winery has more than 10 employees, it's probably too big. Buys wine faster than he drinks it, but who cares?
---
It pays to subscribe!
We will send you a brief email whenever there's a new post, so you'll never miss an article. We promise not to be a pest. Unsubscribe any time you like. And, of course, we won't let ANYONE else use our subscriber list. By subscribing, you agree to our
Privacy Policy
.
So go ahead,
click here to SUBSCRIBE
!