What a beautiful Saturday! The last weekend before Labor Day "and the livin is easy" to steal a phrase. We don't feel like an outing and our pool is warm and welcoming. What to do? Of course, our first thought is to put together a back yard wine tasting experience. We seem to be able to bring home wine faster than we can drink it, so this is a good excuse to balance our inventory a bit, too. So let the day begin!

We started with a 2005 Contadino Pinot Grigio Vivace. This family favorite was first discovered at Trader Joes, where it was VERY reasonably priced. Sadly, the rest of the world discovered this wine shortly after we did, and the price skyrocketed. An amazing Pinot Grigio with just a hint of effervescence. We pick up a case every time we find it on sale, and this bottle had lurked in the back of the wine fridge, hence the extended vintage. The clear fruit notes dancing across the tongue on tiny bubbles; the perfect way to kick off our farewell to summer!
Once we had settled on a starting wine, a quick break for food ensued. OK, you're right, foods plural. Fried mashed potatoes with bacon, with a sun-roasted M&Ms chaser. Let's see: carbs, fats, sugar and chocolate. We've covered all the food groups, so we're ready to move forward.
The balance of the Pinot Grigio was handled well, as we retired to the pool. The summer's drought caused us to purchase a pool cover to reduce evaporation. To our delight, the water temperature shot up into the 90s. Nearly every day is swimming day, now. Today was no exception. A bit of Pinot Grigio in a acrylic glass, a "noodle" flotation assist and a good book; what else do you need for a relaxing afternoon? We admired the fruity bubbles of the Pinot Grigio as we enjoyed our floating. The wine sipping reminded us to put some wood chips made from wine barrels on some water to soak. Just a little something extra for tonight's dinner!
As the afternoon wore on, we shifted to red wines. First up was a 2009 Eagle Ridge Petite Sirah. Eagle Ridge is known for producing consistently great Petite Sirahs, and the 2009 vintage maintained that high standard. It showcased the fruit while avoiding the sharp edges that some Petite Sirahs can develop. Eagle Ridge consistently produces one of our very favorite Petite Sirahs, year after year. Plus, it paired well with our random array of appetizers!
The BBQ was lit, with the wood chips just starting to heat up. I prepared sliced potato packets with slivers of onion (note to self, make the onion chunks larger so that they don't disappear into the background). Judi whipped up her signature Bearnaise sauce so that it would have some time to rest before dinner. The day was working pretty well so far.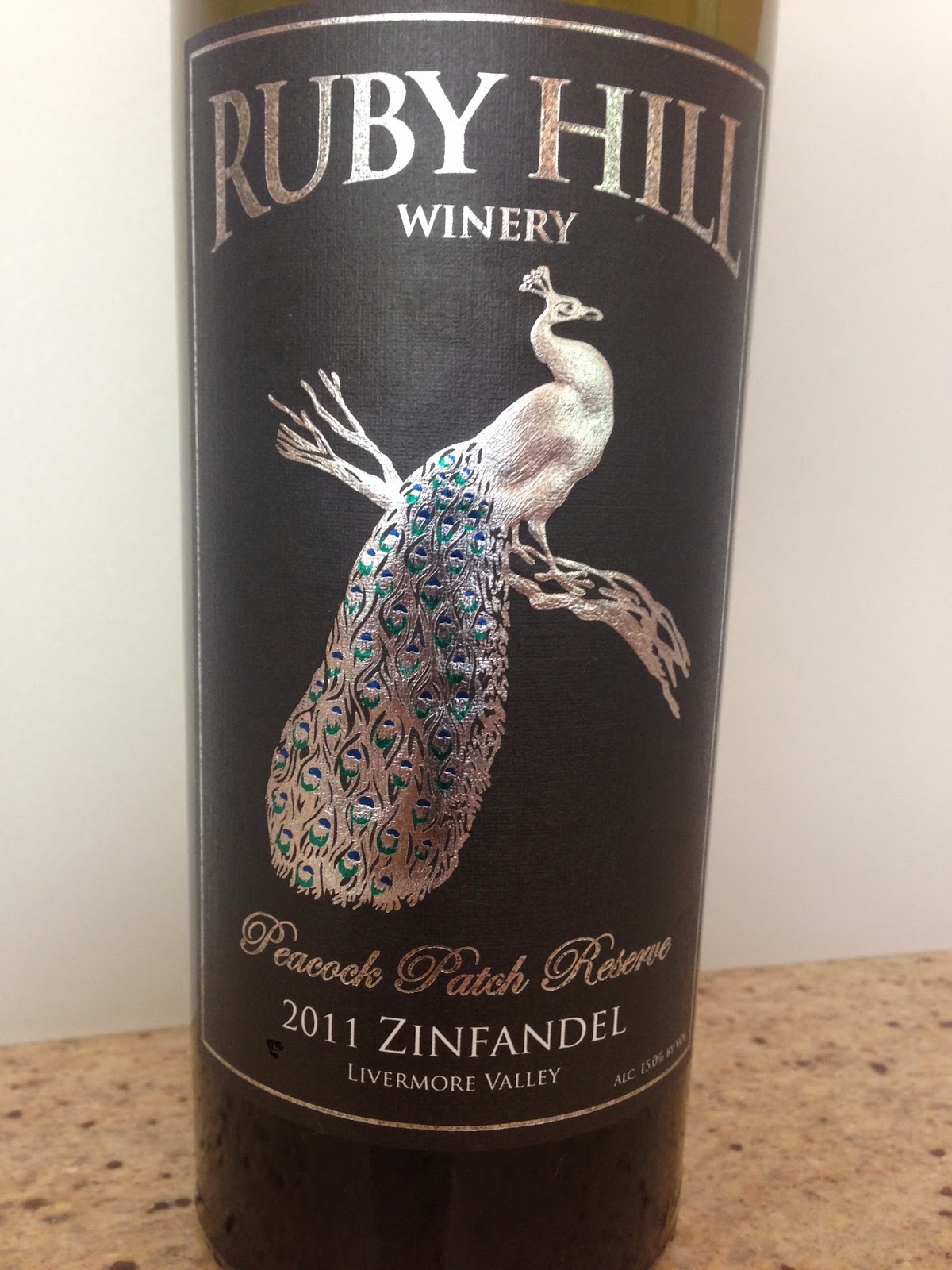 After the potato packets had been on the grill for 45 minutes, it was time to get serious about the steaks. A quick sear on both sides and then 6 minutes of indirect heat for each side. That also gave me time to put a quick sear on some romaine drizzled with olive oil and some spices. The wood chips were really producing some great smoke by then, so I was optimistic that we would get a nice smokey Merlot note on the meat.
While the meat rested, I opened a 2011 Ruby Hill Zinfandel. A favorite Zin in our household, this is a perfect complement to mid-rare steaks. It has a nice peppery start with a smooth, lingering finish. It seems to make the Bearnaise sauce pop a bit more, too.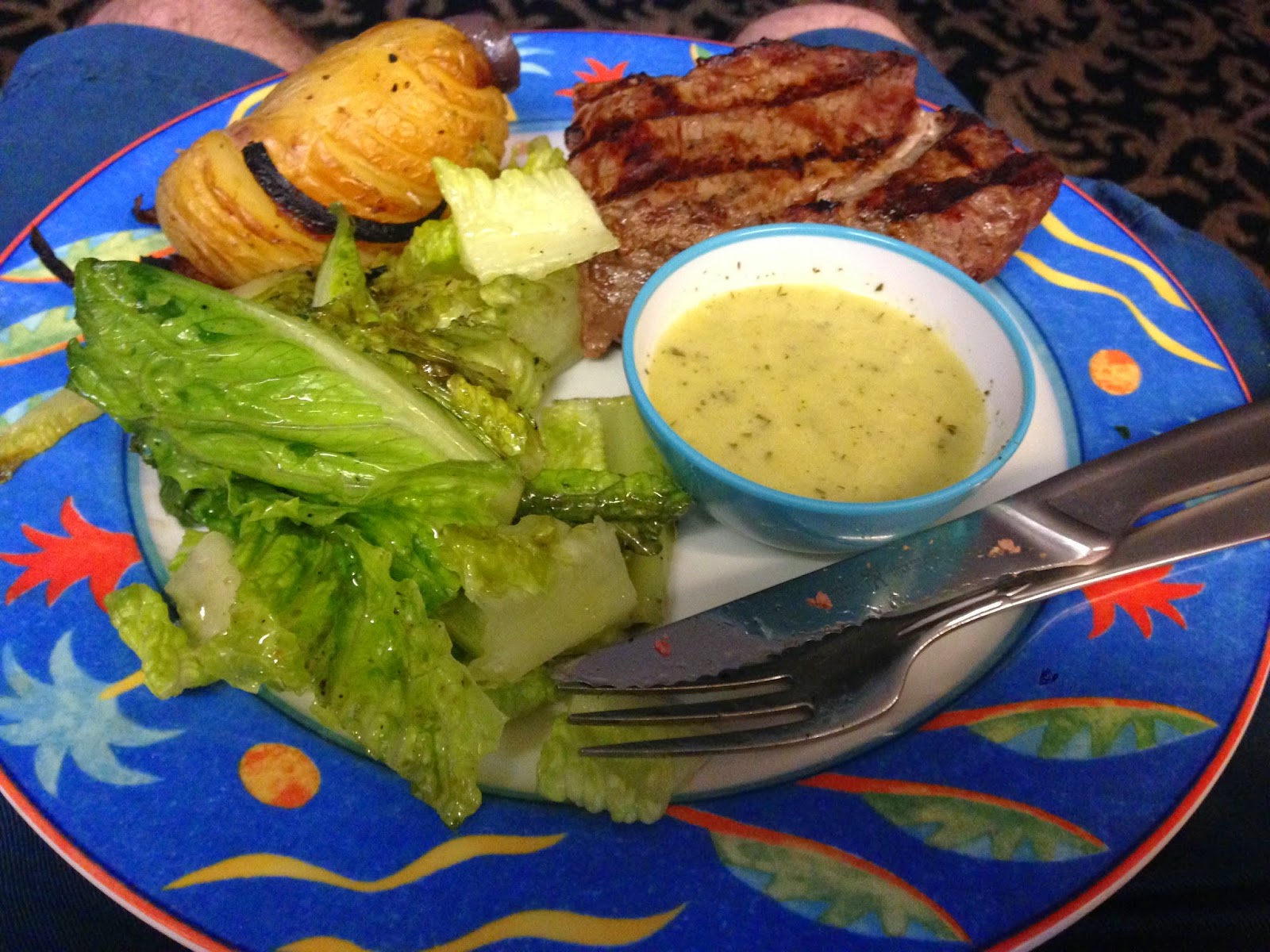 Dinner came together and it was time to sit down and enjoy it. What a festival of flavors! Savory beef, balanced by the piquant Bearnaise sauce. Crunchy romaine lettuce with just a hint of crispy edges, with the oils and spices forming a light but refreshing dressing. Even the potatoes served up well, albeit with scant support from the onion slices. Supporting it all was the zippy Zinfandel; holding its own without getting overbearing.
We finished up with blueberries for Judi and some of the last plums of the year from our tree for me, with everything balanced nicely with the last of the Zin. Sunset brought the cool breezes and some warm memories of our wonderful stay-at-home wine tasting day.
---
About the Author
: John grills a mean steak and is always in the market for another wine fridge. Believes that if a winery has more than 10 employees, it's probably too big. Buys wine faster than he drinks it, but who cares?
---
It pays to subscribe!
We will send you a brief email whenever there's a new post, so you'll never miss an article. We promise not to be a pest. Unsubscribe any time you like. And, of course, we won't let ANYONE else use our subscriber list. By subscribing, you agree to our
Privacy Policy
.
So go ahead,
click here to SUBSCRIBE
!