Ah, Labor Day, the formal end of summer! In Livermore, this is further commemorated with the Harvest Festival, presented by member wineries of the Livermore Valley Winegrowers Association. All day Sunday, participants could wine taste to their heart's content at 40 member wineries, all for $45. A great day for a great cause, but not our cup of tea (or glass of wine?). We let the wristband crowd have their fun on Sunday, and then we swooped in on Monday. The wineries were still hopping, but far below the level of Sunday. Even better, the limited Harvest Festival tasting menus were a thing of the past and the full menus were back in play. Taste on!
Our first stop was Eckert Estate Winery. Not only were there four (yes, FOUR) new wines to taste, approval had finally come through for the first in their line of distilled spirits, their Vodka. Not one, but FIVE amazing excuses for visiting Mike and Vickie Eckert.
We started with their new 2011 Dolcetto. A great wine for a BBQ, it started strong, with raspberry notes up front and a clove-inspired finish. We hope to have the discipline to lay this one down for 3-4 years, but chances are good that we will be back for more if we are actually going to have some to enjoy in 3 years.
We moved on to the new (NV) Ensemble. A favorite, year in and year out, this particular blend of Cabernet, Carignane, Zinfandel, Petite Sirah and Syrah kept the tradition strong. This edition floated over the tongue, with a wonderful balance of fruit, including hints of crasins (a cherry-raisin hybrid).
Next up was the 2011 Mezcla de Espana, a blend of 50% Grenache, 25% Carignane and 25% Tempranillo. A favorite from a previous release, this wine is perfect for an autumn BBQ. Not too assertive but not afraid of a spicy rub on a tri-tip.
The new 2012 Cabernet was next. Fruit forward and nicely balanced, this one is ready to drink now but not afraid of a few years in the racks. The Eckert Cabernet is really popular with our crowd because of the clear flavors and low tannin afterglow. We put a few of these in our case to take home. OK, full disclosure, we actually needed two cases to get everything out to the car. A typical problem with Eckert Estates.
Mike and Vickie prepared a special Harvest Cuvee for the weekend Festival. Mostly Malbec, but with 5% Zinfandel to add the little something extra. Fruity, jammy and fun with a kick! We decided to get six bottles for the house, made even more fun because it was a bottle-your-own event! If you haven't bottled wine yet, make sure to visit Eckert Estates for their next bottling event. The fun makes every bottle even more delicious!
We then moved on to the 2003 Decade. A dessert wine made from Cabernet grapes that was barrel aged for 10 years (hence the name). A lovely port-adjacent wine that's perfect for sipping by the fireplace, the taste was well worth the sad knowledge that a full 30% of the wine evaporated from the barrel during the 10 years. Hope the angels enjoyed it!
Next was the new Raspberry Rapture. Yes, this really made from raspberries, fermented and fortified with Mike's own brandy. One sip and we were off on a wild adventure of pairing ideas. Suggestions ranged from ice cream to cheesecake to waffles. Regardless of your pairing choice, you won't find a more delicious way to get your raspberry dietary allowance.
Last but certainly not least was the newest addition to Eckert Estates, the Artisan Spirits Vodka. Our group appreciates a broad range of vodkas, and we had been speculating about Mike's twist on vodka for months. We were not disappointed! Incredibly smooth, without the harsh edge that many main-line vodkas finish with. Each bottle was crafted with care, and the care really shows.
We completed our bottling and boxing and said our goodbyes to Vickie and Mike and headed off, an entire 100 yards to our next destination, Longevity Wines.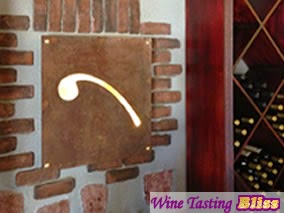 Longevity was recovering well from Sunday's crush of celebrants. Owner Debra Long (get it? Long, Longevity, right?) greeted us and started us off with their amazing 2013 Pink Pinot Grigio. The pink color was delivered by leaving the juice on the grape skins for a bit. Crisp and lovely, this Pinot Grigio has hints of pineapple and sourdough (yes, that's what I tasted) and a light lilt on the tongue that made us all wish we were celebrating the start of summer rather than its end. This one was first into the take-home bag.
We next tasted their 2009 Deb-Ru-Vee (you will notice a pattern to their names), a blend of 48% Syrah, 20% Grenache, 25% Mourvedre and 7% Petite Sirah. We called it delish. Lots of great fruit, well balanced with a smooth finish that called out for a steak and baked potato.
Our next blend was Press-Ton, a yummy Malbec and Cabernet Sauvignon blend named after the official tasting room dog. Much tastier than the dog (I only speculate), this blend will make an appearance at our house paired with the beef of the day and Judi's amazing bearnaise sauce. Several bottles came home with us.
The third blend was Philosophy (Debra's husband is named Phil, OK?) a blend of 60% Cabernet Sauvignon, 21% Merlot, 13% Cabernet Franc and 6% Petit Verdot. We found it to be a lovely and balanced wine, with the word "gentle" coming up more than once. Jam and dark fruit, but without the muddy finish that can sometimes result in this kind of blend.
We finished our visit with their 2010 Petite Sirah. We enjoyed the dark pitted fruit notes and a bit of spice. Possibly pair this with lamb? We said our goodbyes to Debra and her team and headed off into the sunset.
---
About the Author
: John grills a mean steak and is always in the market for another wine fridge. Believes that if a winery has more than 10 employees, it's probably too big. Buys wine faster than he drinks it, but who cares?
---
click here to SUBSCRIBE
!