After spending an afternoon learning an amazing amount about making champagne from Romain Mercier of Champagne Alaine Mercier and Sons, we had the pleasure of tasting their entire line of champagnes. That was pretty much the only way the day could have gotten better!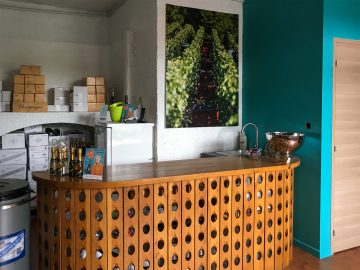 Learning is thirsty work. Romain Mercier had been so gracious with his time showing us every step in the process of making champagne, and we were full of gratitude and fully expecting to be done. But no! Romain led us to the tasting room, explaining that the room decor was in the middle of a full remodel. He got us set up around a table preset with champagne flutes. We had an amazing tasting experience before us!
We started with a unique formulation: their Brut Zero. The "zero" term means that no additional sugar is added in the dosage, that tiny bit of wine that is added to each bottle after disgorgement, just before corking. In most cases, some amount of sugar is added, which produces champagne somewhere along the sweetness scale, from Extra Brut (quite dry) to Doux (pretty sweet). Brut Zero is even more dry than Extra Brut, with the fruit shining through. This champagne was blended from 40% Pinot Meunier, 40% Pinot Noir, and 20% Chardonnay. It was also 100% captivating. The flavors of toast and figs danced across our tongues as we savored each sip. Romain told us that this champagne was aged on the lees for seven years to assure smoothness, and we were huge fans. We immediately put this on our purchase list.
Next up was their Brut Traditional, another blend of 40% Pinot Meunier, 40% Pinot Noir, and 20% Chardonnay. Aged for five years on the lees, we loved the strawberry and honey notes. This also joined our purchase list. Two tastes, two purchases. We were on a roll! We then tasted their Brut Prestige, a 100% Chardonnay champagne. Aromas of peach led to raspberries on the palate. 
Their Cuvée Emile was a unique champagne named in honor of great-grandfather Emile. Made from 100% Pinot Meunier, this lovely champagne showed notes of pear, passion fruit and mango, with a delicious plum finish.
We then tasted their Millésime 2013. The term Millésime means that this is a vintage champagne, using grapes from a single harvest, that displays unique characteristics that are not consistent with their typical champagnes. This vintage champagne amazed us with intriguing flavors of coffee and apricot that touched every bit of the tongue. Unique and memorable, to say the least.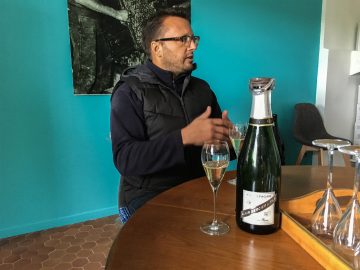 Our penultimate taste was their Brut Rosé, a blend of 75% Chardonnay and 25% Pinot Noir. Full of cinnamon and smoke, with fun floral notes dancing across the top, this champagne joined the other favorites on our ballooning purchases list. We concluded our tasting with their Cuvée Lucien, honoring grandfather Lucien. Grandfather aged his champagne in oak barrels, and this champagne enjoys the same treatment. Made from 80% Chardonnay and 20% Pinot Meunier. The fruit came through as clear as a bell, and the oak influence was equally clear. A distinctive and attractive champagne perfect for that special occasion.
The sun was approaching the horizon and it was well past time to let Romain get back to his responsibilities running his champagne house. We bought our champagne, inadequately expressed our gratitude to Romain and set off toward our next wine region. What's next? Just check back in a bit to find out!
---
About the Author
: John grills a mean steak and is always in the market for another wine fridge. Believes that if a winery has more than 10 employees, it's probably too big. Buys wine faster than he drinks it, but who cares?
---
It pays to subscribe!
We will send you a brief email whenever there's a new post, so you'll never miss an article. We promise not to be a pest. Unsubscribe any time you like. And, of course, we won't let ANYONE else use our subscriber list. By subscribing, you agree to our
Privacy Policy
.
So go ahead,
click here to SUBSCRIBE
!