The champagne region of France has been on our wish list for years! At long last, we finally made it and all of our anticipation was about to be fulfilled. Our first stop on our tasting tour: the champagne house of Guy de Chassey.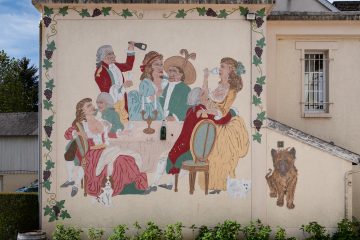 Our wine tasting tour of France began, quite appropriately, in the Champagne region centered around the towns of Reims and Epernay. After months of planning, we had a very complete list of champagne and wine producers for every step along our tour. On our first day in the region, we set out on the "Champagne Trail" and quickly arrived at our first destination, the champagne house of Guy de Chassey. We parked and made our way to the tasting room, taking in the enormous mural along the way. Any dregs of jet lag were forgotten. We were about to taste some REAL champagne!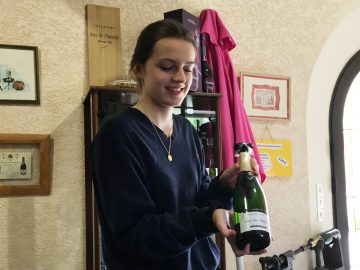 We entered the tasting room and met wine guide Aurélie. She welcomed us warmly (in charming English) and got us set up with champagne flutes as we settled in around a lovely wooden table. Aurélie shared that she was interning at Guy de Chassey while studying wine marketing at the University. The array of champagne bottles that surrounded us gave us a hint of the array of tastes that were in our future. It was time to get serious about our first champagne tasting!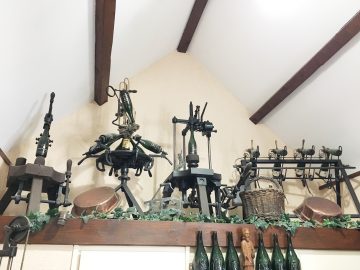 We learned that Guy de Chassey manages 9.5 hectares (about 23.5 acres) of vineyards that have been in the family for seven generations. These vineyards have earned Grand Cru and Premier Cru designations, indicating grapes of the very highest quality. As Aurélie filled our glasses with our first taste, we knew that great things were ahead.
We began with their Brut Cuvée Euphrasie (a Premier Cru), which Aurélie said was new this year. Described as "for the women" we found it delightful, fresh and fruity, a perfect "welcome to our home" champagne. We next tasted their Premier Cru Extra Brut. A Blanc de Noirs, meaning that it is made from 100% Pinot Noir, we loved the yeast-free lemon tart notes, with a crisp, dry finish. Another great champagne!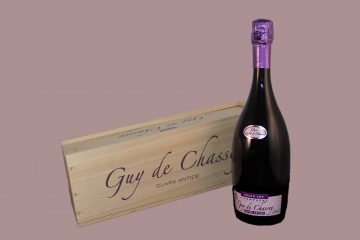 We next tasted their Brut Cuvée de Buretal, a Grand Cru, indicating the highest possible quality of fruit. A blend of 70% Pinot Noir and 30% Chardonnay, we enjoyed a less tart, almost nutty flavor, with a hint of yeast. The tiniest of bubbles, in great proportion, danced across our tongues. This was an immediate favorite.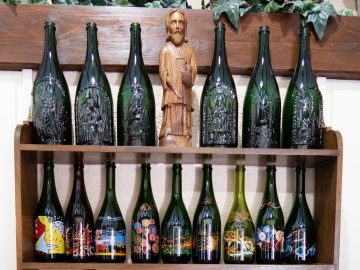 Their Brut Cuvée Réservée Nicolas D'Olivet another Grand Cru, jumped to the top of our favorites list. Named in honor of grandfather Nicolas, this blend of 60% Pinot Noir and 40% Chardonnay delighted with raspberry and lemon zest notes that begged for another sip. Our final Grand Cru was their Cuvée Antide. A 50/50 blend of Pinot Noir and Chardonnay, this champagne spent some quality time in oak barrels, and the flavor benefited from that experience! Complex layers of fruit led to a long, almost smoky finish. This was the single bottle of wine that was chosen to return with us to California!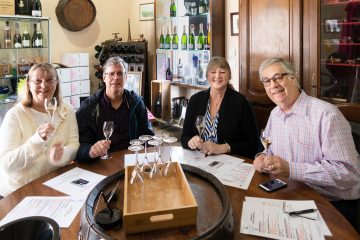 We finished our tasting with their Premier Cru Brut Rosè. Aurélie said that she could really "taste the pink" and we agreed. The blush color was achieved by adding still Pinot Noir wine to the 50/50 Pinot/Chard sparkling to deliver a slightly sweet and fruit-forward champagne. A champagne for Pinot lovers to fall in love with! We purchased a shocking amount of champagne and thanked Aurélie for all of her hospitality. Our exploration of the champagne trail was off to a great start!
---
About the Author
: John grills a mean steak and is always in the market for another wine fridge. Believes that if a winery has more than 10 employees, it's probably too big. Buys wine faster than he drinks it, but who cares?
---
It pays to subscribe!
We will send you a brief email whenever there's a new post, so you'll never miss an article. We promise not to be a pest. Unsubscribe any time you like. And, of course, we won't let ANYONE else use our subscriber list. By subscribing, you agree to our
Privacy Policy
.
So go ahead,
click here to SUBSCRIBE
!