Deep in the heart of the champagne region of France is an amazing boutique producer of amazing champagnes. We recently had the chance to meet the owner/winemaker at PHAL B de Beaufort Champagne and taste some of her incredible creations.
We visited the town of Bouzy, just outside of the champagne centers of Reims and Epernay. Bouzy is frequently mentioned in France tour books as a great place for tasting champagnes. With our love for small producers, we put Bouzy at the top of our tour list. We had done our homework on places to tour, but hadn't learned one critical fact: France closes firmly for lunch at noon and does not reopen until 1:30. we walked the main street of Bouzy, but found every champagne house wheeling their gates closed. It looked like we were out of luck.
We had knocked on a lot of doors, rung a lot of bells, all without a response. Imagine our delight when we were warmly welcomed into the tasting room at PHAL B de Beaufort. We met owner/winemaker Brigitte Beaufort, who explained that she was happy to open for us, although she would need to step away occasionally because she had a lot of food cooking in the other room. What a kind and generous offer!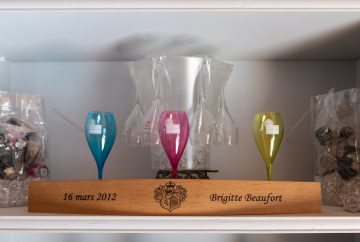 As Brigitte poured her 2011 Grand Cru Brut, she explained that her champagne house was founded in 2008 and now produced about 6,000 bottles a year. An IT analyst by trade, she decided to change her career following the sad passing of her husband. She went back to school to learn wine making and PHAL B de Beaufort was born. The name of her winery combined the initials of her son (PH) and daughter (AL), plus her own initial (B). With the number of Beauforts making champagne in the area, finding a unique name for her winery took that level of creativity.  Her Brut, a blend of 75% Pinot Noir and 25% Chardonnay, was fruit forward and nuanced. Brigitte explained that this champagne spent five years on the lees, delivering wonderful layers of fruit. We were big fans!
Her 2010 Grand Cru Brut was similar but different, with a teasing hint of lemon meringue and a lingering zesty finish. We next tasted their 2012 Blend Rosé. Brigitte explained that most French rosé champagnes were made by adding Pinot Noir still wine (called "Bouzy rouge") to clear champagne. Her rosé was 86% Chardonnay and 14% Bouzy rouge. We loved it! The fruit dancing across the palate on a layer of tiny bubbles made fans of all of us. We compared it with a 2011 Rosé, made with 12% Bouzy rouge. We enjoyed the green pepper and thyme start, leading to a complex and beautiful cascade of fruit and a wonderful finish.
Our final taste was very special: her very first cuvée, from very old vines. This 2009 Extra Brut Grand Cru was blended from 80% Pinot Noir and 20% Chardonnay. The intensity and nuance of the fruit was incredible! A great way to complete our tasting and a true salute to the winemaking wizardry of Brigitte Beaufort. We purchased an armload of champagne, thanked Brigitte for her incredible hospitality and wished her luck with the big meal in progress in the kitchen. Sometimes happy happenstances result in the very best outcomes!
---
About the Author
: John grills a mean steak and is always in the market for another wine fridge. Believes that if a winery has more than 10 employees, it's probably too big. Buys wine faster than he drinks it, but who cares?
---
It pays to subscribe!
We will send you a brief email whenever there's a new post, so you'll never miss an article. We promise not to be a pest. Unsubscribe any time you like. And, of course, we won't let ANYONE else use our subscriber list. By subscribing, you agree to our
Privacy Policy
.
So go ahead,
click here to SUBSCRIBE
!