Art comes in many forms, and many times combining art forms results in a whole that is greater than the sum of the parts. Such was the case when Mumm Napa welcomed the photographic artistry of Todd Hido to their gallery.
The Fine Art Photography Gallery at Mumm Napa is best known for their collection of Ansel Adams photographs. We were honored to attend the artist reception that welcomed Todd Hido to the gallery. In advance of the event, we learned that Todd Hido's work has appeared in Artforum, Vanity Fair, the New York Times Magazine and Wired, as well as the permanent collections of the Getty Center, Los Angeles; Whitney Museum of American Art, New York; Solomon R. Guggenheim Museum, New York; San Francisco Museum of Modern Art; and Los Angeles County Museum of Art. The work is represented by Casemore Kirkeby, a San Francisco gallery founded by Julie Casemore and Stefan Kirkeby.
We arrived at Mumm Napa fashionably early and were directed to a check-in point followed by some friendly Mumm staff pouring both their Brut and Rosé sparkling. The evening was already off to a great start! We walked down to the lower patio to find tables and chairs arranged to offer some great views of the valley in the slanting sunshine. As an early arriver, we had our choice of seating. Score!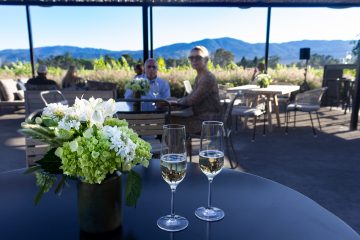 Although it was a very warm evening (around 100o) we had crisp, dry sparkling in our glasses and amazing vistas before us. We spent some time analyzing the mid-summer growth of the nearby grape vines (we have no expertise whatsoever) and people watching. The friendly Mumm staff roamed among the tables continually, making sure that everyone's glasses remained full.
We sipped our sparkling and welcomed another couple to our table. As we got to know them a bit (Napa locals, big fans of Mumm sparkling) we were offered a nice variety of hors d'oeuvres, by the folks at Smoke catering. The night just kept getting better, and the reception had hardly started.
In short order, we were welcomed by Mumm management and then gallery owner Stefan Kirkeby, who introduced the reason we were all there: Todd Hido. Todd thanked us for attending and suggested that his detailed comments would be much more contextual after we had seen his work. He invited us to join him as he walked up the pathway to the gallery.
We made our way up to the gallery, excited to see the installation. Here is just a bit of what we saw:






We walked through the gallery, taking in each photograph in turn. Todd's ability to capture movement in a still image was captivating. Many of the photographs were from Northeast Ohio, where both we and Todd grew up. The snow scenes were quite evocative, creating a visceral reaction in both of us. Scars of a Cleveland winter never really heal. Todd was very gracious, taking time to speak with each attendee. We found him to be extremely charming and engaging, especially when comparing notes on life in Ohio.
Once everyone had viewed the exhibit, we all retired to Mumm's upper patio area. Next up: more sparkling wine, more amazing sunset views, and an opportunity to get a signed copy of Aperture's 2015 chronological survey Intimate Distance. We snagged a comfy, padded couch facing the vineyards and distant mountain ridge. Fine wine, fine views, and best of all, fine art. Thank you Mumm Napa and Todd Hido!
---
About the Author
: John grills a mean steak and is always in the market for another wine fridge. Believes that if a winery has more than 10 employees, it's probably too big. Buys wine faster than he drinks it, but who cares?
---
It pays to subscribe!
We will send you a brief email whenever there's a new post, so you'll never miss an article. We promise not to be a pest. Unsubscribe any time you like. And, of course, we won't let ANYONE else use our subscriber list. By subscribing, you agree to our
Privacy Policy
.
So go ahead,
click here to SUBSCRIBE
!