Success in one field of endeavor does not guarantee success in another. In one case, though, success in the fast-paced, high stress world of Hollywood entertainment led to equal success in the mellow, measured world of Napa wine making. We're talking, of course, about Rich Frank and Frank Family Vineyards.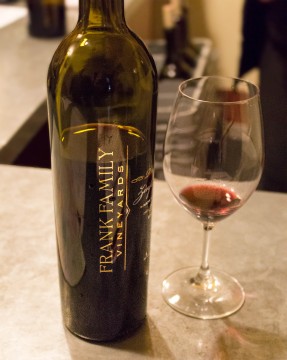 After a full and rewarding day of wine tasting, we had time for just one last stop. By unanimous acclaim, we chose Frank Family Vineyards for our closing act. With darkness falling, we made our way to a tasting room that could be mistaken for a luxurious beach-front cottage. Our group was directed to one of the several tasting rooms, where we met our wine guide, Pam. She made us feel welcome and set us up for our tasting as she told us a bit about the winery and its history. The tasting flight consisted of a 2014 Lewis Vineyard Reserve Carneros Chardonnay, a 2014 Chiles Valley Reserve Zinfandel, a 2013 Rutherford Reserve Cabernet Sauvignon and a 2013 S&J Vineyards Reserve Petite Sirah. One glance at the tasting menu told us that we were in for a good time.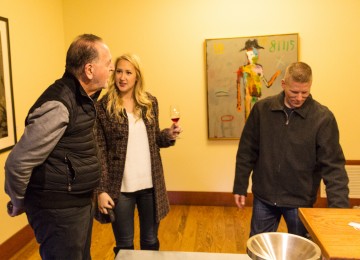 As we were enjoying the surprisingly zippy Chardonnay, we were joined by none other than Rich Frank, patriarch of Frank Family Vineyards. Rich had a stellar first career in entertainment before taking on operating a winery. The list of his senior management positions is staggering: President of the Paramount Television Group, President of Chris Craft Television, co-founder of the USA Network and President of Disney Studios. He remains active in the business as the Vice Chairman and Executive Board Member of the American Film Institute.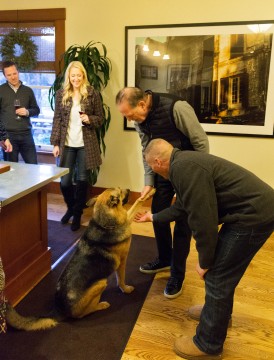 Rich was soon joined by a real scene-stealer: Rich's dog Riley. As we sipped on an assertive Zinfandel, Rich put Riley through his paces. A born performer, Riley charmed everyone present, bringing back that age-old question, "Dad, why can't we get a dog?" Some questions just don't have good answers under every circumstance, and this was one of those circumstances. Thank heavens there wasn't an animal rescue operating in the next room, or the day could have turned out very differently! Eventually, Riley heard new wine tasters in the next room who were not yet adoring fans and set off to remedy the situation. That left us to our final tastes, their incomparable Cabernet Sauvignon and the velvet-smooth Petite Sirah.
So to recap: educated by wine guide Pam, dazzled by founder Rich, charmed by canine host Riley, what was left? Just expressing our thanks and buying some bottles to bring home! What an amazing tasting experience!
---
About the Author
: John grills a mean steak and is always in the market for another wine fridge. Believes that if a winery has more than 10 employees, it's probably too big. Buys wine faster than he drinks it, but who cares?
---
It pays to subscribe!
We will send you a brief email whenever there's a new post, so you'll never miss an article. We promise not to be a pest. Unsubscribe any time you like. And, of course, we won't let ANYONE else use our subscriber list. By subscribing, you agree to our
Privacy Policy
.
So go ahead,
click here to SUBSCRIBE
!