A day of wine tasting requires planning, stamina, hydration and lots of food. A recent sparkling wine tour brought us to a great place for a casual picnic lunch: the grounds of V Sattui Winery.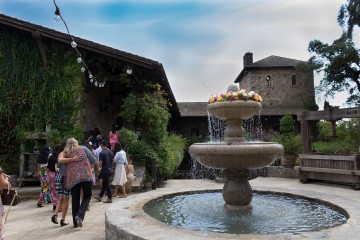 Eating in Napa is a feast-or-famine situation. Feasting at gastronomic icons like Mustards or Bodega can be amazing, assuming that you can get a reservation and you've got some room in your credit limit. We tend to focus our food funds on dinner and try to eat lunch on the cheap. Dining al fresco with a picnic lunch is perfect! Fresh from an amazing tasting of sparkling and Pinot Noir at Domaine Carneros, we were ready for some lunch.With the combination of beautiful grounds, ample wine selection and delicious meals to order, V Sattui was a wonderful solution to our lunchtime conundrum.
We enjoyed surprisingly good parking karma (credit the clean living) and streamed into the winery behind two bachelorette parties who were all having a hilarious time. We quickly got our bearings and jumped into line to order some hot lunch food while scouting parties went ahead to put down our picnic blanket (don't leave home without it) and purchase some wine. Divide and conquer, that's our strategy. The food offerings were diverse and reasonably priced (especially for Napa) and prepared to order. In no time, all of us completed our assigned tasks and converged on our blanket.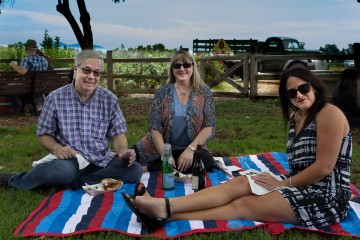 We dined on salmon, rustic pizza, and lovely hot sandwiches. The red wine blend and the sparkling water kept us happy and hydrated (in that order). We soaked up the sunshine, did some people watching and relaxed. We were at peace with the world! Fully sated, we packed up and set off for our next wine tasting appointment.
Check back soon to see where we went next!
---
So have we mentioned the fun things we have up our sleeves for our wonderful subscribers? Join our wineless wine club! It's free, you'll learn of our new articles the day they're published, and we will soon give you access to exclusive content. So go ahead, click here to SUBSCRIBE!