With the autumn grape harvest in full swing, visiting wineries is even more wonderful than usual! On this sunny Napa afternoon we chose to drop in at Bouchaine Vineyards to check out their latest wines.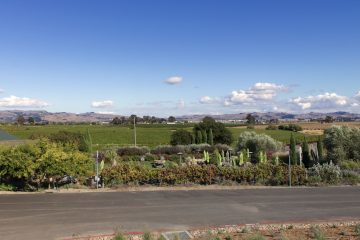 After an amazing tasting at Davies Vineyards, we had lunch at Bistro Don Giovanni (recommend!) and drove to Bouchaine. Located down a long rural road, it is actually easy to find: just when you think you have taken a wrong turn, the winery is right there! Surrounded by vineyards and rolling acreage out to the horizon, it is difficult to imagine a better setting for a winery.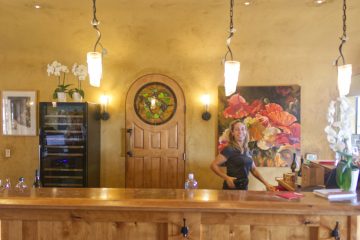 The Bouchaine tasting room is beautiful! The indoor space is bright and happy, awash in sunshine yellow tones and light woods. Fascinating lighting and custom artwork in every direction makes the room a visual feast. There is a long tasting bar with padded stools for tasting that can handily serve multiple groups of tasters. And that is just the indoor space! The outdoor space is even more grand, with clusters of padded chairs and couches with tables. The wine guides shuttle wine bottles between groups of tasters, keeping track of everyone's progress through the tasting flight. Incredible.
We checked in at the bar in the main tasting room and made our way outside to choose a table for our tasting. We wanted to get every bit of enjoyment out of the temperate weather before it was gone. Since we were visiting mid-week, there were plenty of open seating groups available, with plenty of shade for those so inclined. We met wine guide Tanya, who set us up for our tasting as we settled into the comfortable cushioned seats and noticed all of the wonderful new seating arrangements that had been installed since our last visit.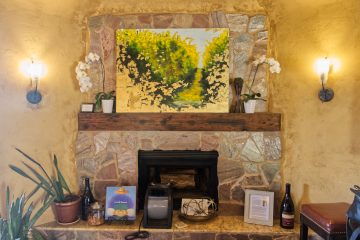 Tanya started us with their 2018 Rosé Vin Gris of Pinot Noir. The dry, fruit forward flavors, led by fun melon notes, reminded us that we had brought raspberries to snack on while we tasted. Although summer was waning, this rosé could extend the season single-handedly. We next tasted their 2017 Swan Clone Estate Pinot Noir. The strawberry and kumquat notes floating over a buttery mouth feel, leading to a mildly tannic finish made friends all around! Their 2016 Dijon Clone Estate Pinot Noir was strikingly different from the Swan clone but no less delicious. Leading with elderberry and black cherry with black pepper on the finish, this wine jumped onto the Take Home list.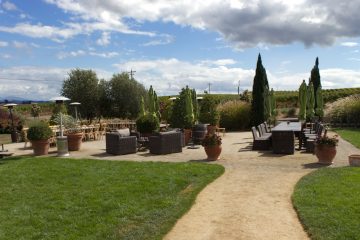 Tanya next poured their 2016 Gee Vineyard Pinot Noir. The fruit is from their neighbor's vineyard and once again this wine stands out from the rest. We loved the lively cherry aromas and compact, intense slate and fruit flavors with a tannic and slightly bitter finish. Perfect for pasta and creamy meals. We then moved to the Chard side of their menu, with their 2014 Crescendo Chardonnay, full of intriguing oaky and dusty elements of pitted fruit. What a fun tasting surprise!
Tanya took us back to the Pinot side again for our final taste with their 2017 Pommard Clone Estate Pinot Noir. She mentioned that Thomas Keller was so impressed by barrel tastings of this wine that he ordered a substantial portion of their stock for his nearby restaurant. Luckily there was a bit left, so we were able to enjoy the tart, layered fruit with a crisp, dry finish. Perfect for the Michelin star meal of your choice!
As we prepared to leave, our friends collected their (several) wine club packs. Tanya mentioned that their dazzling new tasting facility at the top of the ridge line would be open for customers in mere weeks. What a great excuse to come back again!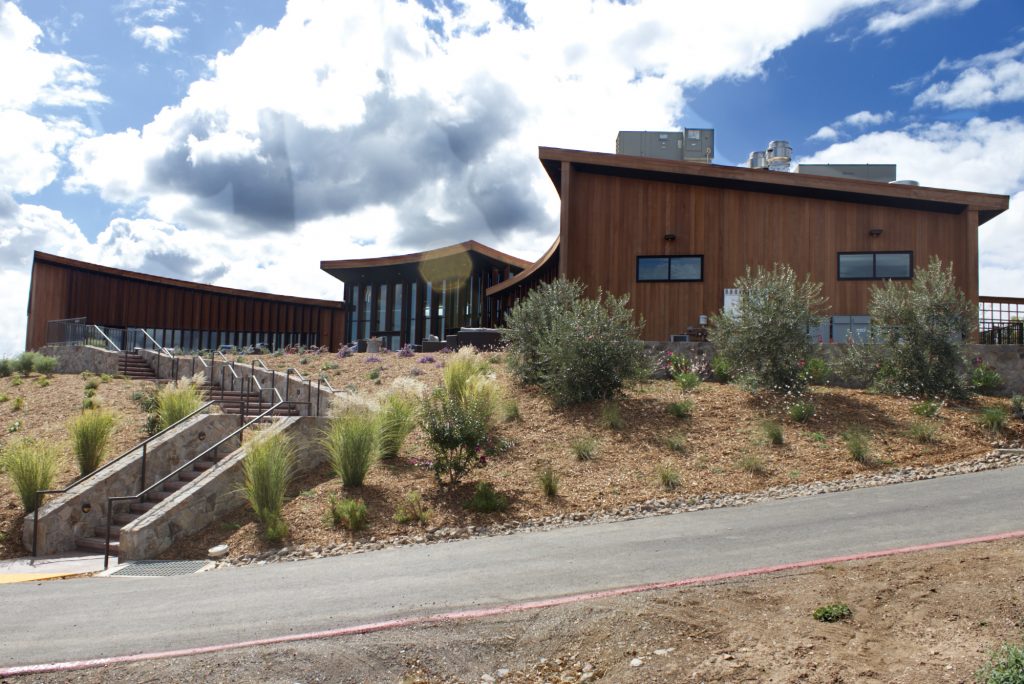 ---
About the Author
: John grills a mean steak and is always in the market for another wine fridge. Believes that if a winery has more than 10 employees, it's probably too big. Buys wine faster than he drinks it, but who cares?
---
It pays to subscribe!
We will send you a brief email whenever there's a new post, so you'll never miss an article. We promise not to be a pest. Unsubscribe any time you like. And, of course, we won't let ANYONE else use our subscriber list. By subscribing, you agree to our
Privacy Policy
.
So go ahead,
click here to SUBSCRIBE
!