As the days get shorter and the evenings get colder, we can take comfort in the knowledge that another season of wine club release parties is upon us. The first party on our calendar: Ruby Hill Winery!
The calendar might say "mid October" but the weather was ignoring that and delivering a beautiful, sunny, warm Saturday. As we drove in we could see that there was a wedding about to begin at the adjacent Casa Real event space, but there was so much parking space available that there was no problem finding an open spot near the winery.
We entered to find the tasting room area abuzz with happy members (and a fair number of envious non-members). The check-in process at Ruby Hill for release parties is second to none: there are several employees checking people in and attaching wrist bands. That check-in also signals other staff to pull together our wine release package so that it will be waiting for us when we leave. A very efficient and friendly way to take care of the administrative side of a wine club!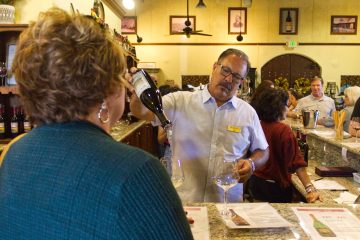 The tasting room, once you get past the intriguing wine-related knickknacks for sale (which has been a source of more than one holiday gift), is built around a massive, squared-U-shaped granite tasting bar. The base of the U and one side leg are for non-member tasters, and there is no issue having a tasting while a club party is in full swing; there are plenty of wine guides for everyone. The left leg of the U and the patio beyond it are reserved for club members. We made our way past the dividing railing and collected our first two tastes, their Reserve and a Jewel Collection Chardonnay. Both were delicious, and we were evenly split on which Chard was our favorite.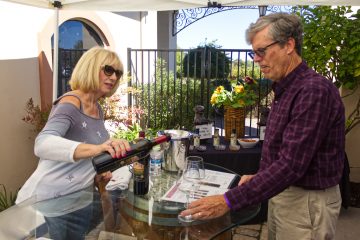 With such a beautiful day before us, we decided to venture out to the members-only patio. We found a table and quickly negotiated the shade/sun seating arrangements. We collected a taste of the first of our club releases, their 2015 Cabernet Sauvignon Reserve. Following dusty aromas, this wine delivered an incredibly smooth mouth feel and notes of dark cherry and vegetation. Although drinkable now, we made a note to cellar this lovely wine for 3-5 years. Given the embarrassingly overstocked situation in our wine collection, this restraint will not test us.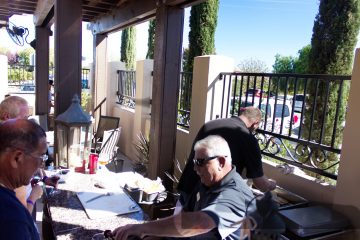 We next tasted their 2016 Cielo Viola (the other wine in our club pack). Super smooth and supple, with layers of fruit and a gentle finish, it was the perfect counterpoint for their quesadilla with spicy dipping sauce. Well done! We obviously go to these parties to check out the wine, but Ruby Hill never misses a chance to impress us with their food pairings! And their ability to serve the unpredictable waves of guests without forming long lines is a skill that other wineries could strive to match.
Then we were off to the barrel room! We found that they were pouring several wines that we loved. First up was their 2017 Petit Verdot. We adored everything about this wine: the chocolate hints on the nose, the beautiful layers of fruit dancing across the tongue, and the gentle finish. We learned that this wine was not produced in great volume, so we immediately put two bottles on our Take Home list. We also tasted their 2016 Cabernet Sauvignon. The nice balance of fruit, acid, and tannin made friends around our table. This wine will be unstoppable in a few years!
After we had tasted (and re-visited in some cases, we won't lie) everything that was being poured, we gave up our table for the next set of club members. We purchased our bottles of Petit Verdot and several magnums of their 2016 Patchwork red blend to pour for Thanksgiving. Our club pack was waiting for us at the exit, so no time was wasted standing in a line. Once again, Ruby Hill Winery put on a great release party!
---
About the Author
: John grills a mean steak and is always in the market for another wine fridge. Believes that if a winery has more than 10 employees, it's probably too big. Buys wine faster than he drinks it, but who cares?
---
It pays to subscribe!
We will send you a brief email whenever there's a new post, so you'll never miss an article. We promise not to be a pest. Unsubscribe any time you like. And, of course, we won't let ANYONE else use our subscriber list. By subscribing, you agree to our
Privacy Policy
.
So go ahead,
click here to SUBSCRIBE
!