We believe that the best wine is the wine that you are enjoying right now. Nonetheless, it is handy to have some trusted opinions about wine to guide us as we decide what to taste next. We recently checked in with Dante Robere Vineyards to taste their latest Wine Enthusiast award winners.
After enjoying a Ruby Hill Winery's club party, we drove a few miles to Dante Robere Vineyards. We had learned from their email newsletter that Wine Enthusiast had recently awarded top marks to some Dante Robere new releases, and we were excited to taste them for ourselves. To be honest, we are always excited to taste at Dante Robere, but this made a great additional justification. We wanted to be sure that Wine Enthusiast got it right!
We arrived to find co-owner Dan Rosenberg on the job, talking with guests, pouring wine, and generally making sure that everyone was enjoying their experience. Our normal strategy when tasting at Dante Robere is "taste whatever Dan pours" and we have never been disappointed. In this case, we suggested focusing on the recent Wine Enthusiast winners and Dan immediately agreed. He started us with their 2017 Mourvedre, which received 91 points. A gentle and fruit-centered wine, we found it really drinkable right now, a surprise for such a relatively young wine. Wine Enthusiast: well done.
We next tasted 93 point winner 2016 Zinfandel. Leaping to the top of our Take Home list, we loved the luscious aromas, deep plum flavors, and a finish of chocolate and tobacco. A perfect wine for Thanksgiving! Things got even more delicious with the next winner, their 2016 Cabernet Sauvignon. Crafted from grapes from the Thompson and Thatcher Bay vineyards in Livermore, we loved the forest nose and cherry notes on the tongue. Wine Enthusiast loved it too, awarding it 93 points. Another wine for our Take Home list! The next tasting was immediately pronounced as "refreshing" by Judi, their 2016 Element 116. Earning 91 points, we enjoyed the floral aromas leading to flavors of Bing cherries and lemon zest. Different from the norm, this is one amazing wine.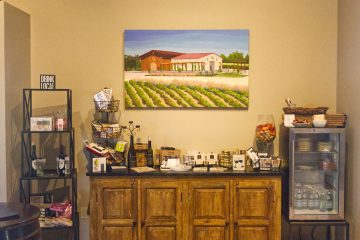 Finishing up the Wine Enthusiast awardees was their 2016 Petite Sirah, which earned 93 points. An easy drinking Petite, we appreciated the fruit-forward approach that led to a peppery, smokey finish. We couldn't say no to one last taste, their 2016 Suky's Syrah. Named in honor of their gone-but-not-forgotten winery dog, we loved everything about this wine. From the dancing aromas to the pepper and plum flavors and coffee finish, we put one of these bottles on our now creaking Take Home list.
Tasting complete, we purchased our long list of wines and congratulated Dan on his latest awards. Now to think of an excuse to come back and taste again!
---
About the Author
: John grills a mean steak and is always in the market for another wine fridge. Believes that if a winery has more than 10 employees, it's probably too big. Buys wine faster than he drinks it, but who cares?
---
It pays to subscribe!
We will send you a brief email whenever there's a new post, so you'll never miss an article. We promise not to be a pest. Unsubscribe any time you like. And, of course, we won't let ANYONE else use our subscriber list. By subscribing, you agree to our
Privacy Policy
.
So go ahead,
click here to SUBSCRIBE
!