Paso Robles is one of our favorite wine tasting areas, but it had been far too long since our last visit. It took years for us to get our schedules aligned, but we finally made it back. We started with a favorite: Adelaida Vineyards!
Adelaida Vineyards sits on top of a mountain ridge, which makes for amazing views, but also a long winding driveway. As we approached, we could see a crew harvesting walnuts from the grove of trees that were planted on either side of the roadway. As we approached the winery, we had a sense of confusion, because it looked nothing like our memories from our previous visit. Ever ready for new wine tasting experiences, though, we pressed on, climbing the exterior stairway to the tasting room above.
We entered the tasting room to find a beautiful central space, with several smaller, more intimate tasting rooms on either side. Wine guide Alan greeted us and invited us to taste at the granite-topped bar or choose any of the numerous seating areas for a more relaxed tasting. We had a challenging schedule of winery visits in front of us, so we gratefully took our place at the seating cluster in front of a fireplace that was taking the chill out of the mid-day air.
As we settled in, we met met wine guide Andrew, who said that he would be leading our tasting flight. We started with their 2018 Rosé, a blend of  six estate-grown Rhone varietals. As we enjoyed the strawberry and Granny Smith apple notes, we learned from Andrew that this tasting room facility had been built after our previous visit. The previous tasting room, just behind this new building, was now used for club members and Signature wine tastings. It was reassuring that we had not completely mis-remembered our previous visit!
As we sipped on a crisp and refreshing 2018 Picpoul Blanc, we learned a bit about the history of Adelaida Vineyards. Don and Elizabeth Van Steenwyk purchased Hilltop Ranch, planted in several hundred acres of walnut trees,  in the late 1970s. They later purchased the adjacent Viking Ranch to add more walnut orchards. In 1991, local winemaker John Munch joined the Van Steenwyks as their winemaker. That year Viking Ranch was planted in Cabernet Sauvignon and Syrah. A few years later, they purchased Hoffman Mountain Ranch, already developed as vineyards by Dr. Stanley Hoffman. In the 2000s, they added Bobcat Crossing Estate Vineyard to add Touriga Nacional, Tinta Cão and Sousao grapes and Michael's Estate Vineyard for Zinfandel. Jeremy Weintraub came on board as head winemaker in 2012 and continues to this day.
Then we were on to the reds! We started with their 2017 Pinot Noir. This lead off our Take Home list, featuring wonderful fruit with notes of anise, clove, and grapefruit zest with a plummy finish. Their 2016 Anna's Red, a blend of 38% Mourvèdre, 31% Greanche, 16% Cinsaut, 10% Syrah, and 5% Counoise, was nicely balanced and versatile, perfect for pairing with any kind of meal. Andrew said that this is his "go to" wine when attending a dinner party because of its ability to compliment any entrée.
As we sipped on their 2016 Viking Red (58% Cabernet Sauvignon, 18% Malbec, 13% Petit Verdot, and 11% Cabernet Franc) we followed Andrew out of the back of the tasting room to the original winery building.  This was where we enjoyed our original tasting back in the day. Now it has been repurposed as an elegant setting for club and Signature tastings. Although the tall windows offering a view into the tank and barrel room remained from our first visit, everything else was new to us.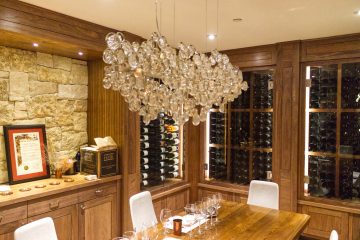 We went into the smaller room, where the Signature tastings are held. Along the wall was every vintage ever produced by Adelaida Vineyards. The table was already set with numerous wine glasses and personal splash buckets. Andrew said that only one vintage was missing, because that year the custom crush facility preparing the wine went bankrupt before delivering the wine. Nonetheless, the room contained decades of amazing wine to inspire our dreams.
When we returned to the main tasting room, Andrew treated us to their 2015 Anna's Estate Syrah, one of their Signature Series wines. Bearing the signature of Elizabeth Van Steenwyk on the label, the limited production Signature Series wines are made from their very best grapes and receive top-shelf care throughout the production and aging process. We loved the supple fruit and cascading layers of flavor. A truly amazing Syrah!
We completed our tasting flight with their 2017 Michael's Zinfandel. Made from dry farmed fruit, which means that no irrigation is used, we loved the subtlety of pitted fruit flavors and the gentle spice on the finish. We then took on the difficult work of curating our Take Home list. So many lovely wines and so little room on our wine racks (and the cooler in our car's trunk). We purchased our wines and thanked Andrew for all of his time and attention. Now, on to the next tasting!
---
About the Author
: John grills a mean steak and is always in the market for another wine fridge. Believes that if a winery has more than 10 employees, it's probably too big. Buys wine faster than he drinks it, but who cares?
---
It pays to subscribe!
We will send you a brief email whenever there's a new post, so you'll never miss an article. We promise not to be a pest. Unsubscribe any time you like. And, of course, we won't let ANYONE else use our subscriber list. By subscribing, you agree to our
Privacy Policy
.
So go ahead,
click here to SUBSCRIBE
!