Creativity and art can be expressed in many forms. During our visit to Paso Robles, we enjoyed a wonderful intersection of sculpture and wine when we made our first visit to Sculpterra Winery.
Just east of the town of Paso Robles, nestled in rolling hills covered in grape vines, is a local landmark called Sculpterra Winery. This is a winery with an impressive arrival experience. The large parking lot guides arriving guests to a series of intertwined walkways accented with sculptures of near mythic proportions. We happened to be visiting on Mothers' Day, so some of the nooks along the walkways featured local artisans selling creative and imaginative floral arrangements for visiting moms. Since we had been celebrating Mom all weekend, we made our way past these tables to the main building and checked in for our reserved tasting experience. It was time to taste some Sculpterra wine!
We were quickly led to an outdoor tasting table with an "easy up" style covering. Our wine guide, named Iddy, welcomed us to Sculpterra and set us up with wine glasses. Iddy was a real treat as a wine guide. Not satisfied merely naming and describing the wines that she poured, she enthusiastically and theatrically gave us the history and the lore of Sculpterra. We learned that Warren Frankel, a successful doctor, and his family moved to Paso Robles from San Bernardino in the 1979, looking for a better quality of life for his children. They purchased a large tract of land east of town, and planted pistachios on a 20 acre section. Soon afterward they tried their hand with a plot of Cabernet Sauvignon grapes. Fast forward 20 years, and the Frankels added Cabernet Sauvignon, Zinfandel and Merlot. In more recent times, they have rounded out their vineyard offerings with Cabernet Franc, Mouvedre, Petite Sirah and Viognier. Dr. Frankel opened Sculpterra Winery to the public in 2007, inviting accomplished sculptors to take up residency and display their artwork to the winetasting community. The results were all around us!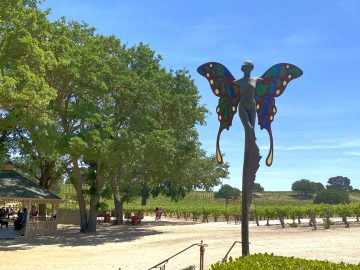 Iddy started us down their impressively large tasting flight with their Sparkling, which she said was made from French Colombard. We enjoyed the unusual and refreshing mango and nectarine notes. Next up was their 2020 Sauvignon Blanc, making friends with flavors of kumquat, pear, and slate. Their 2020 Viognier was the first wine to make it to our "Take Home" list. The aromas of honeysuckle and flavors reminiscent of an apple crisp pie were amazing. Iddy contrasted that taste with their 2019 Pinot Noir, featuring deep toffee and tobacco notes. Their 2016 Mega Focus, a blend of Grenache, Mourvedre and Syrah showed layers of dark fruit ending in a pleasant cranberry finish.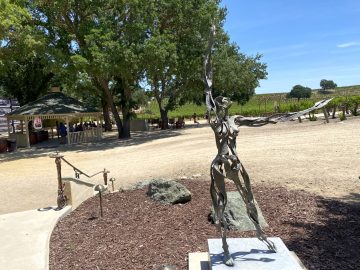 We next tasted their 2019 Repoussé was also a blend of Grenache, Mourvedre and Syrah, although in somewhat different proportions. This was fun, with aromas of cherry pie and nutmeg and flavors of the darkest of plums. Judi found their 2017 Figurine, a Primitivo, Cabernet Sauvignon, and Merlot blend, to be her favorite because of its vibrant layers of fruit and ghost-like finish. Another wine for our Take Home list! Iddy next poured what she called their "flagship" wine, their 2018 Cabernet Sauvignon. We loved the classic Cab fruit layering and the gentle tannins on the finish. Their 2017 Maquette, a blend of Cabernet Sauvignon, Cabernet Franc, Merlot, and Petit Verdot, was another member of our Take Home list because of the lovely, balanced layers of fruit, including currants and cherries. This blend was a great showpiece for the winemaker's art. We had reached the end of the tasting menu, but not the end of our tasting! Iddy poured their 2017 Merlot, which we loved for its oaky plum and slate notes. Finally, Iddy asked what we first thought was a rhetorical question, "Would you like to taste our Port?" Happily, we came to our senses and nodded, so she poured their J Jagger Primitivo Port. Named in honor of one of the resident sculptors, John Jagger, we appreciated the rich Port flavors without the raisin notes that sometimes cloud a Port. A fine taste to conclude a fine flight!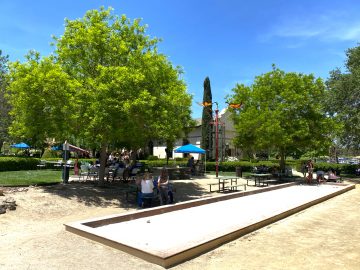 Our reservation window was now at its end and another group was anxious to begin. We thanked Iddy, placed our wine order (which they graciously kept by the registration desk until we were ready to leave), and started to wander the well-manicured grounds. There was live music, a food truck, and wonderful art and vineyards in every direction. It was clear that Sculpterra Winery was popular with quite a few local wine lovers and their families. People came prepared, with lawn chairs, folding tables, and coolers full of bottled water and soft drinks for the children. Nearly every shady spot was home to a happy family out to enjoy Mothers' Day and everything that the Sculpterra Winery had to offer. We joined in with the celebratory spirit and spent at least another hour soaking in the art and landscaping before making our way back to our home base for the weekend a few miles away. Cheers, Sculpterra, and thanks for a wonderful introduction to your art, in both of its forms!
---
About the Author
: John grills a mean steak and is always in the market for another wine fridge. Believes that if a winery has more than 10 employees, it's probably too big. Buys wine faster than he drinks it, but who cares?
---
It pays to subscribe!
We will send you a brief email whenever there's a new post, so you'll never miss an article. We promise not to be a pest. Unsubscribe any time you like. And, of course, we won't let ANYONE else use our subscriber list. By subscribing, you agree to our
Privacy Policy
.
So go ahead,
click here to SUBSCRIBE
!