Our second day of winetasting in Paso Robles was going well, and that trend continued when we visited Le Vigne Winery.
After a lovely start to our winetasting day at Bovino Vineyards, it was time to drive to Le Vigne Winery. Like most Paso Robles wineries, Le Vigne is located in a somewhat rural setting. Surrounded by vineyards and a mile or so off of Route 46, the winery was a large, impressive facility that appeared evenly divided between the production of wine and winetasting. It boasted a parking lot with plenty of room for dozens of cars, and even had room for a few shuttle buses. The front of the winery featured a lovely brick patio with tables along its length, with a tasting room behind it. We had made out tasting reservation well in advance and were promptly led to a nice umbrella-covered table in the side tasting garden. This space had a circus tent-sized canopy over the entire fenced-in area. To the rear we could see a variety of wine production equipment and barrels. The side tasting area had a party atmosphere, with happy wine lovers seated at tables, some holding up to a dozen people. Le Vigne Winery was clearly a beloved part of the local wine scene, with a lot of returning fans. At this point we were sure that a good time was in store for us.
We met wine guide Walt, who got us set up with wine glasses and menus describing the wine flight and available cheese pairings. We ordered a couple of cheese pairings for the table. Walt started us with their 2020 Sauvignon Blanc. We enjoyed the aromas of pineapple and honey and the lemon and kumquat flavors and the unique finish faintly reminiscent of a Butterfinger candy bar. A great kick-off for our tasting! Our very next taste was a huge hit with everyone at our table: their 2020 Rosé of Sangiovese. The strawberry and melon flavors made us long for a warm afternoon reclining beside the pool with a glass of this wonderful wine. Several bottles of this luscious wine led of our "Take Home" list. Their 2018 Sangiovese was almost as popular, with a clean and fruity personality, with layers of cherry tumbling toward a lingering fruity finish. This followed the Rosé onto the Take Home list.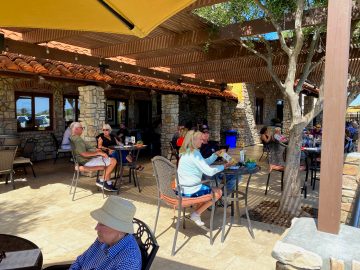 We next tasted their 2018 Ame de la Vigne. Called the "soul of the vineyard," this field blend of Syrah, Petite Sirah, Mourvedre, and Grenache showed aromas of slate and Bing cherry followed by deep plum flavors. This was pronounced to be a perfect "Tuesday Dinner" wine. Our Take Home list was taking a beating at this point! At the same time, we were falling in love with the cheeses that were paired with each wine. Cheeses were presented that were made from cows, sheep, and goats, in every combination, with the common thread being their delicious relationship with their paired wine. Their 2017 Petit Verdot was interesting because of its intriguing transition from sweet cherry to dusky cranberry in the blink of an eye. We then tasted their 2016 Riservato Cabernet Sauvignon. Walt told us that this reserve wine spent 30 months on oak, which explained the full, gentle fruit and pleasant cedar finish. Someone at the table said that they could "take a bath" in this wine it was so luxurious.
Our final tasting (or so we thought) was their 2017 Tannat. Smooth and mysterious, we loved the chocolate and coffee notes. A nice example of this under-appreciated varietal! Just when we thought that we were all done, Walt came back, explaining that somehow (big smile) a mistake had been made in the bottle room and a 2015 Tannat had been opened. We welcomed the opportunity to compare and contrast this "mistake" wine with its younger brother. We loved the rich, bold fruit and expansive finish of this much more aggressive vintage. We thought that this wine was quite drinkable now but could be safely cellared for a number of years yet. As we were packing up to leave, a demure Le Vigne employee appeared bearing lovely plates containing a delicious mousse cup for each of us, crowned by a raspberry. A sweet end to a very enjoyable tasting! We purchased our somewhat voluminous Take Home wine, thanked Walt for all of his time and attention, and set off toward our farm house. Was there time for just one more tasting?
---
About the Author
: John grills a mean steak and is always in the market for another wine fridge. Believes that if a winery has more than 10 employees, it's probably too big. Buys wine faster than he drinks it, but who cares?
---
It pays to subscribe!
We will send you a brief email whenever there's a new post, so you'll never miss an article. We promise not to be a pest. Unsubscribe any time you like. And, of course, we won't let ANYONE else use our subscriber list. By subscribing, you agree to our
Privacy Policy
.
So go ahead,
click here to SUBSCRIBE
!