With so many wineries yet to explore, sometimes it is hard to decide on the winery to visit. During our Paso Robles trip, we chose to visit Bovino Vineyards for a very unique reason!
After a fun Friday that included tastings at Field Recordings and Sans Liege, we had a beautiful, sunny Saturday before us. Time to make our day's touring list, so we chose the winery for an unusual reason: it was owned by our AirBnB host! When we arrived at the lovely farm house that was our home for the weekend, we found brochures on the kitchen table promoting Bovino Vineyards along with a personal invitation to drop by. With encouragement like that, who were we to say no? We called for a reservation and were promised the best table in the place because we were "part of the family" for the weekend. The winery was just down the road from our farm house, so in no time at all we were parking in one of their several parking lots and making our way to the winery, which was perched at the top of a bluff. The stroll up to the winery was so picturesque, we struggled to imagine what the "best view" would entail!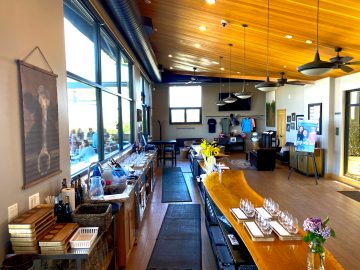 The winery itself was quite imposing, with a broad open-air entry corridor with some offices and rest rooms along the sides and an series of glass doors leading into the tasting room. A great arrival experience! We entered to discover a warm and bright tasting room with a paneled ceiling and a live-edge wood tasting bar. Behind the bar we saw wall-to-wall glass that showed the amazing outdoor tasting area overlooking the vineyards below. We were welcomed by Lisa, who we learned was Bovino's Director of Sales and Marketing in addition to being a wonderful wine guide. As promised, we were led to the best table in the house, an outdoor table with a commanding 180 degree view of rural Templeton/Paso Robles. It took quite a while before we could tear ourselves away from the view and get back to talking about wine.
We had determined on our own that "Bovino" was a fun take on the owner's adjacent bovine business, since we had spent some relaxing hours watching their cattle watch us at the farm house. Once we confirmed our thinking with Lisa, she went on to tell us that Bovino Vineyards produces wine under two labels. One is called "Joludi" as a tribute to his inspirational parents, Joe and Ludrie. The other, "gen·er·os·i·ty" is a line of wines where a portion of the sales are donated to deserving local charities. They also run frequent case sales benefiting charities. When we visited, the case sale was raising funds for Boys & Girls Club. What a wonderful example of giving back to the community!
We chose from a number of wine flights, and with five of us tasting meant that we had their catalog pretty well covered. Their 2017 Albarino was an immediate hit with all of us; refreshing, with bursts of grapefruit and lemon zest. Our "Take Home" list had its first entry! Another interesting wine was their 2018 Arneis. We learned that there are only seven vineyards growing the Arneis grape in California's Central Coast, and Bovino had one of them. This grape is from the Piedmont region of Italy, and because of their physical proximity to Barolo, is sometimes called "White Barolo." We enjoyed the contrasting flavors of mandarins and balsam, with a crisp, slate finish. Several bottles of this rare varietal jumped onto our Take Home list. Their 2019 Rosé blend of Grenache and Mourvedre was a pool-side party of pink grapefruit, with a butter lemon finish. Ready for a slow summer afternoon!
This was about the time that the kitchen opened. We noticed the excitement of the local tasters so we just had to check it out for ourselves! We decided on a tuna Niçoise salad and several plates of nibbles for the table. When the dishes arrived, we understood that excitement of the locals. Such sumptuous and generous plates! There was something for everyone's taste and wine pairing. Particular wine pairing favorites included their 2015 Zinfandel (remarkably light and food friendly), their 2015 Tempranillo (fruit for days, also on our Take Home list), and their 2017 GSM (a classic, with fun raspberry notes and a perky, slightly tart finish). We happily munched, sipped, and gawked at the amazing view of the vineyards reaching out toward the horizon. We were thrilled to meet winemaker Steve Anglim, who graciously stopped by our table. Like many great winemakers, he credited the quality of the grapes for producing such wonderful wine. He said that his job was to not make any mistakes and let the grape make the wine. A very modest winemaker, who's success in his art was evident to all of us.
All that was left was the truly difficult part: choosing how many of each of our favorite wines to take home. Given that the five of us tasting all had strong opinions on the issue, it nearly required an Excel spreadsheet and secret ballots. We mollified ourselves by promising to return to Bovino every time we visited Paso Robles. What a great find!
---
About the Author
: John grills a mean steak and is always in the market for another wine fridge. Believes that if a winery has more than 10 employees, it's probably too big. Buys wine faster than he drinks it, but who cares?
---
It pays to subscribe!
We will send you a brief email whenever there's a new post, so you'll never miss an article. We promise not to be a pest. Unsubscribe any time you like. And, of course, we won't let ANYONE else use our subscriber list. By subscribing, you agree to our
Privacy Policy
.
So go ahead,
click here to SUBSCRIBE
!