When seven generations of a family focus on growing grapes and making wine, wonderful things result. We recently experienced some of those wonderful things when we visited Steinbeck Vineyards and Winery.
We were having a great time touring Paso Robles wineries, as usual. We were mid-way through our second day of tastings when we decided to visit the Steinbeck Winery. Situated in the middle of a huge vineyard, it was no secret that wine was the focus. We drove up a long driveway to a cluster of farm/ranch buildings, to a corrugated metal building that was marked as the tasting room and parked in the large lot.
We entered the tasting room to find a very large open space, with interesting and quite diverse displays on every direction. We learned from one display that we were standing in a building that was a blacksmith shop in the mid-1900's. There was so much to explore that we nearly forgot that we were visiting to taste the wine. We found some space along the long granite tasting bar and decided that we could sip and gawk at the same time.
We met wine guide Leslie, who was easily keeping up with the multiple groups of tasters scattered along the bar. She welcomed us and got us wine glasses for our first taste, their crisp and palate-refreshing 2016 Viognier. Leslie told us that the Steinbeck family had 550 acres planted in 16 varieties of grapes. This is more than enough fruit to source everything that Steinbeck needs with plenty left over to sell to other local wineries, some of which we had already tasted!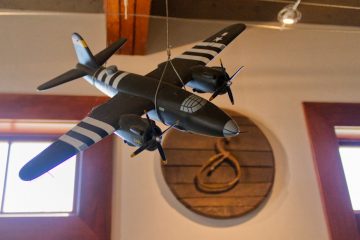 As we got to "2015 The Crash" on the tasting menu, a blend of Cabernet Sauvignon, Petite Sirah, Zinfandel, and Merlot, Leslie told us some of the background for this unique moniker. On April 11, 1956, a B-26 Maurader airplane crash landed about 200 yards from the Steinbeck home. Four of the five airmen safely parachuted to the ground. To this day, an American flag commemorates the spot in the field where the plane came down.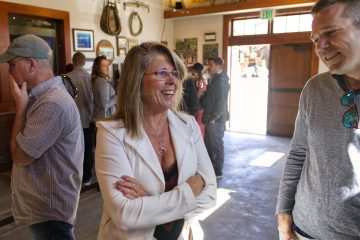 We were sipping on their incredible 2015 Cabernet Sauvignon (leading off the Take Home list), when Cindy Steinbeck came into the tasting room and introduced herself to us. She mentioned the jeep rides through the vineyards (called "Crash Course") that formed the beginning of her own commitment to introducing visitors to the Steinbeck farm. As she told us about the Steinbeck family's journey to present day, her enthusiasm and passion for their craft really came through.
She spoke of the numerous displays and embellishments that made the tasting room so fascinating, like the Steinbeck logo "S" that was etched into the concrete floor by the entrance. The coloring that makes the logo so attractive is periodically refreshed with a fresh coat of wine, used as paint. Yes, even the floor has a fine wine foundation! The logo was repeated on the walls in burnished metal and headed up the literature throughout the tasting room. The sense of family and tradition was palpable in every direction.
We completed our tasting with their 2011 Petite Sirah, which capped off our Take Home list because of its balanced fruit, and incredible finish. We collected our wine, thanked Leslie and Cindy, and set off for our last tasting of the day. We can't wait to return to Steinbeck Vineyards!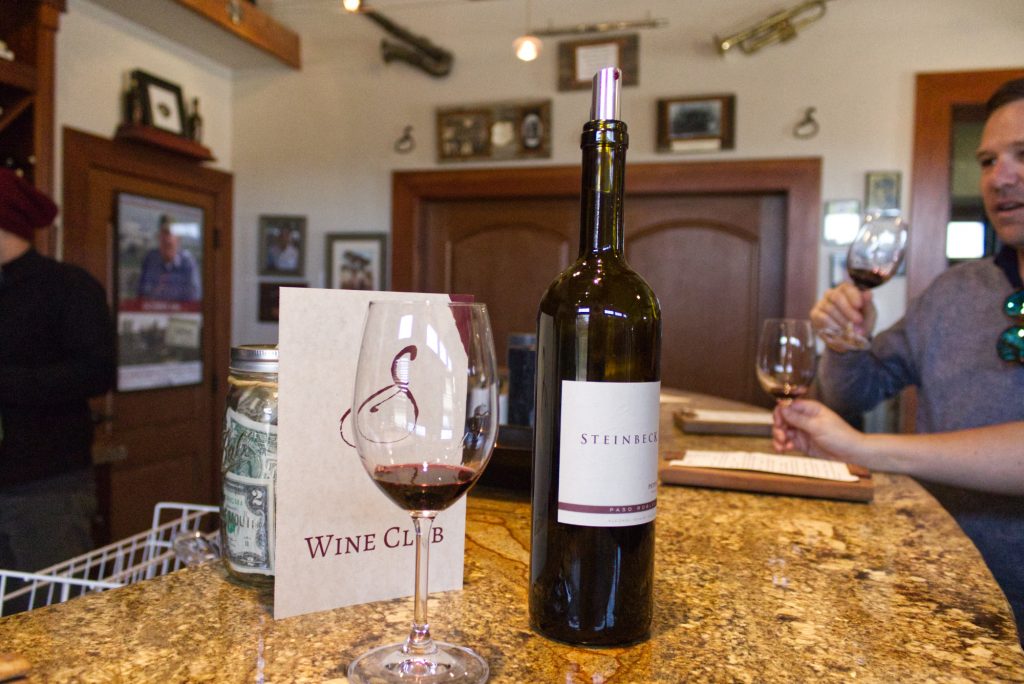 ---
About the Author
: John grills a mean steak and is always in the market for another wine fridge. Believes that if a winery has more than 10 employees, it's probably too big. Buys wine faster than he drinks it, but who cares?
---
It pays to subscribe!
We will send you a brief email whenever there's a new post, so you'll never miss an article. We promise not to be a pest. Unsubscribe any time you like. And, of course, we won't let ANYONE else use our subscriber list. By subscribing, you agree to our
Privacy Policy
.
So go ahead,
click here to SUBSCRIBE
!