It is easy to forget that there is more to a winemaking region than just wine. Sometimes, though, the past and the present are melding beautifully, like at B&E Vineyard in Paso Robles.
We had already enjoyed tastings at Bovino and Le Vigne, and there was precious little time remaining for one last tasting. Luckily, we found a winery that was less than a mile from our weekend rental farmhouse: B&E Vineyard. We drove into a large, gravel parking lot and discovered a building that would look at home on a cowboy western movie set. Was this the Outlaw Saloon or a winery? We noticed some winemaking equipment along one side of the saloon, oops, winery, so we parked and made our way to to the entrance. The doorway immediately set the tone: the doorknob looked like a six-shooter, the glass grill was an iron rattlesnake and copperplate cowboy boots and saddle. Absent our ten-gallon hats and spurs, we went into the tasting room to find out more about this amazing site.
We were immediately greeted as though we were old friends. Co-owner/winemaker Patti Bello made us all comfortable as we looked around the tasting room. We saw so much amazing décor that connected with the cowboy history of the region, including skull and horns on the wall, rustic wood shelves, tables, and tasting bar, and locally produced art. There was something to explore in every direction. Although we could have spent hours just treating the space like a museum, Patti quickly got us set up with wine glasses and a tasting menu, bringing us back to our original purpose in visiting: the wine!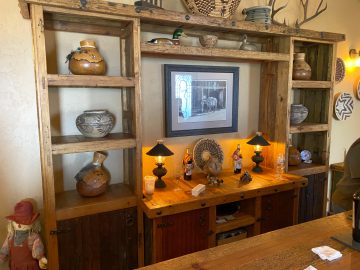 Patti told us that her home was in the middle of a big upgrade, so she was taking shelter in the winery. What a great opportunity to learn about the winery directly from the winemaker! She started us with their 2016 Estate Merlot as we got to know each other. We enjoyed the lovely fruit layers and restrained tannins of the wine, and loved the dynamic energy that sparked off Patti as she described her wine. She next poured their 2016 Red Rhythm, a blend of Cabernet Sauvignon and Merlot. The luscious fruit led us to a clean finish that brought us back for more. Patti then contrasted the 2016 vintage with their 2015 vintage of Red Rhythm. This slightly older blend contained Merlot, Cabernet Sauvignon, and Cabernet Franc. We found it to have a somewhat lighter personality, with a very pleasant finish with plum notes.
Then we learned two fascinating thing: first, Patti is a nationally ranked Cutting Horse competitor. I had a hazy idea of cutting competitions from watching rodeos with my family, and knew that it involved moving cattle in and out of a herd with a quarter horse. We learned a bit about this sport as she told us about her upcoming trip to Texas for the fall national competition. Second, we learned that the real boss of the tasting was their dog Tess, who would perform an ensemble of tricks for treats. That is, until she got bored. At that point, she just put on her cutest expression and stared at whoever was closest to the treat bowl. A very effective strategy!
Patti next poured their 2016 Estate Cabernet Sauvignon, with lovely layers of fruit and a caramel-smooth finish with gentle tannins. Our final taste was a great example of saving the best for last: their 2015 Estate Cabernet Sauvignon. Bright and full of exuberance, we knew that this wine had to follow us home! We loved the nuanced progression of dark fruit flavors, and speculated as to how many bottles we needed to buy to be sure that at least one bottle would make it home. One of them would probably be popped tonight. We hadn't decided on our dinner menu, but we were pretty sure this lovely Cab would pair nicely.
It was now well past closing time for the winery, and although Patti was very gracious in inviting us to stay longer, we forced ourselves to buy our wine, pat Tess one more time (a treat or two may have been involved) and made our way to the car for the two minute drive to our farmhouse. What a great way to end a day of tasting!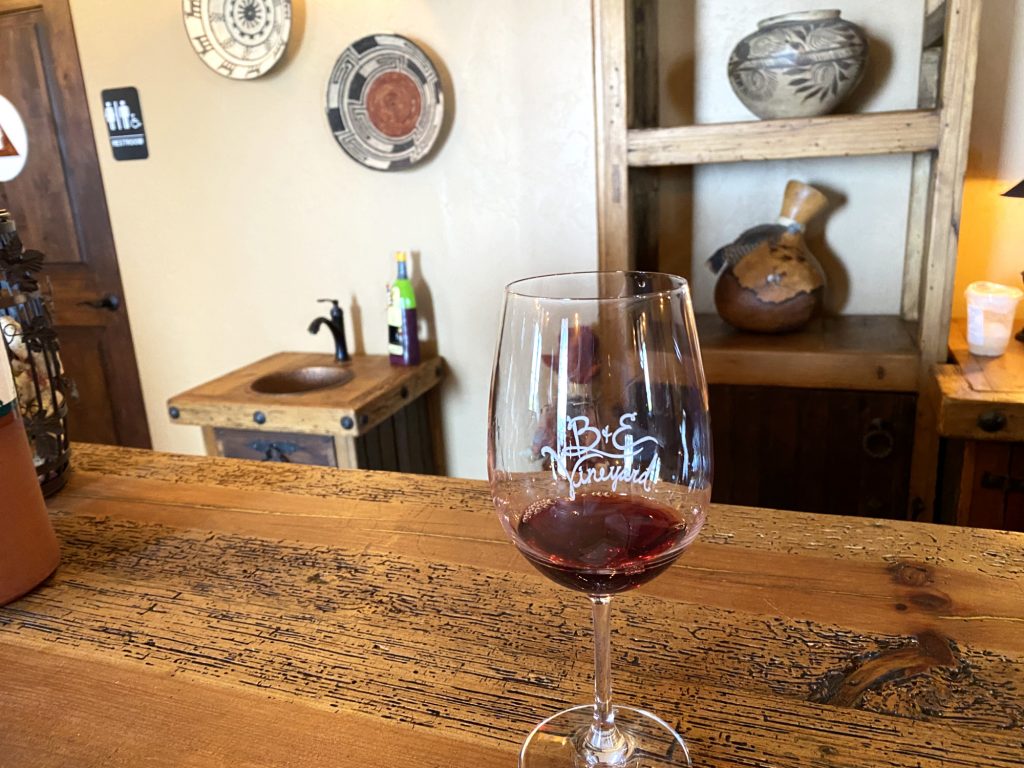 ---
About the Author
: John grills a mean steak and is always in the market for another wine fridge. Believes that if a winery has more than 10 employees, it's probably too big. Buys wine faster than he drinks it, but who cares?
---
It pays to subscribe!
We will send you a brief email whenever there's a new post, so you'll never miss an article. We promise not to be a pest. Unsubscribe any time you like. And, of course, we won't let ANYONE else use our subscriber list. By subscribing, you agree to our
Privacy Policy
.
So go ahead,
click here to SUBSCRIBE
!