It was Day Two of our Paso Robles trip and we were so excited that we were breakfasted, checked out of our hotel, and ready for wine tasting uncharacteristically early. Luckily, many Paso Robles open early, so our day of tasting got off to a great start at Eberle Winery.
Day One of our visit to Paso Robles had been great, with visits to Adelaida, Le Cuvier, Herman Story, and LXV. We were excited to visit Eberle Winery based on several personal recommendations and glowing Yelp comments. By happy coincidence, a friend and former colleague was also exploring Paso from a luxury RV perspective and wrote about his visit to Eberle at The Mobile Mosers. It's fun to compare and contrast our two points of view on this popular winery. He even took the cave tour!
We drove up the long driveway to find a spot in their large, and nearly empty, parking lot. There we saw the first two (of what would turn out to be countless) pig statues. The tasting room was surprisingly large, with lots of wood, huge windows, and something interesting to study in every direction. Although it was barely 10:00am, we found the tasting room already jumping with excited tasters, with what was clearly a bachelorette party at one of the several wine tasting stations, and groups of two and three tasters dispersed along a spacious tasting bar. That's where we met wine guides Todd and Maureen and settled in for our first tasting of the day.
As we sipped on their 2018 Viognier and appreciated its grapefruit and green apple notes, Maureen told us a bit about the winery. Gary Eberle was a star football player at Penn State where he studied biology before pursuing graduate work in genetics at Louisiana State University. After working on genetics research in New Orleans he took his career in a new direction when he studied Enology at U.C. Davis. After helping to establish his family's Estrella River Winery in Paso Robles, he moved a few miles down the road to launch Eberle Winery. Maureen also explained that "eberle" was the German word for "small boar" which explained the intriguing fascination with pig statues.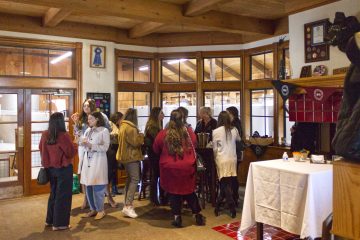 Todd poured their 2017 Sangiovese (great aromas, pitted fruit on the palate and a dusty finish) as he took us through his personal recommendations on other wineries and local eateries. This level of personal commitment to delivering an amazing tasting experience is what we treasure in our travels! Based on Todd's list, we added a winery AND a lunch spot to our itinerary. Their 2017 Zinfandel was a fun taste, starting with notes of sour cherry and sweetening up as it crossed the tongue. Another joyful taste was their NV Full Boar Red, which we all decided started as a Cab and ended as a Grenache!
We next tasted their 2017 Syrah, enjoying the gentle "field of fruit" start with just enough acid on the finish to pair nicely with some chicken piccata (already thinking of Todd's suggested lunch place). We completed our tasting flight with their 2017 Estate Cabernet Sauvignon. Soft, with great cherry notes and a ghost finish, this was a favorite for many of us. After spending some time outdoors soaking in the wide vista of grapevines and watching crews set up for their day of BBQ and live music, we thanked Todd and Maureen, purchased our wine, and set off toward our next tasting. We couldn't resist saying, "This first experience at Eberle was not boar-ing at all!"
---
About the Author
: John grills a mean steak and is always in the market for another wine fridge. Believes that if a winery has more than 10 employees, it's probably too big. Buys wine faster than he drinks it, but who cares?
---
It pays to subscribe!
We will send you a brief email whenever there's a new post, so you'll never miss an article. We promise not to be a pest. Unsubscribe any time you like. And, of course, we won't let ANYONE else use our subscriber list. By subscribing, you agree to our
Privacy Policy
.
So go ahead,
click here to SUBSCRIBE
!