Visiting wineries of all sizes can be so enjoyable, but we definitely prefer the experiences found in visiting those small, boutique wineries that produce amazing wines for their devoted fans. In Paso Robles we discovered just such a gem in Mitchella Vineyard and Winery.
After starting our day with a fun tasting at Eberle Winery, we drove a few miles to the Mitchella Winery. The tasting room looked to be a repurposed family room in a lovely sunshine yellow stucco home. With our love for small wineries, our excitement grew as we parked and were welcomed by one of the small, friendly winery dogs. Already, the visit was going well!
We went indoors to find a tasting room that continued the bright color scheme and added dark wood shelving and lots of sun-kissed tasting bar. We met wine guide Natalie who immediately made us feel like her best friends. We learned that owners Angela and Darren Mitchell were bitten by the winemaking bug after tasting a bottle of 1987 Eberle Cabernet Sauvignon. After lots of mentoring and formal classwork, the Mitchella Vineyard and Winery was born.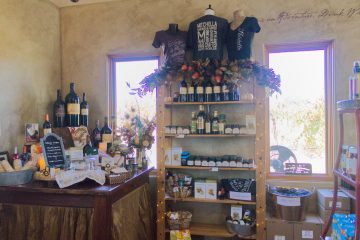 Natalie started us with their 2018 Innuendo, a white blend of Chardonnay, Viognier, and Sauvignon Blanc. It was paired with a local Parmesan cheese which added complexity to the wine and extended the finish in a most enjoyable way. We were excited to learn that this cheese pairing approach was going to be a theme during our tasting. So to recap: cute little winery dogs, a wine guide with an engaging sense of humor, and great wine and cheese pairing. What a visit!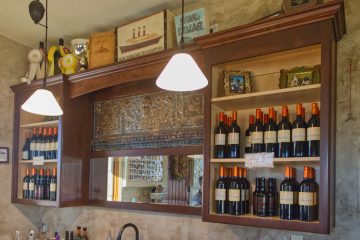 We next tasted their 2018 Viognier, paired with a coconut Gouda cheese. We found that the wine brought out the coconut notes in the cheese and the cheese accentuated the tropical notes. Natalie then poured their 2018 Reluctant Rosé which was paired with a lavender and wild fennel goat cheese. Another great pairing, we thought that the fennel highlighted the strawberry notes of the wine.
Then it got a bit awkward with the pouring of their 2017 Cheap Bastard, a blend of Cabernet Sauvignon, Zinfandel, Tempranillo, and Syrah. Natalie swore that the name did not refer to anyone currently in the tasting room (which was exclusively us), but the giggles from some of our party got to be pretty distracting. Nonetheless, this was a fun "Pizza, BBQ, or Gossip" wine, per Natalie. It was nicely balanced and fruit forward, very easy to like. Next up was their 2016 Merlot, full of cherry and plum notes and a balanced, tannic finish.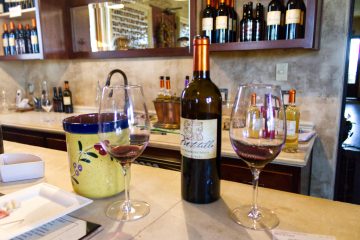 We then tasted their 2016 Rambunctious, a fun Zinfandel blend that showed the softer side of Zins. Natalie then poured one of our Take Home picks, their 2016 Leona. This delicious 100% Zinfandel wine was paired with a Point Reyes blue cheese, and we fell in love. Their 2016 Cabernet Franc also joined our Take Home list, with great fruit and complexity that reminded us of our last trip to Peju.
With more wineries yet to visit, we reluctantly packed up our wine, thanked Natalie for a fun tasting, pet the dogs one last time, and set off. More winetasting to come!
---
About the Author
: John grills a mean steak and is always in the market for another wine fridge. Believes that if a winery has more than 10 employees, it's probably too big. Buys wine faster than he drinks it, but who cares?
---
It pays to subscribe!
We will send you a brief email whenever there's a new post, so you'll never miss an article. We promise not to be a pest. Unsubscribe any time you like. And, of course, we won't let ANYONE else use our subscriber list. By subscribing, you agree to our
Privacy Policy
.
So go ahead,
click here to SUBSCRIBE
!