The Napa Valley is awash with wonderful wineries. Any wine tasting visit to the area is necessarily a selection of a few great wineries from an overwhelming roster of great wineries. One such great winery had been skipped for far too long, so we decided to correct this oversight with a new visit to a favorite: Peju Winery.
Following a great day-starting tasting at Domaine Carneros and a fantastic picnic lunch at V Sattui, we were ready for our next tasting. We were keeping to our reservation schedule, which was something of a shock, so we rolled into the parking lot at Peju Winery right on time. Refreshed and recharged, we were very excited to become reacquainted with Peju after years of absence.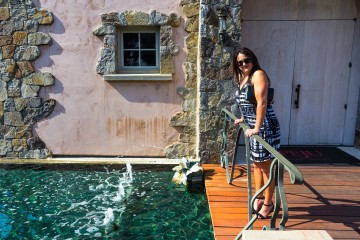 Visiting the Peju Province Winery is like being transported to the Provence region of France. The winery is an airy, stucco and stone edifice full of sunshine and dark woods. The grounds are tastefully landscaped with mature trees, rows of grape vines and infinity pools on two sides. In an area where land is incredibly expensive, the Peju grounds are expansive and lend an air of the French countryside.
We checked in with the reception desk and were led to one of the beautiful tasting areas. Wine guide Scott was already describing the history of Peju and setting everyone up with glasses. He explained that we had our choice of two different tasting flights: a Classic flight and a Reserve flight. As is our practice, we split the choices between us to make sure that we covered the entire wine landscape.
We have tasted at a lot of wineries and enjoyed our interactions with a long list of wine guides, but Peju's wine guide Scott was in a class of his own. With a deep resonant voice, a nearly theatrical presentation, and an encyclopedic knowledge of the wine, Scott was worth the visit even before we tasted the wine. He effortlessly handled three groups of four people each, keeping up with individual conversations and tracking everyone's position in the various tasting flights. The Peju wine was incredible, but Scott's involvement in our tasting put everything over the top!
We loved so many of the wines. A huge favorite with our group was their Province blend. Scott explained that Province had been Provence before the "appellation police" paid a visit. With Peju nowhere near France, changing the spelling was easier than changing the locale. Luckily there was no need to change the wine! This fun rosé was made by blending red and white wines: Cabernet Sauvignon, Merlot, Zinfandel, Chardonnay, and French Colombard. Quite a number of bottles of this lovely summer sipper followed us home.
Another favorite was their 2014 Cabernet Sauvignon Reserve, a blend of 87% Cab and 13% Petit Verdot. We decided that this was a dangerous wine, because of its intriguing sequence of flavors. A whole mouth experience, with something new to notice with every sip, which made it very difficult to stop sipping. Although we rarely buy wines with three-figure price tags, we suspended that rule just this once. A wine like this is worth cellaring for just the perfect celebration!
It was time to move on, so we collected our purchases (editor's note: the case discount was exercised), thanked Scott for his amazing help, and set off for our next tasting. Hint: bubbles are in our future!
---
It pays to subscribe!
Subscribe now and get
10% off
your first
blissful merchandise
purchase immediately.
We will send you a brief email whenever there's a new post, so you'll never miss an article. Plus, you will receive periodic special discounts on our blissful merchandise. We promise not to be a pest. Unsubscribe any time you like. And, of course, we won't let ANYONE else use our subscriber list.
By subscribing, you agree to our
Privacy Policy
.
So go ahead,
click here to SUBSCRIBE
!