What a day! It was time to sip and learn, or learn and sip actually, as we toured and tasted at the amazing Schramsberg Vineyards.
We recently had a great tasting at Davies Vineyards, which rekindled our longing to return to Schramsberg Vineyards. Our previous visits were so wonderful that we chose to reserve their tour and seated tasting experience. Reservations for Schramsberg tours are required, and being a club member helps. Luckily, our good friends are members and they invited us along. What great friends!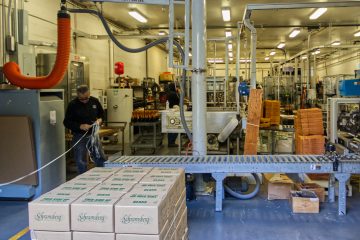 The Schramsberg facility is just off the Silverado Trail and Route 128 in Napa. That makes getting ALMOST to Schramsberg is very easy. The last half mile is thrilling though, winding up a steep hill on what is charitably called a single lane driveway. The thought of trucks laden with grapes making this drive is inspirational. The drive was definitely worth it, as we reached the summit, arriving at the cluster of buildings that make up the winery. As we approached the winery, it was clear that business was good: cases of sparkling wine were being labeled, boxed, and placed on pallets for shipping. So much wonderful bubbly getting ready for sale.
We went into the main building, checked in, and met our wine educator for the day, Tom. As we waited for the rest of the group to arrive, we sipping on some sparkling, of course. Their Brut Rosé served as a great way to get strangers to become friends. As the group assembled, we discovered that about half of us were visiting for the first time. The rest of us already knew that we were about to have a wonderful experience.
Tom took the group into the caves as he told us some of the history of Schramsberg. Back in the 19th century, Jacob Schram immigrated from Germany and purchased this land. Being of German descent, he called his winery Schramsberg, combining his family name "Schram" and "berg" the German word for mountain. Over the years the family moved on to other interests and the property fell into disrepair. Jack and Jamie Davies purchased the land in 1965 and started to build their sparkling wine program. We walked down underground hallways lined with wine bottles.  Each row had bottles alternating cap in and cap out, making for a very dense packing, considering the floor-to-ceiling, wall-to-wall stacking. Tom told us that each bottle alcove could hold up to 20,000 bottles. An incredible inventory of fine sparkling, aging comfortably in the constant temperature provided by these underground caves.
Tom next gave us a refresher course on the production of sparkling wine. He explained that the "sparkling" component of sparkling wine is produced by inducing a secondary fermentation. That means that still wine is dosed with sugar and more yeast, and then sealed with a pressure-proof metal cap. Over time, the yeast consumes the sugar, converting it to alcohol and carbon dioxide gas, which makes the lovely little bubbles. Once all the sugar is consumed, the yeast dies, leaving behind millions of tiny, sticky yeast husks that slowly float to the bottom of the bottle. This slime looks bad and tastes bad, so it must be removed before the sparkling wine is ready to be enjoyed.
That took us to a discussion of the fine art of riddling. Coaxing the yeast slime into the neck of the bottle is a tricky business. Tom showed us a bottle with the slime neatly laying on the side of the bottle. One quick shake, though, and the clear wine was instantly clouded and unappealing. Riddling is the process of slowly rotating and tipping the wine bottle so that the slime puddle moves toward the neck without going back into suspension in the wine.
Riddling can be done by hand, turning each bottle a fraction of a turn every day for several weeks. Schramsberg still hand riddles their larger bottles and some of their premiere lines, but that takes time and manual labor. Luckily, modern technology has a better way: the gyro pallet automatic riddling machine. This device can an entire pallet of sparkling wine in days instead of weeks. Engineering! Once the yeast is collected in the neck of the bottle, the neck is frozen and the bottle uncapped. The yeast and a bit of sparkling wine is pushed out at high speed (it can be very exciting). A bit of wine is added to the bottle to top it off and the bottle is corked with the mushroom-shaped cork that we associate with sparkling. Now the bottle is ready to label and deliver!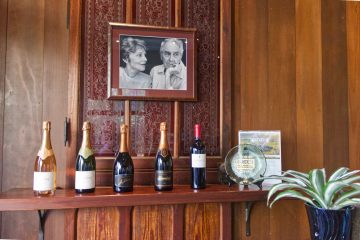 With our cave tour complete, it was time for our tasting! Tom lead us back to the surface and into a lovely wood paneled tasting room with a large table already set for our group's tasting flight. We found our seats and looked at our individual folio that contained information on the various wine clubs and a listing of all of the Schramsberg and Davies wines, with our tasting flight highlighted.
Our first taste was their Anderson Valley Juster Vineyard Blanc de Noir. This 100% Pinot Noir sparkling showed the rich character of Pinot with enough acid to deliver a crisp finish. Only 1,200 cases were produced, so most of it gets allocated to the wine club members. Next was their Blanc de Blancs Late Disgorged 2008. Treated to an extended aging, we enjoyed the rich dark cherry and apricot notes.
We then tasted their Reserve 2010, made from 80% Pinot Noir and 20% Chardonnay. The aromas and beautifully balanced flavors made this our favorite so far. Their was fun and delicious, and delivered perfect bubbles in the glass. A joy for the senses in every way. The tasting concluded with their Crémant Demi-Sec 2016. This sparkling has more residual sugar, making it an ideal dessert sparkling as well as a tasty conclusion to our flight.
All that was left was the difficult task of making our purchase selections. Since many of the sparkling wines were only available on site, this was quite an arduous journey. We decided on a bunch of Blanc de Noir and a few "special occasion" bottles. When we run out we will have the perfect excuse to come back again!
---
About the Author
: John grills a mean steak and is always in the market for another wine fridge. Believes that if a winery has more than 10 employees, it's probably too big. Buys wine faster than he drinks it, but who cares?
---
It pays to subscribe!
We will send you a brief email whenever there's a new post, so you'll never miss an article. We promise not to be a pest. Unsubscribe any time you like. And, of course, we won't let ANYONE else use our subscriber list. By subscribing, you agree to our
Privacy Policy
.
So go ahead,
click here to SUBSCRIBE
!