We were looking for a picturesque, delicious winery to complete our day in Napa, with a focus on wineries we had not visited before. We found a perfect match: Rombauer Vineyards.
We were familiar with the mass market Rombauer label and intrigued by their premium label. We drove up a long, climbing drive to reach the top of the ridge. We then found the first of many happy surprises: valet parking! There was plenty of space for vehicles, but the lot was a bit of a walk away from the tasting room and somewhat down the hill. Valet parking is always appreciated!
We dropped off our car and walked toward the tasting room, discovering that we were perched on the very crest of the ridge line. The view of the Napa Valley below us was incredible! People were enjoying the umbrella table tasting opportunities, but we were excited to explore the entire space, so we went into the building. The large tasting room was wrapped in large windows and yellow-washed wood panels, with granite tasting bars along two sides. There was plenty of room for numerous groups of tasters.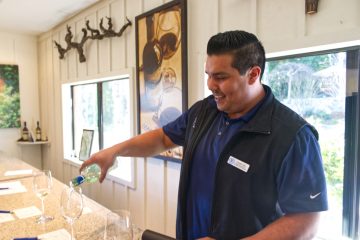 We chose our spot along one of the tasting bars and met Christian, the Assistant Hospitality Manager, who would be our wine guide for the day. He greeted us warmly and got us set up for our tasting. One of my favorite "ice breaker" questions when meeting new wine guides is to ask how they became associated with the winery. Christian told us that he answered a Craigslist ad about seven years ago, working his way from bar back to assistant manager. It is great to see a company build their team by promoting from within, and Christian was a wonderful example of the benefits to both the employer and the customer!
As we sipped on their 2018 Sauvignon Blanc (creamy lemon notes with a crisp finish), we learned that Koerner Rombauer started his career as a pilot with the California Air National Guard. In 1965 he joined Braniff International Airways as a commercial pilot, setting up their home in St. Helena in 1974.
A few years later, the Rombauers became partners in a Napa winery called Conn Creek Winery. This was the first step down that long, slippery slope of winemaking. In the 80s, they sold their stake in the Conn Creek Winery and started Rombauer Vineyards with some Cabernet Sauvignon grapes. With time, money, and a lot of hard work, they soon had a winery with enough capacity to provide custom crush services to other budding winemakers. In 1984 their iconic yellow Rombauer label was launched!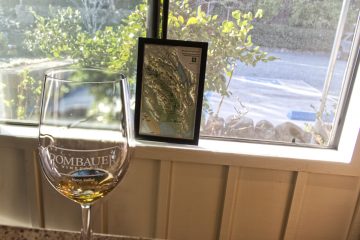 We next tasted their 2018 Chardonnay. We appreciated the vegetal aromas and buttery lemon flavors. Christian said that their Chardonnay benefits from malolactic fermentation and 9 months in French and American oak barrels. Their 2017 Zinfandel had a fun raspberry nose and jammy fruit notes reminiscent of Lodi's finest. We learned that a splash of Petite Sirah was blended in, and that probably accounted for the gentled edges that we enjoyed.
Their 2017 Merlot was next (blended with some Cabernet Sauvignon and Petit Verdot). The balanced fruit, with blackberries and cracked pepper notes, along with the tannic finish made friends with the Merlot lovers among us. We next tasted their 2017 Cabernet Sauvignon, descendant from their original flagship Cab. This continues to be great reference for Cabernet Sauvignon!
Christian next poured their 2016 Diamond Selection Cabernet Sauvignon. This is their premium label, and we tasted the difference! Jumping to the top of our Take Home list, we loved the fantastic fruit layering, with a smooth and elegant finish. This is an example of a well differentiated premium line, with good value at both price points.
We completed our tasting flight with their 2018 Joy, a late harvest Chardonnay. As we savored the honey and apricot notes that danced ahead of golden raisin flavors, we learned about the other Joy in the Rombauer lineage: the iconic cookbook Joy of Cooking. Koerner Rombauer's great aunt Irma Rombauer was the original author of the book that was virtual requirement on every bride's gift list. Yet another example of having creativity and flavor sense in a family's DNA.
Reluctantly, we needed to leave to make it to our dinner reservation, so we selected our wines to take home, thanked Christian for all of his help and insights, and walked by to the valet station for our car. Time for some Napa dining at Brix!
---
About the Author
: John grills a mean steak and is always in the market for another wine fridge. Believes that if a winery has more than 10 employees, it's probably too big. Buys wine faster than he drinks it, but who cares?
---
It pays to subscribe!
We will send you a brief email whenever there's a new post, so you'll never miss an article. We promise not to be a pest. Unsubscribe any time you like. And, of course, we won't let ANYONE else use our subscriber list. By subscribing, you agree to our
Privacy Policy
.
So go ahead,
click here to SUBSCRIBE
!