Combine ideal Napa winegrowing conditions, a multi-generational commitment to producing fine wines, and some Jeffersonian architecture and what do you get? Monticello Vineyards, of course!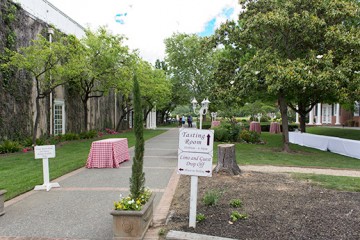 After a great first tasting of the day at the Andretti Winery, we drove a short way to Monticello Vineyards. The manicured grounds and ionic-columned buildings immediately put us in a refined frame of mind. We discovered that our arrival coincided with a club event, complete with good food and happy club members. A bit of bad timing on our part, but we pressed on, into the tasting room.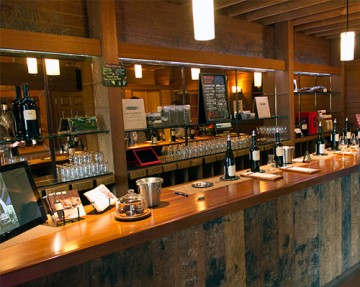 The tasting room was a wonderful example of refined elegance, with dark, polished wood and dramatic lighting. We were warmly welcomed to the tasting room and reassured that our presence would not affect the club party taking place in the adjacent building. As we took up our positions at the tasting bar, we learned a bit about the Corley Family, winery founders and producers of the grapes and the wine.
It turns out that patriarch Jay Corley searched Napa in 1969, hoping to establish a vineyard. He settled on some land in the Oak Knoll district at the south end of the valley. Fast forward a generation, and Jay's sons Kevin, Chris and Stephen share the responsibility of running what has become Monticello Vineyards.
We started with their 2013 Chardonnay, with aromas of lemon and grass and a hint of slate, and flavor notes that added some wood and smoke to the finish. We continued with their 2012 Pinot Noir. We appreciated the warm, dark fruit on the nose and tongue, perfect for pairing with a steak.
Next up was their 2012 Merlot. We loved the blackberry and mushroom aromas and clean fruit on the palate. This wine was so much fun that we put a bottle on our "take home" list. We next tasted their 2013 Jefferson Cuvée, a blend of Cabernet Franc, Merlot, and Cabernet Sauvignon. We found coffee and currant aromas and  great fruit and balanced tannins that hugged our mouths. Our final taste was an amazing ten-year-old Proprietary Red. This was a wine that demanded to be described as "awesome," with amazing balance and layers of fruit and charming complexity.
Tasting flight complete, we purchased our wine and set off for our next winery. Where to? Here's a hint: it was started by two rocket scientists. Check back soon for the answer.
---
So have we mentioned the fun things we have up our sleeves for our wonderful subscribers? Join our wineless wine club! It's free, you'll learn of our new articles the day they're published, and we will soon give you access to exclusive content. So go ahead, click here to SUBSCRIBE!