The Napa Valley is home to many outstanding wine varietals and styles, but one of our favorite themes for a day of tasting is to focus on sparkling wines. After years (decades?) of honing our tour list, we have arrived at a nearly perfect day of bubbles. First stop: Domaine Carneros!
Our birthday gift to Sarah this year was a bit self-serving: a day of tasting sparkling wines in Napa. She is someone who appreciates a broad spectrum of wine styles, but sparkling wine is her true passion. After months of conflicting schedules, the stars aligned along with our calendars. It was finally time for our day of bubbles. Tours at this level do not happen organically; they require planning and forethought. And reservations, definitely reservations. Especially on the weekends, Napa wineries are far too busy to take visitors who merely drop in.
With our plan agreed and reservations made, we voyaged up to the Napa Valley on a lovely September morning. Traffic was mercifully light, allowing us to arrive at Domaine Carneros a few minutes early. Our arrival time provided a very convenient parking spot in the immense but sprawling lot, plus time to pose for pictures in the crisp morning light. The grounds and the building are inspired by the Champagne region of France, owing in some part to the ownership by Taittinger. Our day was off to a good start before we had touched a wine glass.
We entered the enormous building to check in with the reservation desk. A bit of French aloofness was in play as we waited to present our documents and inquire as to our tasting. That's a lot of power in the hands of early-career wine guides! In due time our patience was rewarded. We were received and directed to a lovely table on the front front patio with a panoramic view of the valley.
Tasting at Domaine Carneros is an effective combination of efficiency and personal attention. There are a number of flights offered, with each flight supported by a laminated place mat with spots for each tasting glass. Each position is illuminated with a brief description of the wine and some of its characteristics. That's the efficiency part.
The personal attention part is equally important. In this case, we were ably assisted by wine guide Chris. No aloofness here, just warmth and enthusiasm! Although Chris was responsible for multiple tables, it was obvious that we were his favorite, and received most of his attention. His other tables felt the same way. He was table-side whenever we had a question, but never hovered when we just wanted to chat amongst ourselves. He gave us useful information when we lacked it but didn't repeat knowledge that we had gained on a previous visit. He added to our enjoyment immeasurably!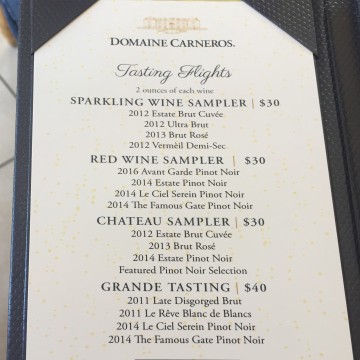 Two us chose the Sparkling Sampler and two of us chose the Red Wine Sampler. Yes, red wine. If you haven't visited Domaine Carneros, you might be surprised to learn that they have an extensive Pinot Noir offering. Chris explained that for many years, Domaine Carneros grew Pinot Noir grapes exclusively for sale to other wineries. After noticing how many awards their grapes were winning once in wine form, wine maker and CEO Eileen Crane decided in 1992 that it was time to make some Pinot Noir wine. Such a great decision!
Chris imparted another pearl of wisdom while pouring more bubbles. The rose bushes that are such a staple at the end of the rows in many vineyards provide more than just a pop of color. He told us that many of the diseases that can harm grape vines also attack roses, and the roses show signs of such an attack well before the vines are visibly altered. Something of a "canary in the coal mine" kind of thing. Thirty years in wine country and none of us had ever had this explained before.
The tasting was nothing less than spectacular! Their 2016 Avant-Guarde Pinot Noir was an unexpected star. So young, yet so mature! Very drinkable now with great potential for cellaring. We purchased a somewhat embarrassing number of bottles. Yes, we are at a mansion built on sparkling wine, buying a pile of Pinot Noir! We also loved the 2011 Late Disgorged Brut sparkling, with green apple and toast notes. Labeled "yum" by one of us (that's a technical term). A few bottles of this lovely sparkling joined the Avant-Guarde on the "bring home" list. Earning "honorable mention" was their 2014 Famous Gate Pinot Noir. Produced in exclusively  new French oak barrels, we enjoyed the dark, powerful flavors and amazing finish. This was the glass that both of us on the Pinot Noir tasting flight saved for last.
As our tasting was winding down, Chris asked if we had time for "just one more taste." After vigorous debate (kidding) we agreed to taste their 2015 Les Alentours Pinot Noir. Wow. Found under "how to improve a Pinot Noir" in the book of wine wisdom, this Pinot left us wanting more after every sip. A great start, full of fruit, with layers and layers leading to a finish that seemed to go on forever. Several bottles join our purchase list
With a more-than-amazing tasting behind us, and boxes and bags of wine in our arms, we thanked Chris for making our experience even more incredible and set off for a picnic before our next tasting. Care to guess where we went? Check back for more in a few days.
---
About the Author
: John grills a mean steak and is always in the market for another wine fridge. Believes that if a winery has more than 10 employees, it's probably too big. Buys wine faster than he drinks it, but who cares?
---
It pays to subscribe!
We will send you a brief email whenever there's a new post, so you'll never miss an article. We promise not to be a pest. Unsubscribe any time you like. And, of course, we won't let ANYONE else use our subscriber list. By subscribing, you agree to our
Privacy Policy
.
So go ahead,
click here to SUBSCRIBE
!