After several wonderful tasting as Schramsberg Vineyards, it was time to check out their still wines. We were excited to visit Davies Vineyards!
We are so lucky to have good friends with good taste in wineries! That meant that we were able to tag along with them for their club member tasting appointment recently. This was an experience we had been looking forward to for a long time. We arrived immediately behind a truck delivering a load of freshly-picked grapes, ready to start their journey toward becoming delicious wine. It was a great day to be in the Napa Valley.
We checked in with the Davies Vineyards receptionist and met our wine guide for the day Kelly. She greeted us with a glass of crisp and refreshing 2016 Schramsberg Brut Rosé and invited us to walk behind the tasting room to see how that truckload of grapes was being processed. We love watching grapes becoming wine, so we readily agreed and joined Kelly in the back lot. Once we were safely positioned out of the action, we had the chance to watch as Davies workers passed bins of grapes through the destemming machine, which routed the stems and branches one way and nothing but berries another.
After we tired of watching other people work, we returned to the tasting room to find that everything had been set up for our customized tasting experience. In addition to a water glass, each seat was set with multiple wine glasses and a personalized tasting menu. Kelly started our flight with their 2016 Davies Vineyards Pinot Noir, made from Anderson Valley fruit. We learned that this wine was released a year ago and was already nearly sold out. We enjoyed the aromas of mushroom and forest floor, the smooth mouth feel, and the incredibly nuanced plum, cocoa, and raspberry flavors teasing our palates. We decided that we needed to buy some of this wine before it was too late!
Next on our tasting flight was their 2017 Davies Vineyards Pinot Noir, made with fruit from the Three Amigos Vineyard in Carneros. Although the first Pinot Noir was my favorite, this wine took top honors from the rest of our tasting party. The bright cherry flavors and finish of smoke and tannin made fast friends all around! More wine for our Take Home list. Kelly then shifted us to Cabs, starting with their 2014 J. Davies Estate Cabernet Sauvignon, made from Diamond Mountain grapes. A blend of 80% Cab, 175 Malbec, and 3% Petit Verdot, we were blown away by this Cab, fruit forward, smooth and luxurious. At this point, our Take Home list was taking a beating.
The final tasting on our flight was their 2015 J. Davies Estate Cabernet Sauvignon, again from Diamond Mountain grapes. A slightly different blend from the 2014 (76% Cab, 16% Malbec, 2% Merlot, 2% Petit Verdot, and 1% Cabernet Franc), we adored the leather and smoke hints peeking out behind the explosive fruit. While both vintages are drinkable now, this vintage in particular should cellar well for a dozen years.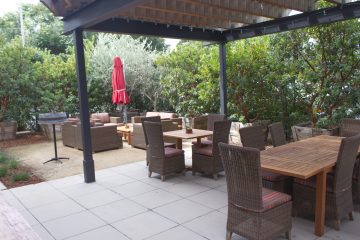 We thought that our tasting was complete, but no, there was more! Kelly surprised us with glasses of Schramsberg Crémant and miniature chocolate cheesecakes! She claimed that the previous weekend had featured this pairing for their club members, but we gave her all the credit for this kindness. The demi-sec bubbles paired wonderfully with the creamy cheesecake to produce a delightful capstone to our tasting.
Next up was the difficult part: picking out what wine to purchase. Our tasting notes were covered with stars (our code for "buy this") so that was very little help. We finally gave into the inevitable and purchased several cases of wine. Never mind our "one bottle per winery" rule when on a tasting tour, life is too short to make short-sighted decisions on wine! We thanked Kelly for all of her care and carried our cases of wine to the car. What a great tasting!
---
About the Author
: John grills a mean steak and is always in the market for another wine fridge. Believes that if a winery has more than 10 employees, it's probably too big. Buys wine faster than he drinks it, but who cares?
---
It pays to subscribe!
We will send you a brief email whenever there's a new post, so you'll never miss an article. We promise not to be a pest. Unsubscribe any time you like. And, of course, we won't let ANYONE else use our subscriber list. By subscribing, you agree to our
Privacy Policy
.
So go ahead,
click here to SUBSCRIBE
!