So 2018 was just around the corner and we had a shocking problem: not enough champagne! Always problem solvers, we voyaged north to Schramsberg Vineyards to avoid this potential apocalypse.
Schramsberg Vineyards is a beautiful place to visit! Nestled on a hillside in Napa, the buildings and grounds are beautiful any time of year. The gorgeous scenery, the fantastic wine, and the captivating tours all come together to create an experience not to be missed. Somehow, however, other people know about Schramsberg, too, and getting a (required) reservation a challenging task. Lucky for us, some good friends are club members, so reservations were a lot easier to obtain. Always good to have friends in fun places!
Arriving at Schramsberg Vineyards builds excitement slowly. The turn off of Highway 29 is lightly, but visibly, marked. The long, winding driveway up to the facility is well paved but quite a challenge when facing oncoming traffic. Once cresting the hill, though, an expansive parking area welcomes you. Any driving stress disappears immediately as you soak in the lush landscaping and tastefully sited buildings.
We parked and made our way past the frog pond to the visitor center. Once registered for our tour, we met our amazing wine guide Dianne, who made us welcome and gave us some insights into the history of Schramsburg. We learned that Jacob Schram immigrated from Germany back in the 19th century. Although a barber by trade, he took up wine making when he purchased this parcel on Diamond Mountain. He cut a tiny cellar into the granite, large enough to store just one wine barrel and several kegs. A few years later he hired Chinese laborers to dig caves in earnest. Some days, progress was measured in inches, but over 7 years, two tunnels of 200 feet and another series of tunnels over 400 feet long were made. This created a perfect environment for cellaring wine!
Although Jacob built his vineyard and winery into a successful operation, his children were not as enthusiastic about the wine business. A few years after Jacob's death, his descendants sold the property and left the area. The land changed hands a few times, until Jack and Jamie Davies purchased it in 1965. The Schram property was back in the wine making business, with a focus on producing premium sparkling wine. The Schramsburg label received sudden world-wide exposure when it was used for a "Toast to Peace"  during a state dinner in Bejing. Barbara Walters, standing in Tiananmen Square, reported that "little-known Schramsberg 'blank de blank' was served last night." The world now knew about Schramsberg.
Feeling well informed, we followed Dianne into the caves to begin our tour.  Now extending for more than two miles, the caves are a beautiful backdrop for learning about the process of making sparkling wine. As we walked, Dianne told us about the Méthode Traditionelle process that they use for making sparkling wine. With this technique, still wine is produced in the typical manner, but once ready to bottle, a solution of sugar and yeast (called a "dosage") is added to each bottle before capping. This causes a secondary fermentation in the bottle, which is responsible for the tiny bubbles that make sparkling wine sparkle. Eventually the yeast consumes all of the sugar and dies, leaving behind sediment called "lees."
These lees can be a problem because the wine will be cloudy. Schramsberg uses the technique first invented by Barbe-Nicole Ponsardin, better known by her married name: Clicquot. She married François Clicquot, a wine maker, who sadly died six years later, leaving her the family estate, including the winery. Rather than sell the business, she took the unusual action of managing the winery, focusing on sparkling wine. Veuve Clicquot is credited with inventing the technique called riddling. Riddling is a long process where slightly inverted bottles are gradually turned and tilted until the lees are collected in the neck of the wine bottle. At the end of the process, the neck of the bottle is frozen, the "plug" of frozen wine and lees expelled, and the final cork applied. All that's left is clear, delicious sparkling wine without any sediment!
We next encountered a tour highlight: an in-tunnel tasting! Just around a nondescript corner was a tasting table set with champagne flutes, chilled wine, and even several candelabras. Dianne led us through tasting a series of lovely Schramsberg sparkling wines, pointing out interesting facets of each. For example, we learned that very high-end sparkling wines are put in big-bottomed bottles to make them easier to identify in a dark cellar! Following the sparkling, we also had an opportunity to taste some of the still wines sold under the Davies Vineyards label.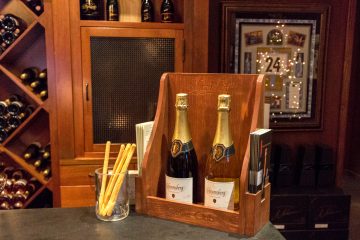 Tasting complete, Dianne led us out of the caves, back to the visitor center. We made our way through the order sheet, making very difficult decisions along the way. Given how infrequently we visit the Schramsberg estate, we tended to round up a bit on our purchase list. After all, we were avoiding a champagne apocalypse, weren't we? With New Year's Eve staring us in the face, it was only reasonable to be sure that we wouldn't run out. With thanks to Dianne, we hoisted our cases of lovely wine and set off into the setting sun.
---
About the Author
: John grills a mean steak and is always in the market for another wine fridge. Believes that if a winery has more than 10 employees, it's probably too big. Buys wine faster than he drinks it, but who cares?
---
It pays to subscribe!
We will send you a brief email whenever there's a new post, so you'll never miss an article. We promise not to be a pest. Unsubscribe any time you like. And, of course, we won't let ANYONE else use our subscriber list. By subscribing, you agree to our
Privacy Policy
.
So go ahead,
click here to SUBSCRIBE
!