Day two of our Paso Robles adventure arrived full of sunshine and promise. The second day of any wine tasting trip requires fortitude and focus (and a certain amount of attention paid to breakfast) so we try to plan our first winery of the day to be something special. This morning was no exception. The top on Saturday's tour list was Adelaida Cellars. Our day was off to a great start!
Adelaida Cellars is several miles off of the highway on (wait for it) Adelaida Road. Driving down rural Adelaida Road is beautiful; winding, dotted with wineries and a great road to experience in a convertible (just saying). The driveway to the tasting room from Adelaida Road brought us up a gorgeous ridge line, surrounded by well-groomed grape vines. By the time we reached the tasting room we were relaxed and energized, ready for some wine tasting.
We were welcomed to the tasting room by Austin, a high-energy guy who divides his time between being a personal trainer and a wine guide. If he is as engaging in the gym as he was in the tasting room, his fitness clients will be in great shape. The tasting room itself was a feast for the eyes, with bottle displays, crafts, snacks and olive oils to peruse and purchase. Judi selected a wooden trivet with the winery's logo as a keepsake. We started a "must buy" pile because we were pretty sure that some wine would be coming home with us, too.
Austin set us up with a glass (for these intensive tasting tours we always share a glass) and our first taste, a 2013 Chardonnay from the 50 year old HMR Vineyard. Austin told us that this wine is a blend of juice aged in French oak, neutral oak and stainless steel. We appreciated apple and lemon notes, with just a slight amount of butter. Chardonnay is not typically a favorite of ours, but this was a hit with us both. A great Chardonnay for a hot summer day or with popcorn and a movie.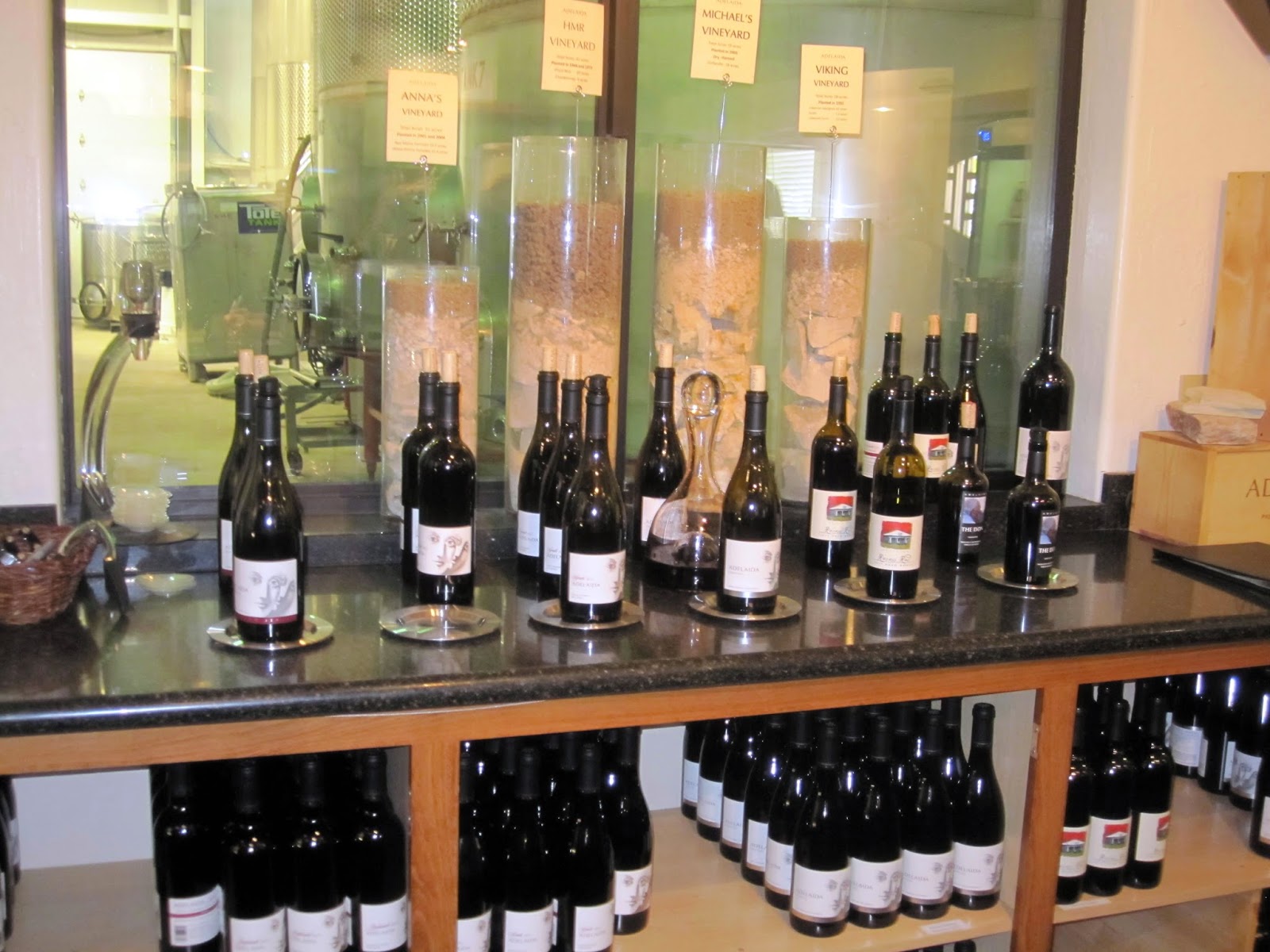 Next, we tasted their 2013 Viognier from Anna's Vineyard. We found a floral nose, with some fun citrus notes and a surprising melon finish. We learned that this is the fourth year in a year that this wine has received 90 points from the Connoisseur's Guide. We typically enjoy Viognier, and this is an outstanding example of the varietal.
We tasted their 2012 Pinot Noir from La Encantada Vineyard, with a nice balance of tart fruit and pepper, their 2012 Zinfandel from Michael's Vineyard, which danced its way across our palates, and their incredibly smooth 2012 Syrah from Anna's Vineyard. A bottle of the Syrah went to our "must buy" pile. We then discovered a real favorite, their 2012 Syrah Reserve from the Viking Vineyard. Two bottles of this remarkable wine came home with us for further consideration.
So much to look at!
We completed our tasting flight with their Port, called The Don. This unique dessert wine is a blend of 65% Touriga, 28% Tinto Cao and 7% Souzao. As a student of the Port, I can say with confidence that this is one amazing Port! This Port just aches for a sudden onset of the common cold, because everyone knows that a good Port can cure the common cold. A bottle of this magic elixir joined the Zin and Syrah on our "must buy" pile.
Although we loved the Adelaida wines and Austin's enthusiastic descriptions of the vineyards and wines, we had an aggressive list of wineries to visit, so we paid for our wines and cute kitchen trivet and headed back out to Adelaida Road.
Next stop: Daou Winery!
---
About the Author
: John grills a mean steak and is always in the market for another wine fridge. Believes that if a winery has more than 10 employees, it's probably too big. Buys wine faster than he drinks it, but who cares?
---
click here to SUBSCRIBE
!