After an amazing start to day two of our Paso Robles adventure at Adelaida Cellars, we drove just a short way back down Adelaida Road toward the highway, to the entrance to DAOU Vineyards and Winery. As we made our way along the winding drive, we spied a mansion perched at the top of a mountain top. Could this be our destination? It looked so high and far away, we couldn't quite believe our eyes, but yes, this was our goal, the tasting room of DAOU. We soon learned that more than the building aspired to dizzying heights.
The vineyards were vast, the scenery breathtaking, and the facility looked grand, off in the distance. As we approached, we were met by an employee who told us that we were visiting on a club pickup day, so the expected crowd would overpower their primary parking lot. Not to worry, though, there was an auxiliary lot at the base of the mountain and a shuttle to move us up and back.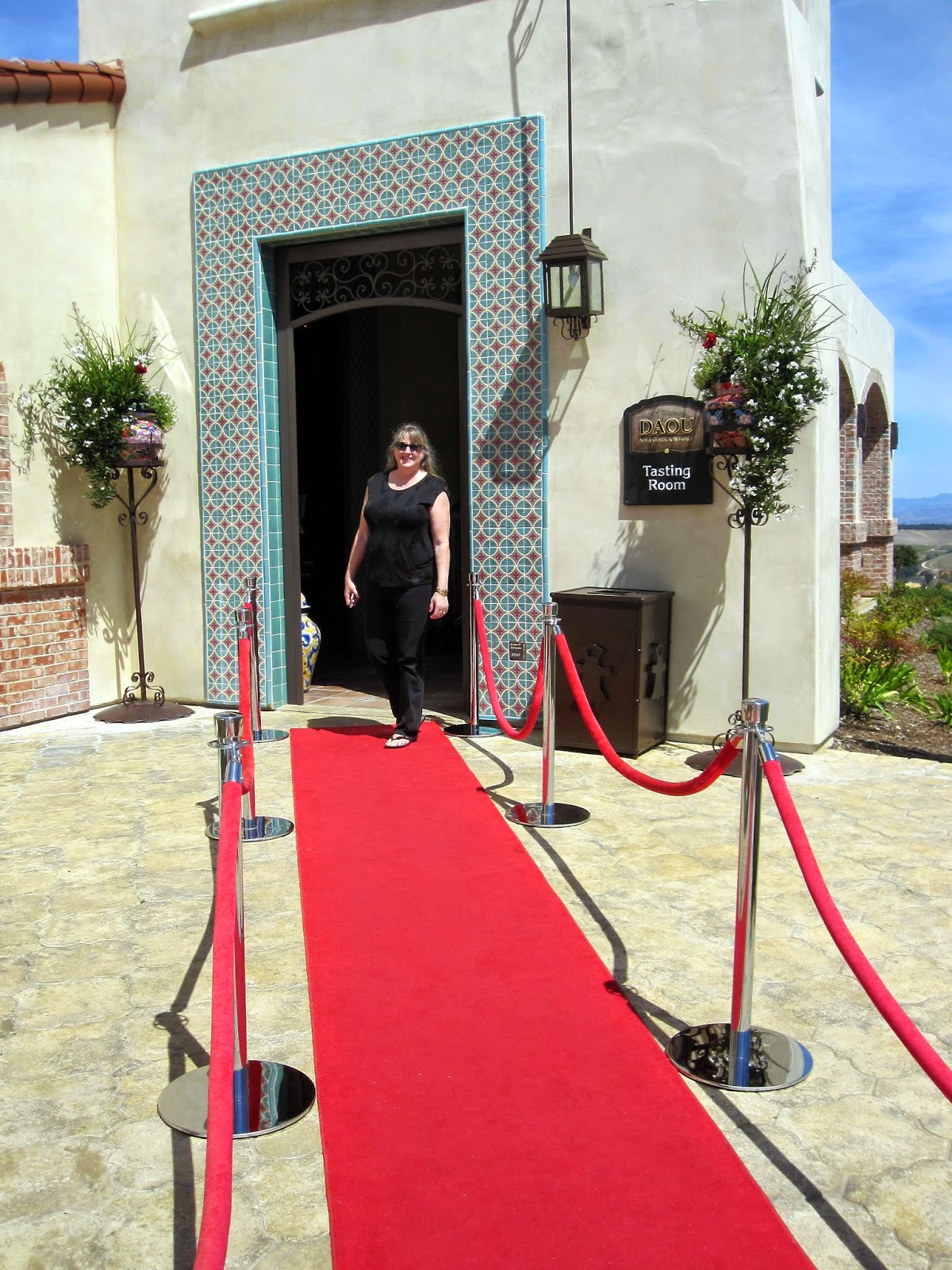 We quickly shuttled our way up to the facility, and sure enough, the parking was not up to the throng of happy wine tasters visiting for the day. To our surprise, we were greeted by a red carpet leading us into the tasting room. Yes, Hollywood, red carpets have come to wine tasting! And unlike Hollywood, the paparazzi were absent, so we were able to make our entrance with little fanfare. Note to self: I've got to get one of these carpets for my entry walk! Once you've walked the red carpet, you don't want to stop.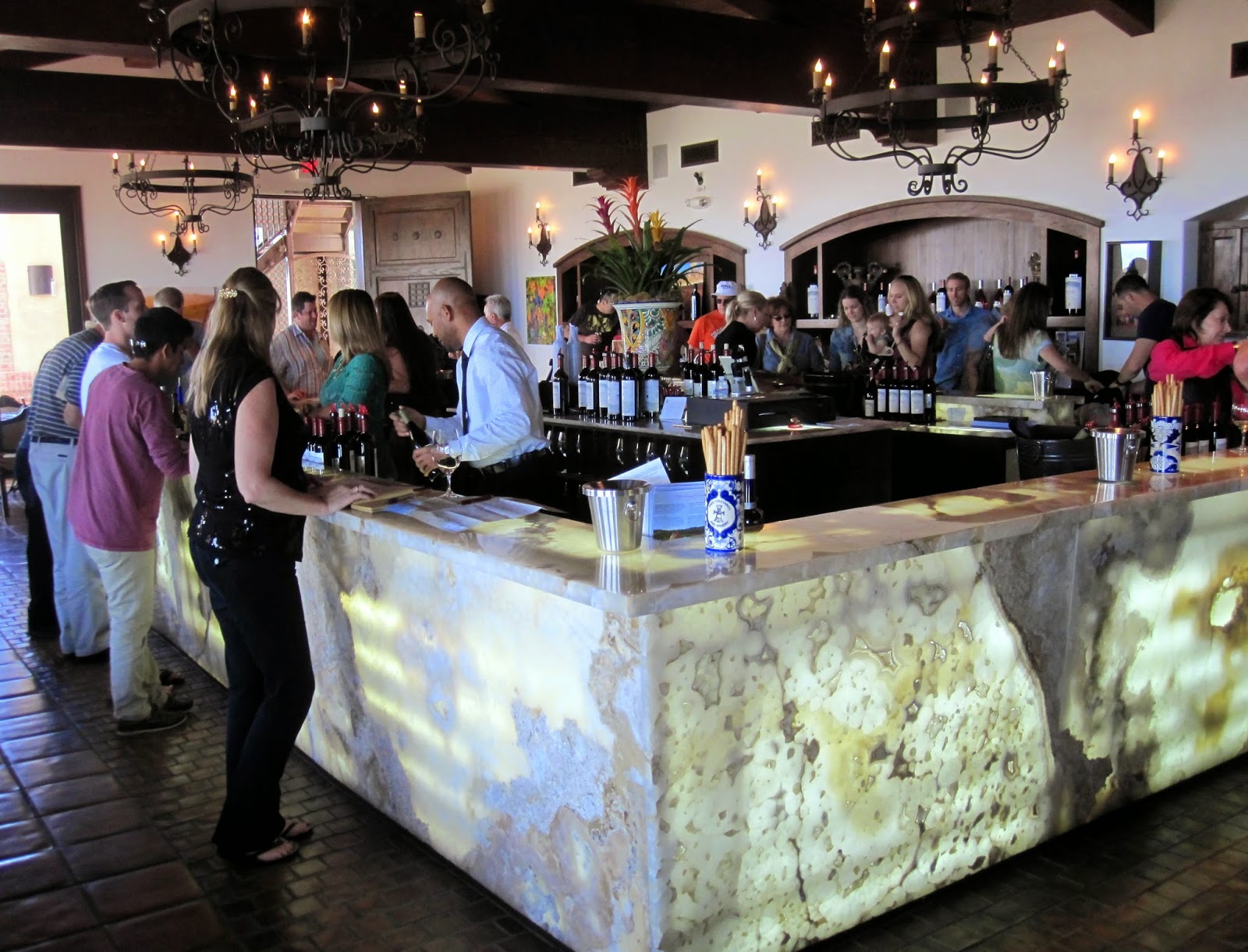 We entered a tasting room that can only be described as AMAZING! The primary bar was made from white onyx, with tasteful back lighting that complemented the wine and the tasters. We later learned that this design was carried into the bathrooms also. Well done, DAOU! We've never looked so good while sampling wine.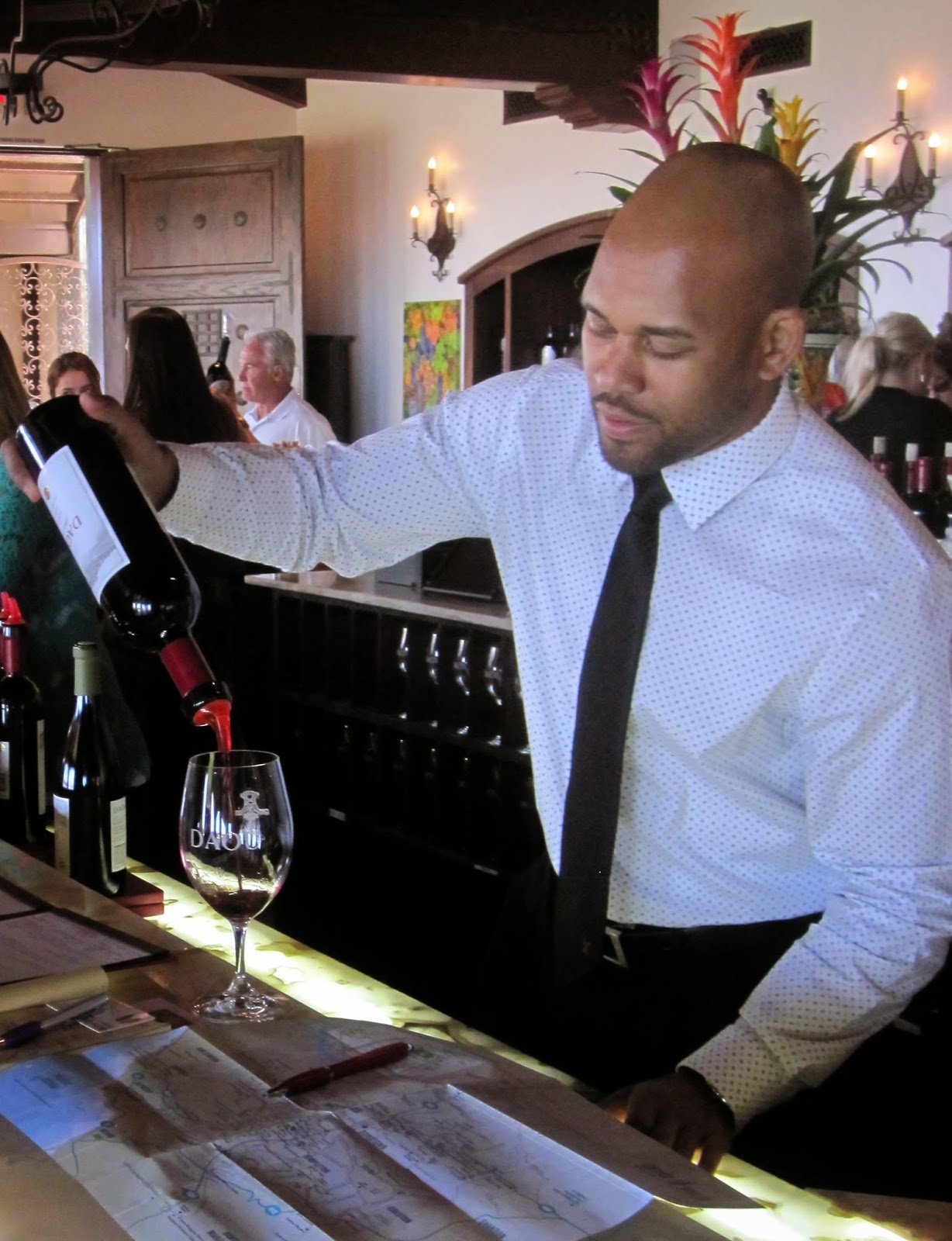 Brandon in his element
We were warmly greeted by wine guide Brandon. He made us feel welcome and an immediate part of the DAOU scene, a real trick given the number of people he must meet on any given Saturday. He set us up with wine glasses and gave us a quick introduction to DAOU as he poured our first taste.
We learned that brothers Georges and Daniel Daou immigrated to the United States from Lebanon via France as teens. Both young men became engineers and started their own technology company, called Daou Systems. The sale of their company gave the brothers the financial means to pursue their passion of wine making.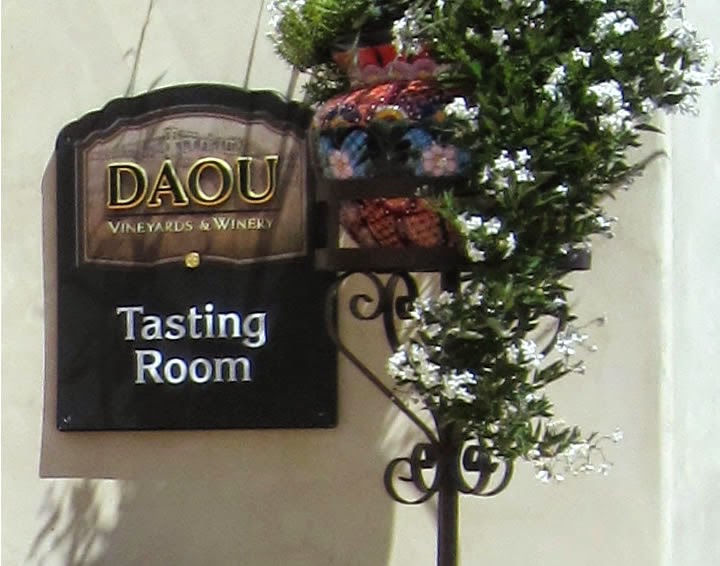 We began our tasting flight with their 2013 Reserve Chardonnay. Right from the start, we identified the key characteristics of DAOU wines: clear, refined fruit with complex and lingering finishes. These wines are meant to be savored, either solo on the back deck as the day draws to a close or with fine food and good friends. The barreling in exclusively French oak, some new and some reused, gave each wine a mellowness and character that was unmistakably DAOU.
 As we tasted our way through the flight, we noticed that it had become lunch time. Imagine our joy to learn that DAOU had an excellent kitchen offering an extensive menu of small plates! We met wine guide Alejandro, new to DAOU (and the U.S.) but already knowledgeable about their food offerings and possible wine pairings. Judi chose the Pork Sliders and I chose the Asparagus & Wild Mushroom Farro alla Risotto. In a rare moment of agreement (about the favorite wine of a flight) we both selected the
2012 Reserve Cabernet Sauvignon
with our lunch.
Still experimenting with the slo-mo feature of the new iPhone, here is Alejandro's masterful pour of our Cab:
As our meals were being prepared, we went out the back door of the tasting room to discover an amazing vista!
Panoramic view from our lunch table!
About to enjoy lunch
Our lunch soon arrived and we steeled ourselves for the challenge before us: eating fine cuisine while enjoying a truly unique perspective on the Paso Robles hills. If only every day could be this awesome! That will just have to wait for retirement, unfortunately. Until then, these weekend adventures make the work weeks worthwhile.
Once we were done with lunch, and I won't lie, we REALLY took our time enjoying the scenery, we returned to the tasting room to complete our visit. On our walk back, we passed so many happy groups, some enjoying food and wine, others enjoying bocce ball, others just taking in the views.
We said goodbye to Brandon and Alejandro and joined a shuttle bus full of happy people to return to our car. Our day of tasting was in mid-stride and we couldn't be happier with our discoveries so far.
DAOU, thanks for the great wine, fun staff and absolutely mind-blowing views!
---
About the Author
: John grills a mean steak and is always in the market for another wine fridge. Believes that if a winery has more than 10 employees, it's probably too big. Buys wine faster than he drinks it, but who cares?
---
It pays to subscribe!
We will send you a brief email whenever there's a new post, so you'll never miss an article. We promise not to be a pest. Unsubscribe any time you like. And, of course, we won't let ANYONE else use our subscriber list. By subscribing, you agree to our
Privacy Policy
.
So go ahead,
click here to SUBSCRIBE
!