Our day of wine tasting in Paso Robles was drawing to a close. As we left ZinAlley, we decided that we had time for just one more winery. We had reservations at a great restaurant, so time was of the essence. Sometimes tough decision must be made. We decided to spend our last tasting of the day at Jada Winery. Once again, a tough decision with a great result!
The tasting room looks like the hillside home we could never afford, midway up a ridge, exquisitely groomed grounds. We walked up some stairs and along a beautiful deck before reaching the tasting room itself. Bright and airy, the tasting room was full of bright art and wine label posters, happy tasters and knowledgeable wine guides. Just our kind of room!
Eric with our 1st pour
We met our wine guide, Erik, who introduced us to their cheese pairing strategy. Every taste comes paired with an artisanal cheese. Perfect! A wine-and-cheese appetizer before our meal. How did they know?
Our fist pour was their 2014 1149. An amazing Rosé made from estate Mourvedre, we awarded this taste "best glass of the day." Sure, the Jada glasses are beautiful, but the "best glass of the day" was earned because of the great layers of fruit in perfect balance, with a lingering finish that begs for another sip. The only bad news? They only made 68 cases of this beauty.
We enjoyed the 2013 XCV, a white blend of 52% Roussanne, 31% Grenache Blanc and 17% Viognier, all estate grown, but the 2011 Jersey Girl (100% Estate Syrah) was a real crowd pleaser. The label (and Erik) claimed a 2011 vintage, but the wine tastes like it has been aged far longer. Very drinkable and food-friendly, this is another great choice for dinner parties. Regardless of menu, this wine can make it better. It was paired with a 2 year old Gouda Valaskaas from the Netherlands that we purchased for snacking purposes the next day. Delicious!
The 2010 Malstria was another happy surprise. An estate blend of 32% Cabernet Sauvignon, 32% Syrah, 26% Merlot, 6% Petit Verdot and 4% Tannat. The balance of alcohol and gentle tannins layered on a complex medley of fruit, this was too nice not to come home with us. Our tiny trunk was already getting full, but we found some space for this gem!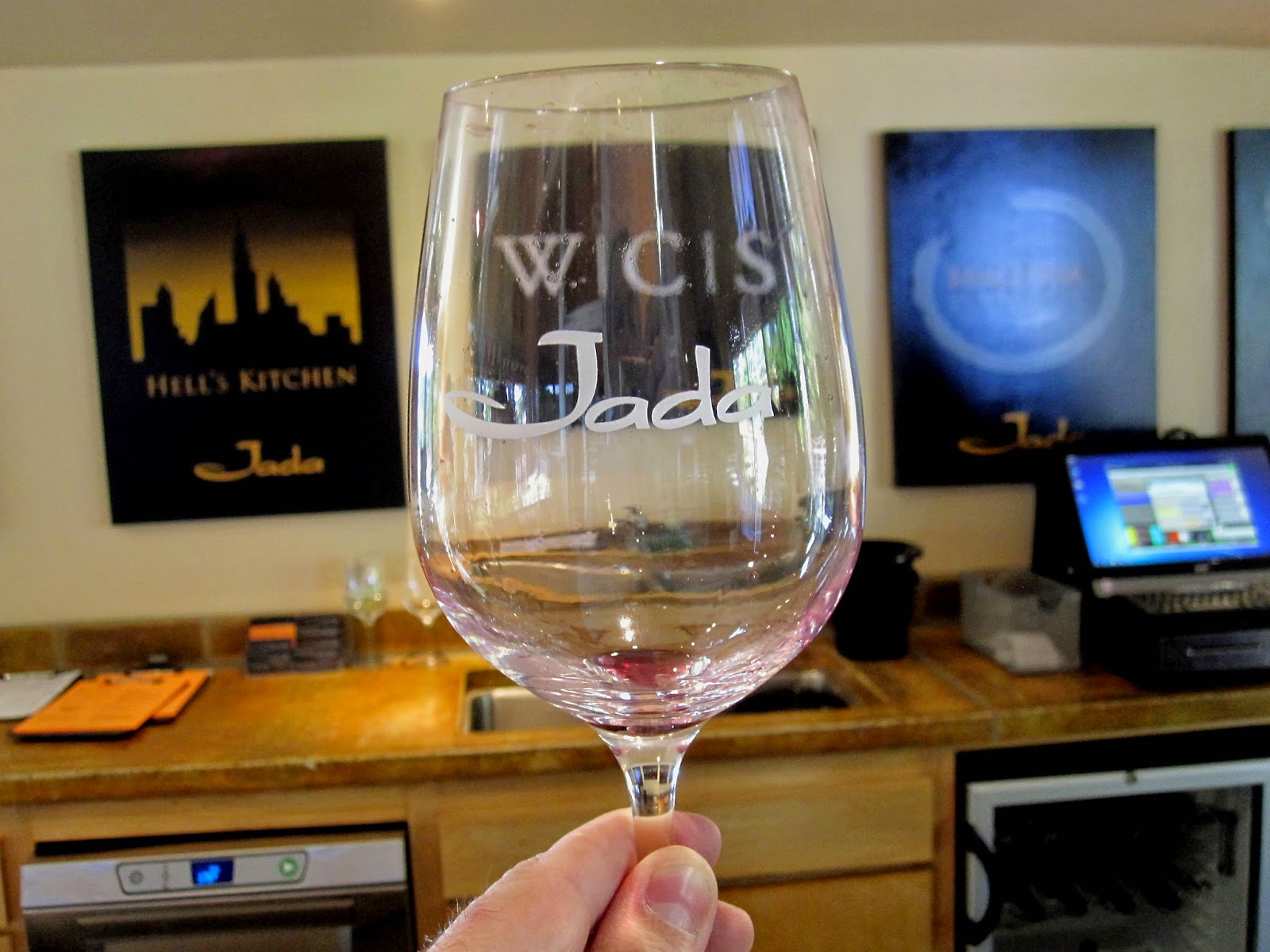 We next tasted their 2012 Strayts, an estate blend of 75% Merlot and 25% Cabernet Sauvignon. This wine was born for food pairing, with an assertive start, a gentle layering of fruit and a long-lasting finish to complement any entree. It was paired with Porter Cahill's cow's milk cheese from Country Cork, Ireland, which we also purchased for snacking later.
The last wine of the flight was their 2012 Hell's Kitchen, a blend of 55% Syrah, 27% Grenache, 17% Mourvedre and (most importantly, it seems) 0.5% Roussanne and 0.5% Viognier. While we couldn't understand adding half of one percent of two different varietals, we couldn't argue with the results! Ready to drink right now, this wine had absolutely no sharp edges and really well developed layers of fruit dancing across the palate. David Galzignato, the wine maker, projects that this will drink well into 2022, we don't expect that anyone will wait that long.
We had reached the end of the tasting flight, and our dinner reservation loomed large, but we did make time for one more pour, their 2012 WCS "JackJohn" Grenache Blend. Erik told us that he paired this wine with last year's Thanksgiving turkey, to rave reviews. We loved the smokey nose and great finish. Erik assured us that we didn't have to wait until Thanksgiving to enjoy this.
Oh, and we couldn't help but show you that last, wonderful pour, in slow motion:
The sun was setting, the restaurant beaconed, it was time to go, We paid for our wine and cheese and set off for downtown Paso Robles. Buona Tavola, here we come!
See you again soon, Jada! Cheers.
---
About the Author
: John grills a mean steak and is always in the market for another wine fridge. Believes that if a winery has more than 10 employees, it's probably too big. Buys wine faster than he drinks it, but who cares?
---
click here to SUBSCRIBE
!