We love the wines from the Burgundy region of France. After some incredible tasting experiences in the Champagne region, we made our way to Burgundy. In short we were wine tasting. Our first stop: the remarkable Maison Marchand-Tawse.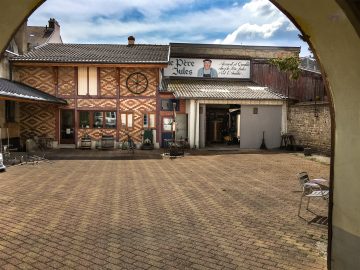 It was a warm, sunny afternoon in the small town of Nuits-Saint-Georges, when we found the entrance of Maison Marchand-Tawse. We walked in through a decorative archway to discover a large courtyard highlighted with murals and winemaking equipment. Lorenzo came out of the administrative office to greet us and guide us into their tasting room. We learned that Lorenzo was the Marketing Manager for Marchand-Tawse, with a life-long connection to wine and winemaking.
Lorenzo led us into a large room, equally divided between displaying the myriad diversity of wine bottles and the arcane equipment needed to produce wine. Although Lorenzo spoke French (of course) and flawless English, it was clear that he was neither. Instead, he was 100% Italian.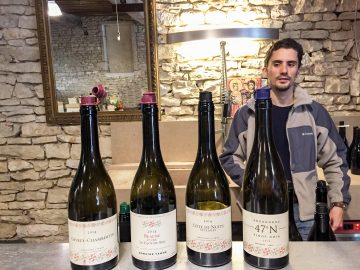 We learned that he was a design engineer by training, originally designing Vespas in Italy. When his mother assumed control of the family's winery, Lorenzo gave us design and set out to learn the wine business. His association with Marchand Tawse began with a casual conversation over wine and expanded to his current responsibilities. He has even had the opportunity to design some of the new wine labels.
We started with their 47o N, a lovely Pinot Noir (of course, that's pretty much all of the red wine grapes they grow in Burgundy), with lots of fruit, with smoke and mineral notes for interest. Lorenzo next poured their 2014 Cote de Nuits, made from a vineyard just south of Nuits-Saint-Georges. The same grape varietal, from a vineyard just a few miles away, but strikingly different! We found much brighter fruit and less smoke.
Next us was their 2014 Beaune Le Clos du Roi Premier Cru. This was a shining example of Beaune Pinot Noir, with nuanced layers of fruit, tobacco notes across the top, and a great balance of acid and tannins. Their 2014 Gevrey-Chambertin was next. Made from non-estate grapes, this wine showed fun mint aromas and herbaceous flavors lurking behind the fruit.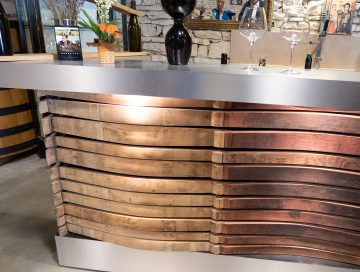 We next tasted their 2014 Morey Saint Denis, with leafy greens on the nose and huckleberry and cranberry flavors jousting with plums. We moved to their 2013 Nuits-Saint-Georges Les Vaugrains Premier Cru. Even five years after harvest, this wine is still drinking young. Already enjoyable, with particularly nice aromas, this wine will be truly amazing in another 5-10 years! We finished with their 2013 Les Terres Blanches, a 100% Chardonnay. Yes, we tasted the Chard last! In this case, it worked, because the wine had plenty of punch and personality to make an impression on our Pinot-laden palates. We loved the slate and lemon flavors!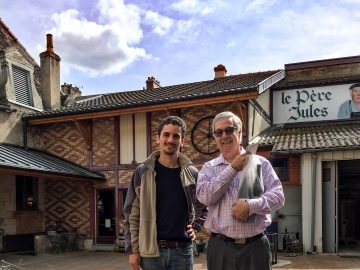 We happily choses some wines to take with us and gave Lorenzo our list. To our surprise, he jumped on a bicycle and sped off in search of wine. It turned out that some of our choices were not on hand in their office, so he happily sped to their warehouse and hand-labeled our wine and came back. That is customer service beyond compare! We paid for our wine, thanked Lorenzo for everything and set off toward our next tasting. What a great introduction to Burgundy!
---
About the Author
: John grills a mean steak and is always in the market for another wine fridge. Believes that if a winery has more than 10 employees, it's probably too big. Buys wine faster than he drinks it, but who cares?
---
It pays to subscribe!
We will send you a brief email whenever there's a new post, so you'll never miss an article. We promise not to be a pest. Unsubscribe any time you like. And, of course, we won't let ANYONE else use our subscriber list. By subscribing, you agree to our
Privacy Policy
.
So go ahead,
click here to SUBSCRIBE
!