The lovely town of Beaune in the heart of the Burgundy region of France is rich with wineries and tasting rooms. We were thrilled to have the opportunity to visit one of the oldest and most respected among them: Bouchard Pere et Fils.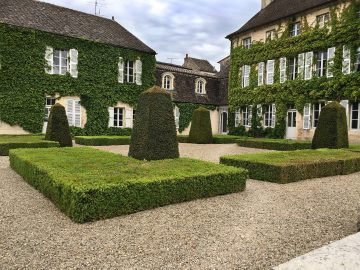 One of the great things about staying and tasting in Beaune is that you can walk to nearly everything! We walked to cafés for our breakfast croissants, walked to the market for local cheeses, meats, and spices, and walked to wineries for our true mission of the day: wine tasting. We strolled down the picturesque, tree-lined streets to the walled property of Bouchard. It was obvious that we were about to explore a true piece of Burgundy history.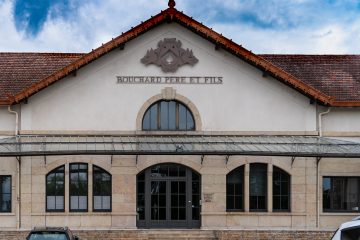 We learned that Bouchard Père & Fils was founded in 1731 in Beaune by Michel Bouchard and is one of the oldest wine estates in the Burgundy region. The French Revolution gave the Bouchard family an opportunity to extend their holdings by purchasing property belonging to the clergy and nobility, including the famous "Beaune Grèves Vigne de l'Enfant Jesus." Additional vineyard purchases were made in the 19th and 20th centuries. Nine generations in, and the Bouchard wine dynasty continues.
We entered the Bouchard tasting room to find a relaxing blend of old-school elegance and modern marketing. Warm woods and quiet tasting spaces abutted back-lighted Plexiglas informational kiosks. We wandered around for a bit, soaking in the centuries-old traditions represented in their displays and finding our way to the tasting bar. Things were about to get interesting!
We were welcomed by wine guide Penny, who got us settled in at their seated tasting bar (score!) and equipped with wine glasses. She explained that their suggested tasting flight offered their red wines before their white. We had encountered that before in France, and welcomed this twist on tasting protocols. Penny started us with their 2013 Beaune Premier Cru "Les Marconnets". This was definitely getting the tasting off to a great start! We loved the clay notes on the nose with fun hints of blueberry behind the classic fruit leading to a languorous  finish.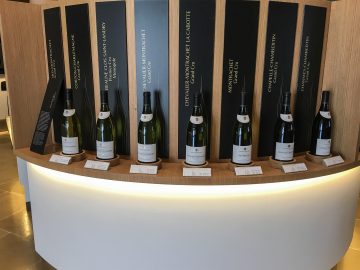 We next tasted their Volnay Premier Cru "Les Caillerets", crafted from grapes from a vineyard planted in 1775. Yes, this vineyard is nearly 250 years old! This was delicate, with amazing layers of light cherry and citrus zest, with a bit of tobacco on the finish. We were excited to next taste one of their most famous wines: their 2013 Beaune "Grèves Vigne de l'Enfant Jesus."
Penny told us the background on this unique vineyard name. It is said that Louis XIII's wife, Anne of Austria, was reaching the advanced age of 36 without producing an heir, suffering four stillbirths. Then, the founding Carmelite of Domestiques de la famille du Saint Enfant Jesus, Marguerite du Saint-Sacrement, predicted that Queen Anne would soon have a son. This came to pass, so the Carmelite order renamed their best vineyard "Vigne de L'Enfant Jésus." We tasted this storied wine and found so much to enjoy! This iconic wine showed aromas of blackberry and cigar, with complex layers of fruit leading to a smoky finish.
Next was their 2013 Le Corton Grand Cru. This was a favorite among the four of us, with stunning cigar box aromas and intriguing dark cherry flavors and a finish that kept us longing for more! We wrapped up our tasting with their 2013 Corton-Charlemagne Grand Cru. This Chardonnay was boisterous and lively, with zesty aromas of kumquat and hints of orange blossom and plum on the palate, with a friendly salt-and-acid finish that we loved.
We received some excellent advice from Penny regarding which bottles to purchase that reflected the spirit of the winery without inflicting too much damage to our credit card. So many great choices, so little time to enjoy these wines before we would need to make room for the delights from additional wineries! We finally made the tough choices, purchased our wine, and said a happy goodbye to Penny. What an amazing tasting!
---
About the Author
: John grills a mean steak and is always in the market for another wine fridge. Believes that if a winery has more than 10 employees, it's probably too big. Buys wine faster than he drinks it, but who cares?
---
It pays to subscribe!
We will send you a brief email whenever there's a new post, so you'll never miss an article. We promise not to be a pest. Unsubscribe any time you like. And, of course, we won't let ANYONE else use our subscriber list. By subscribing, you agree to our
Privacy Policy
.
So go ahead,
click here to SUBSCRIBE
!