The term "hidden gem" can be overused. This is one case where the label is more than deserved, because this amazing winery does not even have a sign. We were beyond excited to be invited behind the gates of Domaine Newman.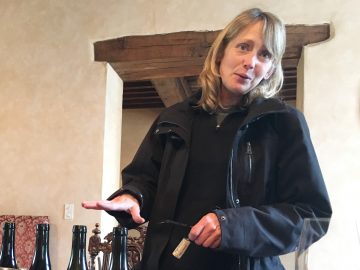 Getting behind the gates was a real-life example of the six degrees of separation concept. We were touring the Burgundy region of France, staying in a lovely AirBnB in Beaune. It turned out that our AirBnB host was friends with the assistant winemaker at Domaine Newman, Jane Eyre. With a bit of nervousness about my terrible French, I called Jane to try to arrange a visit. Imagine my surprise to hear a lilting Australian accent answer my call! That reduced the translation issues considerably.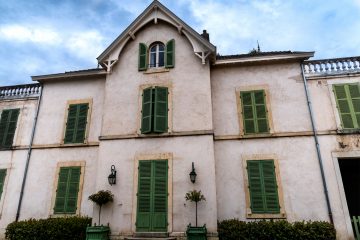 Jane was very gracious on the phone and arranged for our visit later that week. We received very detailed instructions regarding the winery's location because, as Jane explained, there was no retail sign at all. A new pinnacle of success in the category of maintaining a low profile! Based on her guidance, we found the proper gate, pressed the barely visible button on the gate pillar and moments later watched as the impressive iron gates swung open. What an amazing arrival experience!
Jane greeted us at the gate and led us through the entry courtyard to the main building. She invited us to look around the tasting room a bit while she gathered wine bottles for our tasting. The area had two seating areas. The smaller room featured a large barrel as a table, with light pouring in from some large windows. A large doorway on one wall led to a steep stairway descended into the wine cellar.
The other room was a bit more formal, with a large tapestry mounted on one wall, and a beautiful area rug covering most of the floor. After some time examining the period furniture, Jane returned from the cellar with arms full of wine bottles. We were a bit surprised to notice that none of the bottles bore labels, but Jane immediately used a piece of chalk to record the contents of each bottle.
As Jane was marking the bottles and popping their corks, she told us a bit about the winery. Owner/winemaker Chris Newman hails from New Orleans, but has made the transition to producing fine Burgundy wines  with apparent ease. Jane has been the assistant winemaker since 2006. All of the wines are made from estate vineyards totaling 4.5 hectares, which are farmed organically.
We started our tasting with their Domaine Newman Côte de Beaune Villages. Bursting with bright pitted fruit, especially red plums and cherries; we loved the balance of acid and tannin on the finish. Their Clos des Avaux, Beaune Premier Cru was remarkably different, with quite a bit more minerality and tannins. Jane said that this was an example of what she called the "Riesling hole" where a wine loses its fruit flavor for a few years, leaving behind only acid and mineral notes.  We would lay this down for five years to reveal its inner brilliance.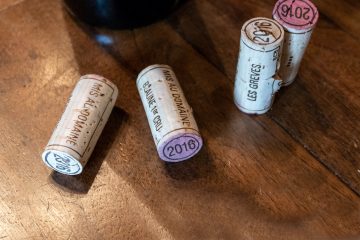 We next tasted their Monthelie du Villages. We enjoyed the bright aromas and bright cherry flavors leading to a tobacco base and lovely tamed tannins. This was a favorite for all of us! The new 2016 Beaune Premier Cru Clos des Avaux showed darker juice, with floral notes and heightened tannins, with a persistent, mouth watering finish. This wine opened up to reveal amazing complexity in a matter of minutes!
Their 2016 Greves Premier Cru was made in a single neutral 300 liter barrel. We enjoyed the honey and floral notes dancing through the fruit. Our final Domaine Newman taste was their 2012 Clos des Avaux. The harvest of 2012 was quite small because of hail, so only about 12 barrels of this wine were made. Jane said that a quarter of the barrels were new oak. We noted the aromas that we had learned to expect from the Avaux vineyard, as well as more compact flavors all around.
There was more wine to come, because Jane Ayre produces her own line of wines, too, but that story will have to wait for another time!
---
About the Author
: John grills a mean steak and is always in the market for another wine fridge. Believes that if a winery has more than 10 employees, it's probably too big. Buys wine faster than he drinks it, but who cares?
---
It pays to subscribe!
We will send you a brief email whenever there's a new post, so you'll never miss an article. We promise not to be a pest. Unsubscribe any time you like. And, of course, we won't let ANYONE else use our subscriber list. By subscribing, you agree to our
Privacy Policy
.
So go ahead,
click here to SUBSCRIBE
!