Labor Day Weekend means just one thing to Livermore wine lovers: the Harvest Festival. With so many wineries offering special tastings, live music, food, and crafts, the only problem is deciding which winery to visit next! Here are some memories from our sampling of the Festival.
The Livermore Valley Winegrowers Association coordinated this amazing event with over 35 local wineries. Purchase a wrist band and select from a daunting list of experiences. Far more than anyone can experience, even over two days. We made some tough choices and only visited a fraction of the wineries we wanted to see.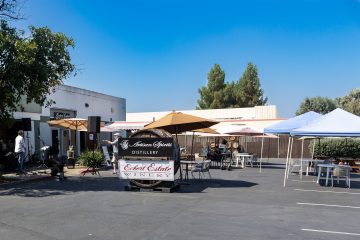 Eckert Estate Winery was our first stop. As we checked in and collected our wrist bands, the people at the registration table chucked, because Vickie Eckert had predicted that we would be the first to arrive, and she was right! We were a bit early, in fact, so we watched the band (Johnny Mahalo & the Wild Coconuts) set up. We got reacquainted with the next generation of Eckerts, tasted some of the new releases, and sampled some lovely brie.
McKahn Family Winery was our next stop. After a warm greeting from Denise McKahn, we went into the back room. We were thrilled to meet Patricia Saunders, author of the book There Is Sunshine After the Rain: Making It Through Life's Struggles. As we sipped on a lovely Rosé of Grenache we browsed some crafts and caught up with the McKahn family.
Across from the McKahn Family tasting room is the newest winery in Livermore: Embodied Wines. It is actually so new that it isn't tasting or selling wine yet! We admired the very calm falcon (yes!) at the entrance and entered the early stages of a tasting room to meet the owner/winemaker couple Stephen and Kimmie Spears. We learned that they expect to open in early October, so expect a review to appear here soon!
Fresh from an award-winning appearance at Taste Our Terroir, Longevity Wines' owner/winemaker Phil Long was chatting with guests; talking wine, of course. We sampled several of the new wines and soaked in the ambiance of the back room. There was something interesting to see in every direction! If you haven't ventured past the front tasting bar, you are definitely missing out.
Our next stop was Nottingham Cellars, where we enjoyed another crisp and refreshing rosé. We chatted with the wine guides and debated sampling the wares of the adjacent hot dog cart. So many decisions on a Festival weekend! We caught up a bit on recent releases at Nottingham promised ourselves that we would return in the coming weeks for a full tasting flight.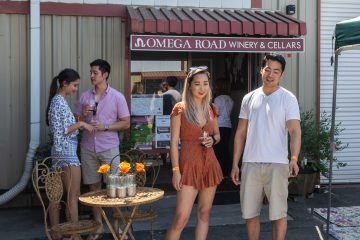 Just around the corner was our next destination: Omega Road Winery. After a bit of playing in traffic (some sidewalk construction would be wonderful) we made it to the beautiful painted barrel welcoming us to the Omega Road Winery. We entered the tasting room to Alexandra's thousand watt smile and some of her latest wine creations. We learned that a major new release was mere weeks away, so we marked our calendars. This was not to be missed!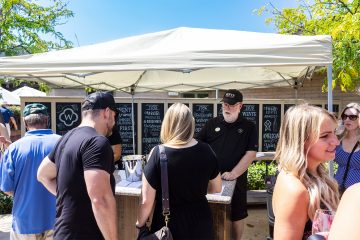 We finally had to get back in the car to visit our next choice: Wente Vineyards. As a larger winery, we were expecting a bit of a crowd. Happily, there was plenty of parking and a lot of staff ready to help out all of the visitors. We sampled some of the wines as we searched for some lunch. We were excited to see Dylan of VinX serving four different dishes. Lunch time! We caught up with Dylan and made our way through his pitas. A great pairing with the Wente wines.
Next up was Murrieta's Well Winery. Although a very popular choice on this Festival weekend, the staff was more than adequate to handle the throngs of happy tasters. We sampled some wine, admired the chandeliers in the barrel room (try counting them, the mirror makes it harder than you might think) and enjoyed some of the live music. The expansive property was being enjoyed by so many people, yet nothing felt crowded or overdone. A great job of planning and organizing.
We had not visited Retzlaff Vineyards for over a year, so it was our next choice. The lovely lawn had umbrella-covered tables generously scattered on either side of the long, grassy lawn. Dave Land was performing on an acoustic guitar, with vocals that made the crowd stop and listen. We tasted some local olive oil and sipped on (yes) another dry rosé. We spent some time at an open table and soaked in the lovely Livermore views.
We had missed the recent Eagle Ridge Vineyard release party, so we couldn't skip visiting them on this Festival weekend. We sampled their new Cabernet Sauvignon and Petite Sirah releases (and left with both) and also picked up some of their estate olive oil. We sampled a few of the other wines, experiencing a classic disagreement: which blend was more delicious, Eagle X or Raptor. Numerous tastings have failed to resolve this debate!
Every good festival has to end, and the Harvest Festival was no exception. With so many more wineries that we could not visit, we promised to be even more focused next year. Maybe next year we can visit an even dozen wineries?
Here are a few more photos from the weekend:

New neon at Eagle Ridge

A full tasting at Eagle Ridge


Pouring lovely wine at Retzlaff Vineyards

The patio at Murrieta's Well

The barrel room at Murrieta's Well

Pouring some amazing wine at Wente Vineyards

Live music at Wente Vineyards

VinX serving food at Wente Vineyards

Some lovely VinX lunches

The wood-fired kitchen at Wente Vineyards

The Wente Vineyards patio

A warm welcome at Omega Road Winery

Nottingham Cellars

Longevity Wines

Wine tasting with the winemaker at Longevity Wines


Embodied Wines

The owners/winemakers of Embodied Wines



Family and friends help out at Eckert Estate Winery


Vintage spirit stills at Eckert Estate Winery
---
About the Author
: John grills a mean steak and is always in the market for another wine fridge. Believes that if a winery has more than 10 employees, it's probably too big. Buys wine faster than he drinks it, but who cares?
---
It pays to subscribe!
We will send you a brief email whenever there's a new post, so you'll never miss an article. We promise not to be a pest. Unsubscribe any time you like. And, of course, we won't let ANYONE else use our subscriber list. By subscribing, you agree to our
Privacy Policy
.
So go ahead,
click here to SUBSCRIBE
!