August in Lodi: brown hills, green vineyards, and deep purple grapes. A perfect visual palatte for any wine lover. What could be more wonderful to pair with such a visual feast than to sample the enological artistry of d'Art Wines?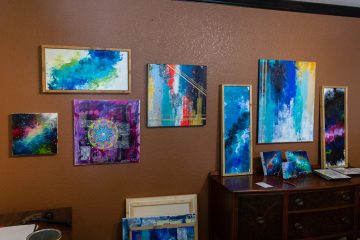 When visiting Lodi, we have a few favorite wineries that we just don't skip, and d'Art Wines is one of those wineries that we visit every time. Even the arrival experience is wonderful: parking beside a well tended vineyard, a sun-soaked winery dog casually eying us as we walk toward the tasting room, and amazing paintings on nearly every wall once we enter. Before one sip of wine is enjoyed, a wonderful mood is set. It keeps us coming back!
We entered the tasting room to find wine guides Jennifer and Monette happily attending to several groups of wine tasters. With the wrap-around tasting bar, there was more than enough space for everyone. We chose our spot carefully, optimizing our view of the art and easy interaction with Jennifer and Monette. Once again, we marveled by how thoughtfully the tasting room was designed. Even the smallest details were considered, like the white stripe down the middle of the tasting bar, just to make observing the color of the wine easier.
We started our tasting flight with their 2017 Cabernet Rosé. We loved the depth and texture that we associate with Cabernet Sauvignon and the cascade of fruit from only leaving the juice on the skins for 6-7 hours. Dry rosés are very trendy right now, but this one stands out from the crowd. Their 2015 Tempranillo was next. An immediate hit with both of us and the top of our Take Home list, this was abounding with flavors of raspberries and dark plums.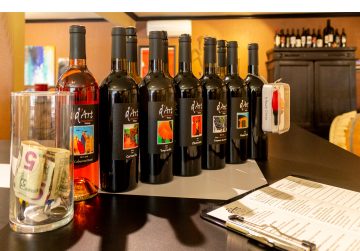 We next tasted a very young wine, their 2016 Garnacha. Bottled in March, it was already showing nice balance, leading with notes of cherry and strawberry. Some time on the wine rack will only improve this lovely Grenache. Jennifer next poured their 2013 Zinfandel. Wow! Complex, with plum and boysenberry notes dancing across the tonge. We learned that a vineyard of Tokay grapes (a light red table grape) was planted in 1930. Much later, Zinfandel was grafted to these ancient roots. We fell in love (again) with winemaker's palate, and put a bottle on our Take Home list. Our "one bottle per winery" rule was shattered.
Their 2013 Estate Cabernet Sauvignon was next. Picked from the vineyard by the parking lot, this wine evenly balanced spice and fruit, with dark cherries and tobacco floating on an almost honey-like mouth feel. Yes, another bottle on our Take Home list! Monette then poured a 2016 Petite Sirah. Smooth and soft, with restrained tannins and just a hint of nutmeg on the finish, this would pair perfectly with a beef and mushrooms meal. Yet another bottle that demanded to join our Take Home list. What rule?
Our final taste was their NV Dog Day Red blend. Port inspired, with a slightly sweet taste, this is a great wine to serve to guests if you don't know what they like to drink. This is a wine for everyone! We totaled up our Take Home list (don't judge, there's a lot to like here), and thanked Jennifer and Monette for all their time and attention. It was time to set off for our second tasting in beautiful Lodi!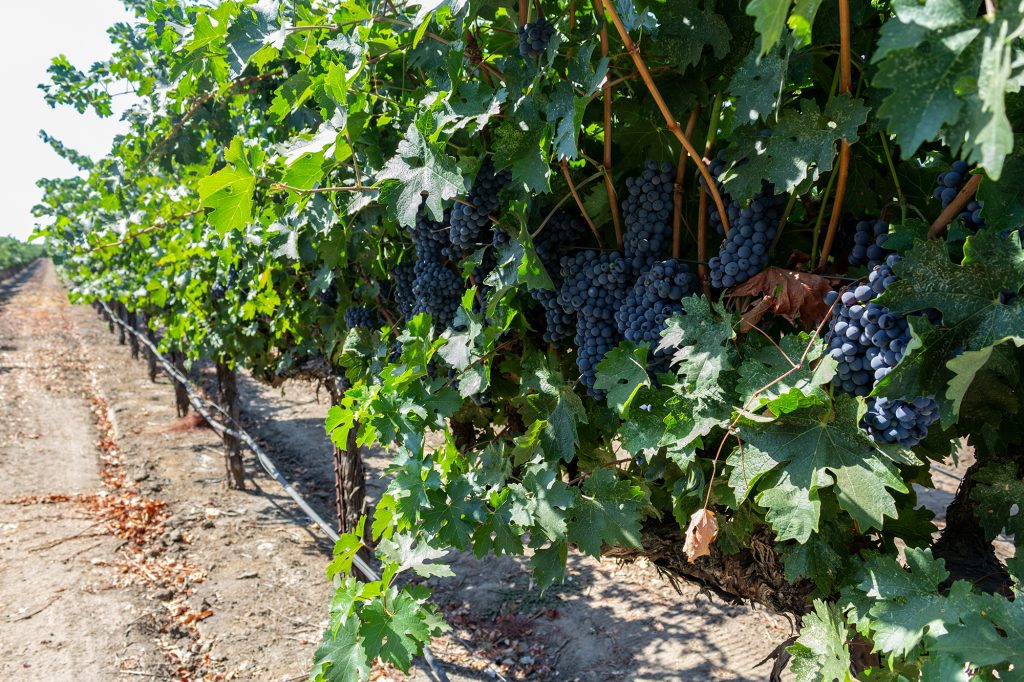 ---
About the Author
: John grills a mean steak and is always in the market for another wine fridge. Believes that if a winery has more than 10 employees, it's probably too big. Buys wine faster than he drinks it, but who cares?
---
It pays to subscribe!
We will send you a brief email whenever there's a new post, so you'll never miss an article. We promise not to be a pest. Unsubscribe any time you like. And, of course, we won't let ANYONE else use our subscriber list. By subscribing, you agree to our
Privacy Policy
.
So go ahead,
click here to SUBSCRIBE
!