What could be better than a stunning view of San Francisco on an autumn afternoon while watching the Blue Angels perform? That is why we made a date to take in the wine and spectacle at Dashe Cellars.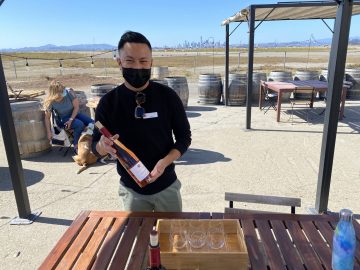 With advance reservations at Dashe, we made up a cozy table of eight, all of us ready to enjoy a crisp October day. The Dashe Cellars safety protocols, with their mask enforcement and socially distanced outdoor tables, made us feel very comfortable. The view of San Francisco from across the bay was without equal! Our excitement for the experience we had before us grew by the minute. After a few minutes of settling in, we met our wine guide for the day, Justin, who got us water and wine glasses, and then brought us our first two bottles of Dashe wine to help get the party started. Our afternoon of wine, food, and amazing sights was on!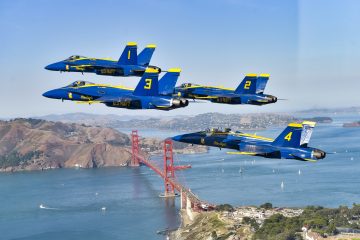 Fleet Week is an annual event in San Francisco, and one that is worth rearranging the social calendar to attend. It celebrates the contributions of the men and women of the U.S. Armed Services. Events include a parade of Navy ships, ship tours, a concert series, and a multi-day air show. Ships open for tour this year included the USS Michael Monsoor, the USS John S. McCain, the USS Shoup, and the USS Rushmore. For us, though, the highlight has always been the air show. The Blue Angels performances are what keeps us coming back, with their amazing acrobatics and precision formations.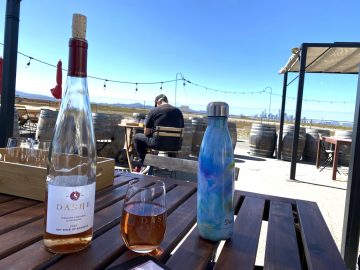 We chose a bottle of Dashe Rosé of Barbera and a Dashe Dry Creek Valley Zinfandel so that we had something to appeal to everyone at the table. The clear fruit, gentle layers cascading across the palate, and balanced acid on the finish made the Rosé exceptionally drinkable as we awaited the Blue Angels. For those of us who preferred the zip of a Zinfandel, the Dry Creek Valley Zin did not disappoint. Great aroma, wonderfully broad fruit notes (especially blackberries), and enough pepper on the finish to bring you back for another sip. Truth be told, this was not the only pair of bottles that met their just reward at our table on this visit.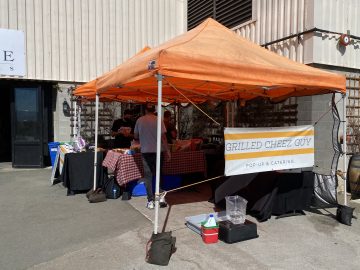 All this wine tasting and sight seeing made us hungry, but happily there was a solution right at hand. The folks from the Grilled Cheese Guy had their tent all set up, with a broad variety of sandwiches. They all featured grilled cheese, of course, but each was unique because of the other ingredients. Sandwiches named Nino, Turk, B.C.T, and more added in bacon, turkey, jalapenos, or even apples to create a unique taste. We placed our orders and had sandwiches all around in no time. And the pickles! Large, crispy dill pickles that did a great job of cutting through the richness of the grilled cheese. Paired with the Zin, especially, and it was a perfect afternoon repast.
It was a wonderful afternoon! All to soon, the Blue Angels returned to their base, and our table reservation came to an end. A great way to enjoy Fleet Week and some great Dashe Cellars wine. We can't wait for next year's Fleet Week!
---
About the Author
: John grills a mean steak and is always in the market for another wine fridge. Believes that if a winery has more than 10 employees, it's probably too big. Buys wine faster than he drinks it, but who cares?
---
It pays to subscribe!
We will send you a brief email whenever there's a new post, so you'll never miss an article. We promise not to be a pest. Unsubscribe any time you like. And, of course, we won't let ANYONE else use our subscriber list. By subscribing, you agree to our
Privacy Policy
.
So go ahead,
click here to SUBSCRIBE
!