It is well known that growing grapes is a dangerous business. At first, everything seems fine, with happy winemakers buying your grapes and leaving you in peace. Slowly, though, the urge creeps up, "maybe I can make wine, too!" That's the moment when peaceful agriculture transforms into the often crazy world of wine making. Case in point: Bray Vineyards. Luckily for all of us wine drinkers, they are thriving in the winemaking world, so we can all enjoy the delicious fruits of their labors!
Fresh off a great tasting at Wilderotter Vineyard, we drove just a bit down the country road to another winery. The winding road up to the tasting room was festooned with impish road signs indicating a farm tractor driving who was popping a wheelie while enjoying some wine right out of the bottle. Even before we parked, we knew that we were in for a fun time.
We entered the tasting room to discover two things: (1) the Bray Vineyards have won an incredible number of ribbons, and (2) the owner, Robin Bray, has enough energy and enthusiasm to light up the tasting room. As she made us feel welcome and poured our first taste, we knew that we should hang on tight. This was going to be amazing!
We started with their 2014 BrayZin Hussy Blonde, a blend of Semilion, Verdelho, Viognier, and Sauvignon Blanc. A great wine to reset our palates, this wine overflowed with tart lemon zest and just enough acid on the finish to make you want more. Equally fruity, but with a few more floral notes was their 2015 Verdelho. This was our favorite white wine, possibly of the day.
Then onto the reds! First was their 2011 BrayZin Hussy Red. This Zinfandel and Sangiovese blend had interesting flavors of anise and cherry, with a hint of coffee on the finish. As we were enjoying the wine, Robin gave us some background on her winery. They founded their vineyard in 1996, and sold everything that they could grow to local wineries. It was a classic slippery slope, though, and 2004 saw them producing wine under the direction of John Hoddy. Today they have a full range of award-winning wines, made from 20 varietals.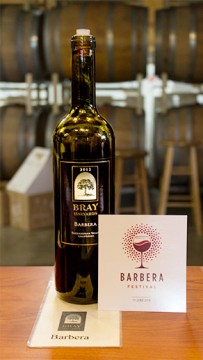 Our favorite red was their 2012 Barbera, with a full-mouth party of plum, chocolate and coffee. One of these came home with us. We happily tasted our way through their 2013 Sangiovese, 2011 Cabernet Sauvignon, and 2013 Tempranillo. Each wine put the varietal front and center, with soft tannins and a clean finish. It was as though the winemaker had our exact preferences in mind! Just when we thought that our tasting flight was over, Robin brought out the Ports! Yes, plural. We started with a 2007 Port that was a 50/50 blend of Zinfandel and Petite Sirah, fortified with Grappa, which we learned was their go-to move for Port. Although we also enjoyed their Barbera Port, our favorite by far was their 2012 Alicante Bouchet Port. Smooth and exceptionally drinkable, this showed great fruit and a bit of spice on the end. This the Barbera on the Take Home list. With just over 200 cases produced, this one deserves to be on the endangered species list, so we will keep it safe at our house until the cold outbreak. Our final taste was a remarkable NV Angelica. Made from Black Muscat grapes and barrel aged for 3 years, we found fruit and hints of Tootsie Rolls (yes, that's what we tasted, don't judge) with a lingering smoky finish.
Although we could have spent all day talking wine and Shenandoah Valley happenings with Robin, it was time to go. Off we went, wine under the arm and smiles on all our faces!
---
About the Author
: John grills a mean steak and is always in the market for another wine fridge. Believes that if a winery has more than 10 employees, it's probably too big. Buys wine faster than he drinks it, but who cares?
---
It pays to subscribe!
We will send you a brief email whenever there's a new post, so you'll never miss an article. We promise not to be a pest. Unsubscribe any time you like. And, of course, we won't let ANYONE else use our subscriber list. By subscribing, you agree to our
Privacy Policy
.
So go ahead,
click here to SUBSCRIBE
!