One of the best parts of wine club membership is attending the release parties. Over the years, we have observed that there are five steps that wineries take to consistently deliver a perfect event. Here are the results of our in-depth research.
Step One: Getting into the party
The check-in process at a release party is a study in conflicting priorities. On one hand, the check-in table is standing between the club member and the party, so any delay is excruciating. On the other hand, it is important to limit access to the party to people who are actually club members. The best wine club parties sooth the wait by handing out glasses prefilled with wine and having more than enough staff to keep the line moving.
Step Two: Project an Immediate Vibe
Once past the check-in table, the party should embrace and surround the member. The sights and sounds of the party should produce a feeling of "ah, so glad I'm a member!" Live music, always a good idea, or some tantalizing aromas from tasty food pairing can go a long way toward establishing a great arrival experience. It's good to be a club member, isn't it!
Step Three: Spread the Crowd
Don't let all the ambiance create a clog of members by the check-in desk, though. It is critical to create positive traffic flow, dispersing members to the far corners of the party area. Extra points if there's a lot of seating. Sipping on some wine while snacking on some food pairings requires advanced juggling skills. It is a lot easier with a table and even better with a chair.
Step Four: Feed the Fans
Wine is nice. Okay, more than nice, but delicious food pairings really make the party complete. Different wineries take different approaches to party food, and its pretty hard to go wrong. That is, unless you run out. It is easy to misjudge demand for the food, especially with good wine beside it, so smart party planners add in a generous margin for returning tasters.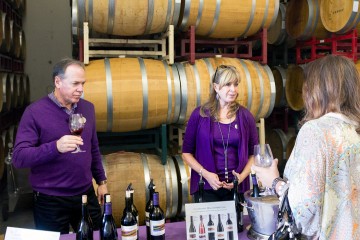 Bonus Points: Special Wine Sales
A club party brings together a winery's best customers. Why not add a little win-win special sale to the party? The winery can clear out some inventory, making room for new releases, while the devoted fans can build their collection at great prices. Everybody's happy!
Step Five: Ensure an Efficient Pickup Process
The party may be coming to a close, but the fun isn't quite over! It is time to pick up the wine club release pack: the selection of new release wines that is your happy obligation as a club member. Smart wineries make sure that the last memory of their party is a good one, by creating a quick and effortless process for picking up and signing for the wine pack.
These five steps don't guarantee a perfect wine club party, but we haven't seen a perfect party that lacked any of these steps. What do you think, did we miss any steps?
---
About the Author
: John grills a mean steak and is always in the market for another wine fridge. Believes that if a winery has more than 10 employees, it's probably too big. Buys wine faster than he drinks it, but who cares?
---
It pays to subscribe!
We will send you a brief email whenever there's a new post, so you'll never miss an article. We promise not to be a pest. Unsubscribe any time you like. And, of course, we won't let ANYONE else use our subscriber list. By subscribing, you agree to our
Privacy Policy
.
So go ahead,
click here to SUBSCRIBE
!