Many of the wineries in the Russian River area along Route 116 reward their wine club members in a wonderful and inclusive way. Their Wine Club Appreciation Weekend extends club priveledges from any participating winery to ALL other participating wineries. What an amazing event!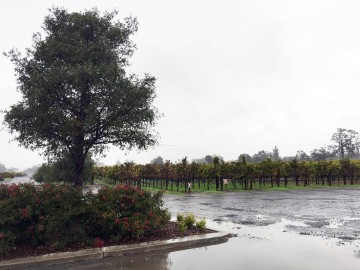 We attended this event previously, and loved it. As wine club members of Balletto Vineyards, we were excited to receive their email confirming the dates for this year's appreciation weekend. When the day came, we were saddened to see rain clouds everywhere. Undeterred, we set of through the showers and made it to Balletto in near-record time. Apparently the rain scared off the slow drivers!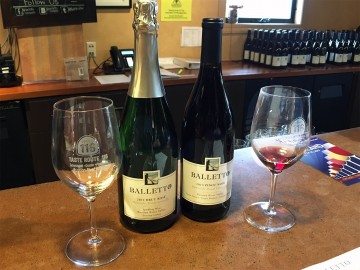 Balletto Vineyards was suffering unceasing rain, but the spirit indoors was not soggy at all. We checked in, each of us receiving our Balletto medallion and commemorative wine glass. This would give us access to all of the other participating wineries. We sipped on their Pinot Gris and snacked on some zesty macaroni and cheese as we warmed up. Dry, warm and full of pasta, we went into the tasting room to pick up our club release pack and taste some of their other new releases. While we tasted some of their amazing Pinot Noirs, we examined the map of participating wineries and planned our route. This was a great chance to visit some new wineries!
Our first stop was Ektimo Vineyards. We drove down what may be the world's longest driveway to find an ample parking lot and a cute, red tasting room. We entered to find a tasting room full of happy tasters and a table covered with slices of pumpkin pie set out as a special treat for all of their guests!  We hadn't even tasted their wine and we were already glad we visited.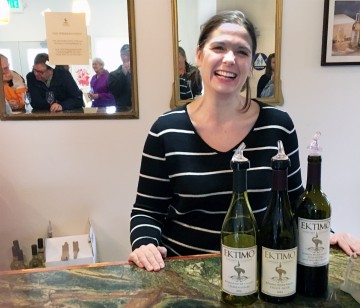 We met wine guide Melissa, who welcomed us and gave us some background on the winery as she poured their first wine.  Their interesting name, Ektimo, was a reference to the owner's family name. Their name, Xie, has its root in China as a word for appreciation or gratitude. In Latin languages, a similar word is Ektimo. By any name, their Chardonnay, Zinfandel and Pinot Noir offerings demonstrated that their winemaker, Lisa Bishop (of Chalk Hill and Dry Creek fame), has some real talent!
From Ektimo, we ventured into "downtown" Forestville, in search of Joseph Jewel Wines. Although Forestville is a small, quaint town, there is a lot going on. The Joseph Jewel Wines tasting room is right on the edge of town, setting a feeling of artistry and thoughtfulness from the very start. The beautiful art, wonderfully contrasting textures and innovative interior design came together to create a room that was a joy to behold.
We first tasted their 2013 Chardonnay, a crisp, not buttery, Chard that danced across the palate. Their 2014 Pinot Noir was made from Humbolt County grapes, making it quite unique. Nice fruit and a gentle finish  in a wine that doesn't need to be cellared before drinking. We finished up with their 2013 Zinfandel. Our wine guide, Andy, told us that they had just received 95 points from Wine and Spirits magazine! We enjoyed the cherry, tobacco and earthy notes. Several bottles of this lovely Zin came home with us.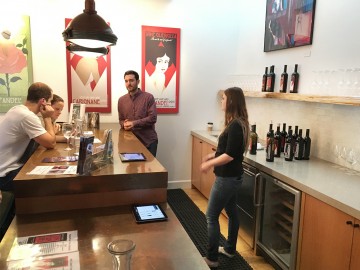 Just a short distance down the street was our next stop: Wine Guerrilla. We first met Wine Guerrilla at Pinot on the River, and we were very impressed. We were further impressed when we arrived to discover a large, dedicated parking lot. Forestville has a real parking shortage, so this was a major win! Once again the room was awash with art and beautifully arranged, setting an artsy and calm vibe.
Wine Guerrilla makes an impressive list of Zinfandels. Sometimes specializing pays big dividends, and this is one of those cases. We tasted three Zinfandels, ranging from a 2009 Old Vine to a 2015 recent release. Each had its own personality, but each was also wonderful. Two bottles of their 2015 Russian River Valley Zinfandel came home with us.
As we were purchasing our Zins from Wine Guerrilla, we asked about a restaurant recommendation. We were advised that the Twist Eatery was a local favorite, so we walked a few blocks and gave it a try. Once again our strategy of seeking local opinions was proven superb. The restaurant was amazing! Judi had the Ono and I had the Linguine. Both were beyond amazing, with fresh ingredients and nuanced flavors that made us happy to linger.
With happy tummies and a cooler full of new wine purchases we set off in the rain for home, already anticipating next year's wine club appreciation event.
---
About the Author
: John grills a mean steak and is always in the market for another wine fridge. Believes that if a winery has more than 10 employees, it's probably too big. Buys wine faster than he drinks it, but who cares?
---
It pays to subscribe!
We will send you a brief email whenever there's a new post, so you'll never miss an article. We promise not to be a pest. Unsubscribe any time you like. And, of course, we won't let ANYONE else use our subscriber list. By subscribing, you agree to our
Privacy Policy
.
So go ahead,
click here to SUBSCRIBE
!