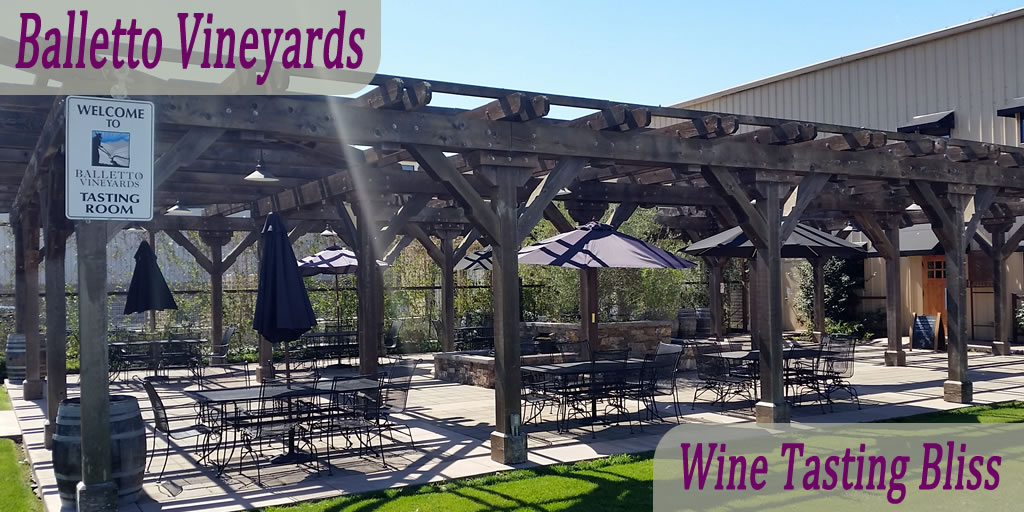 Sometimes events beyond our control drive change with remarkable outsomes. Belletto Vineyards is perfect example. Starting as the largest vegetable producer in Sonoma county, weather changes and international trade agreements caused the Balletto family to shift their focus to growing wine grapes. The rest, as the saying goes, is history.
Our Ballooning Over Sonoma tour was off to a great start. The balloon ride was as amazing as we expected, and our kick-off tasting at the Martin Ray Winery was a big hit. We were all full of energy and in fantastic moods. Through careful use of Yelp, we had put together a full day of winery tours, finishing up with a nice dinner. Brimming with enthusiasm, we next set our sights on Balletto Vineyards. Once again, our Yelp-fu paid off!
Where the tasting magic happens
We found a place to park in the ample lot and walked past the double rows of shaded picnic tables. The tasting room was decorated in the style of a cottage, inviting us to enter. Once inside, we found a tasting bar capable of handling a dozen or more tasters, and a variety of tables displaying fun things to admire and (gasp) purchase. We were greeted by our guide for the day Richard, and settled ourselves at the bar.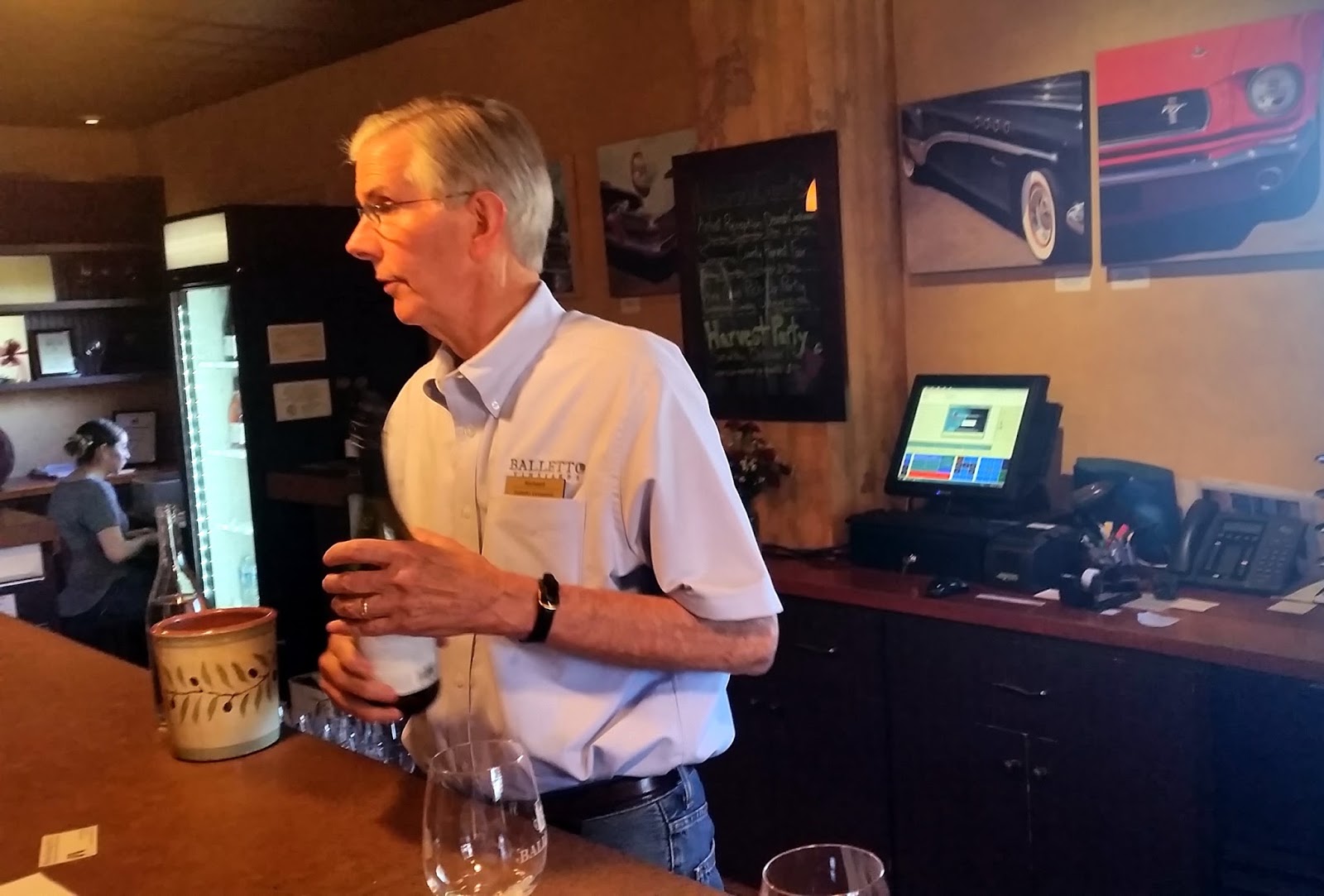 Wine guide Richard
Wine guides are as varied as the wine they pour. We were thrilled to discover that Richard was among the best of the best. His knowledge and passion about wine and the Balletto winery took our entire experience to another level. If we were in charge, we would award Richard a promotion, along with whoever hired him. Wine guides like Richard are few and far between!
Our tasting began with their 2013 Pinot Gris. We enjoyed the floral nose and grapefruit and pear notes on the palate. As fans of this varietal, this first taste foreshadowed a fun afternoon of tasting. We moved on with their 2014 Pinot Noir Rosé, a wine which we are really seeing a lot of in recent months. Made from free-run juice, we found a "dead dry" wine with nice tannins and no bitterness at all. A nice Sunday afternoon sipping wine!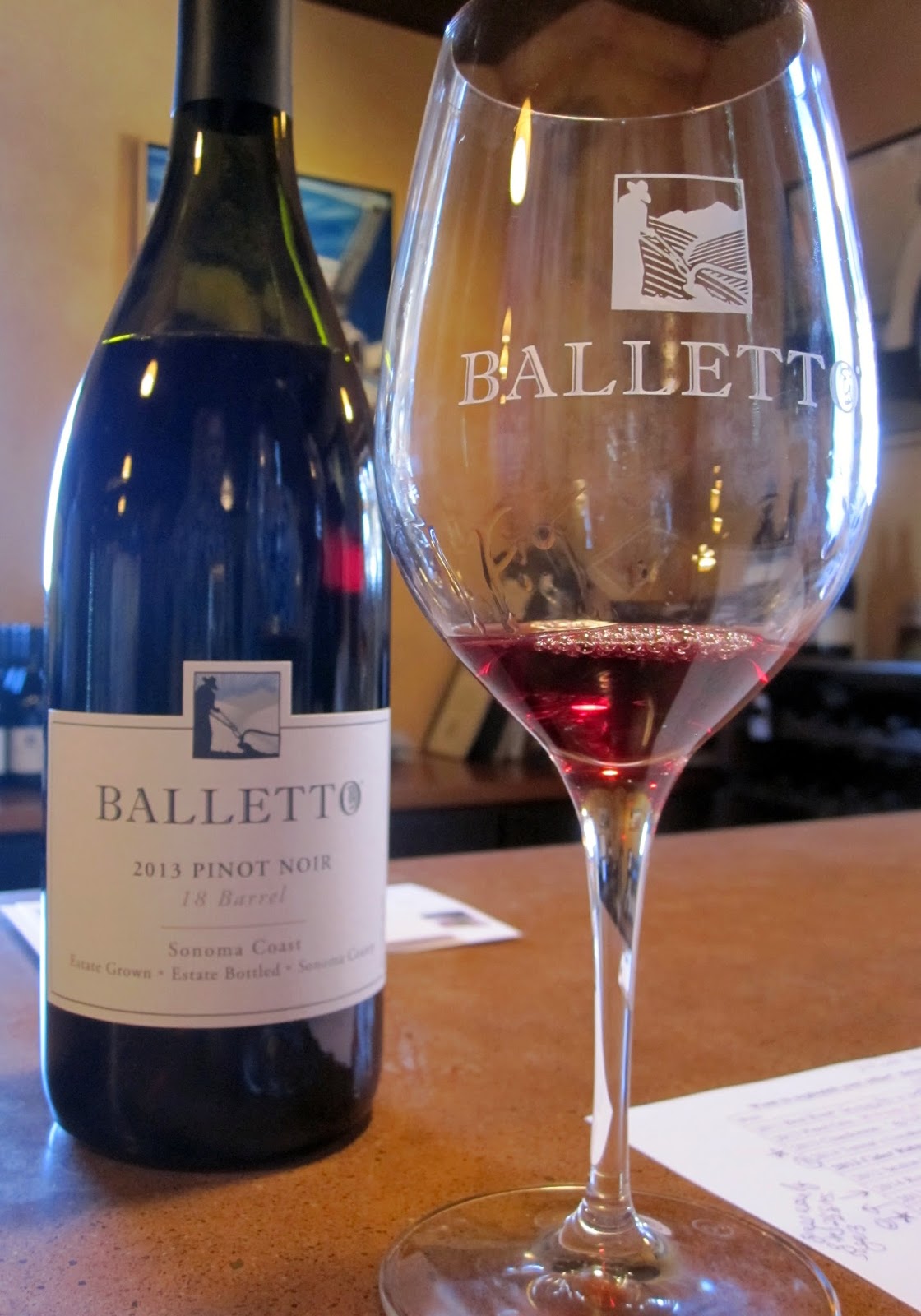 We tasted our way through the more-than-ample Belletto tasting menu, with some fun off-menu jaunts thrown in. Richard kept it fun, with interesting trivia about the area, the grapes, the Balletto family story, and even an unexplained change to yield signs that happened a few decades ago. We were truly impressed with the palate of the wine maker Anthony Beckman. There wasn't a single taste that we did not enjoy, and several that begged to be taken home. Some notables included the 2012 "Burnside Road" Pinot Noir, which was labeled "the perfect pinot" by one of our tasters, and the 2013 Pinot Noir, with grapefruit and orange blossom notes.
We kept adding to our "take home" list, shuffling around the priorities and regretfully scratching some from the list until Richard, seeing our plight, told us about their wine club. Yes, a wine club. Or more accurately, another wine club. Their approach was very reasonable: two bottles every two months, with full exchange privileges. Plus some fun parties thrown in (Richard mentioned a pig roast, so I was all in) and the knowledge that we were going to be in the neighborhood several times a year for our Korbel club, it all seemed to be destiny. Yes, we joined another wine club. Did I mention that we're out of wine bottle storage space?
Learning about Balletto wines
We thought that our tasting experience was over, but wait, there's more! Richard put our wine purchases to the side and took us on a tour of the Balletto facility. Explaining that the winery was in full harvest mode, we assured him that we could keep out of the way and not disturb the workers or the baby wines. In a flash, we were off, heading into the warehouse area. Richard explained that the entire space was originally built for vegetable distribution and later re-cast for wine production. The area was chock-full of wine cases and wine making equipment. We peered through the plastic barrier into the back lot, seeing all the hustle and bustle of harvest season.
Not content with having us squint through the plastic, Richard next invited us to circle around the building and watch some of the crush activities in the open air. We walked past large bins of freshly-harvested grapes, with the amazing aromas you would expect. Richard noted that Balletto policy calls for grapes to be crushed the same day they are harvested. This is a key differentiator between estate wineries and wineries that purchase grapes. Capturing that freshness is an important part of the Balletto technique.
Care for a taste?
As we were watching the flurry of crush activity, who else but wine maker Anthony Beckman came out, offering us all samples of their freshly-picked Zinfandel grapes. The grapes were delicious, but the idea of a wine maker taking time away from everything he was doing to welcome newcomers to the winery and make us feel welcome, that was beyond words! We snacked on the grapes appreciatively, and watched the workers on fork lifts buzz around, feeding grapes into the series of shiny machines, preparing the vintage of 2015. A lot of work for them, and a lot of future pleasure for us.
Flushed from the crush (sorry, I couldn't resist), we returned to the tasting room, purchased our wine, noted the date of the upcoming Harvest Festival club party (pig roast!), and said "see you next time!" to Richard.
Until the pig roast, cheers!
---
About the Author
: John grills a mean steak and is always in the market for another wine fridge. Believes that if a winery has more than 10 employees, it's probably too big. Buys wine faster than he drinks it, but who cares?
---
It pays to subscribe!
We will send you a brief email whenever there's a new post, so you'll never miss an article. We promise not to be a pest. Unsubscribe any time you like. And, of course, we won't let ANYONE else use our subscriber list. By subscribing, you agree to our
Privacy Policy
.
So go ahead,
click here to SUBSCRIBE
!