The Thanksgiving leftovers have been put away and taken back out again for additional meals and the neighbors already have their icicle lights up and inflatable Minnie and Mickey on the lawn, which means it's time to stop slacking and get this Christmas shopping started! While on-line shopping has made the shopping experience easier (hello wine and yoga pants), it has not made the chore of picking out just the right gift any easier. If you're like me, you have quite a few friends and family that enjoy wine so these wine themed gifts might just help check off of few people on your list.
1. Wine Carrier Suitcase
This snazzy looking Petite 02 Wine Carrier by VinGardeValise is not only super handy, but more importantly is fully compliant with the FAA and TSA. I think this is a great way to take your favorite wine, say the GPS by Page Mill to Grannie's in Ohio. I just love how snug-as a-bug-in-a-rug all the bottles are.
2. Holiday T-Shirts
Santa's little elves have been busy at work this year crafting up some fun holiday shirts for our readers. Not only are these great gifts, but I think it will make the perfect attire for Christmas morning. Not sure which one I'll be sporting, but I'm leaning towards the "Ho, Ho, Ho". Would love to know your favorites! 
3. Champagne Cork Table
How cute is this?! You can use the table with or without a glass top and it even works as a stool. The price isn't too bad for being a statement piece and we know that it is going to be a well constructed piece made out of Portuguese cork.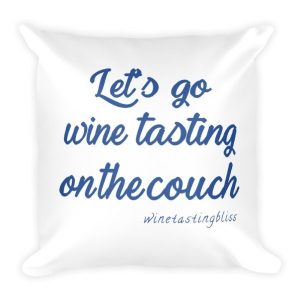 4. Wine Themed Throw Pillows
Am I allowed to use the C is for Champagne pillow to teach my niece and Goddaughter new words? Head on over to our Shop page to check out all of our pillow designs. Perfect way to make your living room festive for the holiday season and well year 'round.
5. Wine Condoms
Cleverly wrapped up to look like the real thing (don't put the wrong one in your wallet!) these only stop wine. It has fancy shrink to fit technology to help fit your leftover Chardonnay or Rose in the fridge for later consumption. I would recommend these as a stocking stuffer and watch the reaction of the lucky family member!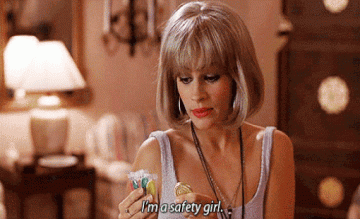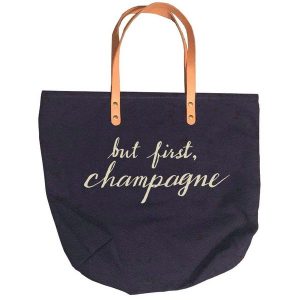 6. Tote Bag
When we were in New York for a family wedding (congrats Chelsea & Charlie!) a few of us were strolling around Little Italy when I saw this bag in the window and just had to have it. After coming home and looking online I found out that Mulberry & Grand have opened their first store out of New York and it is in my own backyard – San Francisco! I have received so many compliments on this bag it is ridiculous and it was the perfect companion for a week in Hawaii. If you're not in need for a full size tote, check out their canvas pouches with the same clever sayings. There are wine and non-wine related ones so there is something for everyone!
7. Wine Tote
Carrying your wine just got more fashionable with this tote. It has to be the perfect gift because I'm sure you can use it as a tote after you have drank all the wine, but you can also get it monogrammed! Who doesn't love a monogram!? The detail on this bag is sublime with top carry handles with leather and an adjustable and removable shoulder strap.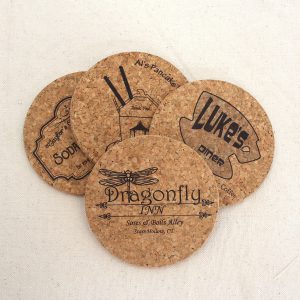 8. Cork Coasters
I knew I wanted to recommend cork coasters to you because I love the ones we have and I just happened to come across these that combine two of my favorite things — wine and Gilmore Girls. Don't worry if you're not a GG fan (but seriously the series is on Netflix so go binge watch it) shop owner, Leelo from Pasadena, has many other options that include Game of Thrones, Harry Potter, Star Trek and you can personalize your own.  This is a practical, fun and inexpensive gift to add to that gift basket you're creating for the couple that just bought a new house.
I hope these ideas help you cross a few people off your gift list or at least have sent you to some websites to get the ball rolling. Let me know if you find any other unique wine related or not gifts because I've got quite a few people on my shopping list this year.
Cheers!
Sarah
---
About the Author
: Sarah's philosophy is that every occasion; a wedding, job promotion, Friday night after a tough week or even sitting at a Pai Gow table in Las Vegas should be celebrated with a glass of bubbly in hand. Her reviews will be casual, just like her. Descriptions will be basic and typically consist of a great place to drink said wine.
---
It pays to subscribe!
We will send you a brief email whenever there's a new post, so you'll never miss an article. We promise not to be a pest. Unsubscribe any time you like. And, of course, we won't let ANYONE else use our subscriber list. By subscribing, you agree to our
Privacy Policy
.
So go ahead,
click here to SUBSCRIBE
!