There are many ways to spend Thanksgiving weekend. While many people spend their long weekend shopping or ice skating or watching football, we have other preferences. That's right, we go wine tasting! This particular Thanksgiving, we ventured up the hill from Saratoga, into the Santa Cruz mountains. Our first stop: Savannah Chanelle Vineyards.
With Thanksgiving delivering a lot of family fun and a noticeable reduction in our wine inventory, we were ready to explore some new wineries and fill some holes in our wine rack. Delaynie did the heavy lifting: researching and selecting the wineries for our tour. Packed into our minivan, we wound our way through picturesque Saratoga and made our way carefully up the winding road toward Savannah Chanelle Vineyards. Because there were four of us in the car, we were able to notice the somewhat hidden entrance on the left behind some shrubbery. We made a nearly 180 degree turn and proceeded up the driveway to their parking lot. It was time for some wine!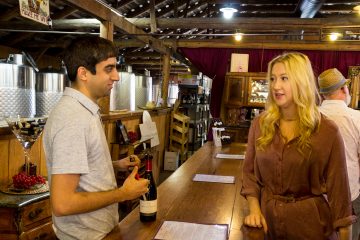 The tasting room had a rustic log cabin vibe, with lots of light pouring from skylights, fun objects to explore (especially stuffed animals & monsters hidden in the rafters) and more than a passing nod to music, ranging from a grand piano to a set of bongo drums that we actually got to hear. Wine guide Dylan welcomed us and got us set up with glasses and a taste of their 2016 Chardonnay. A great start to our tasting, this Chardonnay showed a nice balance of fruit and oak that danced on our tongues. As part of our orientation, Dylan told us that the winery was named after the owner's daughters: Savannah and Chanelle. Sorry kids, we haven't named a winery after you.
As we sipped on an amazing 2014 Pinot Noir (which came home with us), we met tasting room manager Kyle. We discovered that Kyle had a real connection with Livermore and some of our most beloved wineries. Kyle developed his wine and management chops working in a variety of roles in several AVAs. His passion for wine and wineries was infectious, and we reluctantly let him get back to other customers as we tasted a 2014 Pinot Noir. We pronounced this Pinot "wonderful" and put a bottle on our take home list.
We were enjoying a 2013 Cabernet Franc, made from what might be the oldest Cab Franc vines outside of France, when we met Luke. He was as engaging as the Cab Franc, and we were all immediately fast friends. Luke assists wine maker Tony Craig for most of the year and helps out in the tasting room when Tony doesn't need him. He also solos on the previously-mentioned bongos when given a bit of encouragement. Following an impromptu percussion solo, he graciously gave us a tour of the wine making area: where the real magic happens! We learned about the wine making process at Savannah Chanelle Vineyards, and were incredibly impressed. No detail was left to chance!
Following the tour, we left the tasting room and climbed to the top of the hill, to the owner's house and additional tasting area. The view from the top was amazing! We sipped some wine as we investigated their colorful chicken coop and took in the scenery from some conveniently positioned Adirondack chairs. This was truly the essence of life in Northern California – sipping lovely wine was we soaked in the autumn scenery in shirtsleeves over Thanksgiving weekend. We felt a bit sorry for people in colder climes.
After soaking up all of the California wonder, we returned to the tasting room to complete our tasting flight. Their 2013 Monmarte Blend was a very balanced and food-friendly wine with cranberry and blackberry notes and a lingering finish. The true show-stopper, though, was their closing act: a 2004 Tawny Port. Even people who don't yet appreciate Port could fall in love with this one. The eleven years spent on American oak produced a dessert wine with such character and style that we stretched our budget and added a bottle to our take home list. What a great way to finish a tasting at a wonderful new (to us) winery!
---
About the Author
: John grills a mean steak and is always in the market for another wine fridge. Believes that if a winery has more than 10 employees, it's probably too big. Buys wine faster than he drinks it, but who cares?
---
It pays to subscribe!
We will send you a brief email whenever there's a new post, so you'll never miss an article. We promise not to be a pest. Unsubscribe any time you like. And, of course, we won't let ANYONE else use our subscriber list. By subscribing, you agree to our
Privacy Policy
.
So go ahead,
click here to SUBSCRIBE
!