Wine tasting has its own community of like-minded fans. Over time, connections are made that can lead to even more wine tasting fun. We had a recent example of "six degrees of wine tasting separation" when we received an invitation to attend a party at a new winery called Vidovich Vineyards. That was one great connection!
We first met Kyle when we visited Savannah-Chanelle where he was managing the tasting room. We were happily surprised to hear from Kyle again when he invited us to a party at Vidovich Vineyards. Always ready to explore a new winery, we immediately accepted his kind offer! When Saturday rolled around, we made our way up Montebello Road along the ridge above Cupertino. This road is not for the meek! Some of the curves were so sharp that we were sure that we were going to see our own tail lights in front of us.
The Vidovich Vineyards property was stunning from the instant we arrived. We followed the swooping driveway and chose a place to park. For several minutes we were lost in wonder as we soaked in the amazing view of silicon valley down below us. As we gawked, we made our way to the main building to find out what Vidovich Vineyards had in store for us.
We entered the building and were immediately greeted by Kyle, who set us up with wine glasses and got us started with their 2009 Estate Cabernet Sauvignon. One minute and one sip into the evening and we already knew we were in for an amazing experience. We savored the nice heat and green pepper notes of the Cab as Kyle told us a bit about the winery. We learned that the winery was truly a family affair, operating in the former vacation home of Grandparents Vidovich.
Sipping the amazing Cab, we made our way out to the expansive back balcony. The previous view form the parking lot was nothing compared to the view from this vantage point! It was obvious from this height that "Silicon Valley" was an actual valley, because we could see all the way to the other valley wall. To our left we could see Treasure Island and to our right was San Jose. Before us was the Stanford campus and the Apple campus. An ivy versus silicon kind of thing.
The cool breeze eventually encouraged us to rejoin the party indoors. We next tried their 2007 Cabernet Sauvignon. Although this was an older sibling of our first Cab, it still had a youthful exuberance, with an explosion of fruit up front and a dry, somewhat tannic finish. This wine could easily withstand another decade in the cellar. Among the six of us gathered around a table, preferences were split evenly as to the preferred vintage.
As we compared and contrasted the two vintages, Vidovich cousin Stephen came by our table with a bottle of each vintage, ready to pour. Stephen pointed out the rest of the Vidovich family, all hustling around, working to make each guest feel welcome. Everywhere we looked there was something to enjoy (even beyond the wonderful wine). This was quite the way to treat wine club members!
Stephen pointed out Uncle Mike on the BBQ preparing fillet mignon and sausage bites and Cousin Vincent circulating with trays of stuffed mushrooms. Non-family members Kyle, Jessica, the winery manager, and Natalie, the wine guide, were chatting with visitors and keeping empty glasses to a minimum. Everyone had a role and ours was the best: guest!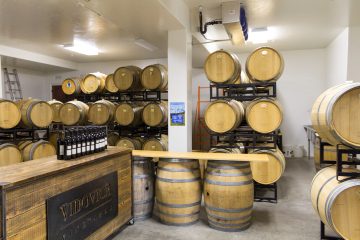 During a lull in the action, Kyle took us downstairs to the barrel storage and tasting room. Currently Vidovich Vineyards offers tastings on Sunday, and the tasting area was ready to handle tomorrow's visitors. Kyle told us that they were currently producing around 1,000 cases of wine per year, with a focus on producing a premium product. Given our tastings so far, we were certainly fans of their approach to the market.
After our tour, we spent a bit more time on the balcony watching dusk sweep across the valley. We concluded our tasting flight with their 2004 Cabernet Sauvignon. Yes, a 2004! Not all wines improve continuously over such a time period, but this wine was capable to change one's world view! The wine was mellow and seductive, with a lingering finish that begs for refilled glass. This was a Cab among Cabs. Somehow, a bottle of this nectar was going to come home with us.
As darkness consumed the valley below, we purchased some wine and thanked Kyle, Uncle Mike, Cousin Vincent, Cousin Stephen,  Jessica, and Natalie. What a great introduction to Vidovich Vineyards!
---
About the Author
: John grills a mean steak and is always in the market for another wine fridge. Believes that if a winery has more than 10 employees, it's probably too big. Buys wine faster than he drinks it, but who cares?
---
It pays to subscribe!
We will send you a brief email whenever there's a new post, so you'll never miss an article. We promise not to be a pest. Unsubscribe any time you like. And, of course, we won't let ANYONE else use our subscriber list. By subscribing, you agree to our
Privacy Policy
.
So go ahead,
click here to SUBSCRIBE
!