It was a wonderful day for a wine tasting tour of the Santa Clara Valley. Sunny and warm, with the vineyards transitioning from green to red. Our next stop on the tour: Morgan Hills Cellars.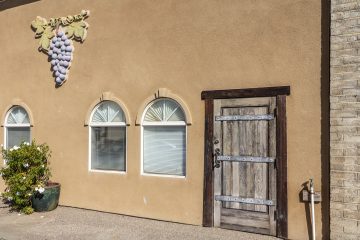 After completing a wonderful tasting at the Guglielmo Winery, we drove just a few miles to to Morgan Hills Cellars. Since we were touring on a Friday, and the Morgan Hill wine scene is more focused on weekend tasting, the large parking lot was nearly empty. We had our choice of parking spots, so we chose one with a great view of the fresco on the wine production building. Why don't more wine buildings have frescoes?
We entered the main building through a portico topped by a cement phoenix. The tasting room was a visual feast. Merchandise ranging from local olive oil to massive tapestries was on every flat surface, both horizontal and vertical. After a bit of browsing, we approached the primary tasting bar (there were several) and got ourselves arranged for our tasting.
We met wine guide Lisa, who was just as surprising and enjoyable as the wines she was pouring. She explained that she "grew up in a wine barrel" and, happily, went on to clarify. As a child helping her Portuguese winemaking grandfather, she was the person chosen to climb into the wine barrels to scrub them before harvest. She carries fond memories of participating in every step in producing old-fashioned artisan wine. That background, paired with a scalpel-sharp wit and you have an incomparable wine guide.
Lisa started our tasting flight with their 2010 Grenache Rosé, called Séance. Lisa said that it was a wine with a personality disorder. We were to learn that she had a pet name for every wine in their inventory. This was a great starter taste, with crisp fruit and a finish that refreshed us. One taste into the flight, and our Take Home list already had an entry!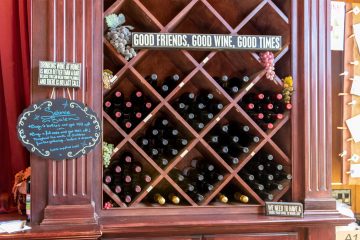 We continued with their 2012 Zinfandel, which Lisa called a "nice kiss." We enjoyed the mild pepper and restrained tannins, which let the notes of cherry and pomegranate come through. Their 2014 Cabernet Sauvignon was a big hit with both of us. Lisa's "Vampire Wine" because of its deep ruby color, the complex fruit layers made our mouths dance. Another bottle for our Take Home list!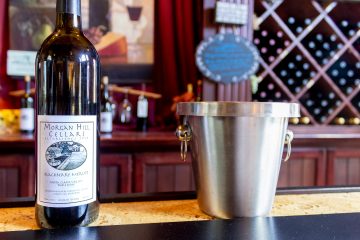 Lisa next poured what she called her "Dick Tracy in Film Noir" wine: their 2013 Syrah. This was a dark and mysterious wine, with notes of tart cherry and sage with a caramel finish lurking in the shadows. Our tasting took a turn toward the exotic with their Non Vintage Blackberry Merlot. This wine was a blend of two different Merlots and real live blackberries! Bright and juicy at first, with a true Merlot finish, Lisa called this her "little sister wine" and we didn't ask any questions! Our tasting wrapped up with their Rosé Port. This was a blend of 66% Merlot and 33% Malbec that made everyone imagine oatmeal cookie dough. We added it to our already overburdened Take Home list.
With more wineries yet to be visited still on our tour list, we paid for our wines and thanked Lisa for an incredible experience. So much fun tasting some wonderful wine!
---
About the Author
: John grills a mean steak and is always in the market for another wine fridge. Believes that if a winery has more than 10 employees, it's probably too big. Buys wine faster than he drinks it, but who cares?
---
It pays to subscribe!
We will send you a brief email whenever there's a new post, so you'll never miss an article. We promise not to be a pest. Unsubscribe any time you like. And, of course, we won't let ANYONE else use our subscriber list. By subscribing, you agree to our
Privacy Policy
.
So go ahead,
click here to SUBSCRIBE
!