The Yarra Valley in Australia is home to numerous wineries, but few have the history, the vineyards, and the winemaking expertise to match Helen's Hill.
We were returning to Melbourne from our overnight adventure to Phillip Island to see the Fairy Penguins' evening parade from the surf to the maze of burrows. We took a bit of a side trip through the Yarra Valley to visit a few wineries. Fresh from some wonderful tastings at Yarra Yering we drove a few more miles down a beautiful country road, to our second and final stop at Helen's Hill.
The name "Helen's Hill" comes from the original owner, Helen, who planted an orchard on the property. In 1997, the Nalder and McIntosh families purchased the land and replanted it as a vineyard. The new owners had a Helen in the family, too, so the name "Helen's Hill" seemed like the perfect name for their vineyard and winery.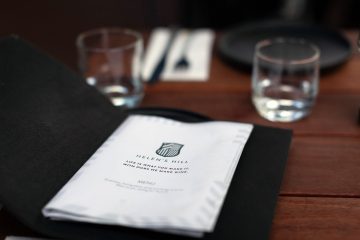 We parked under a row of shade trees and walked the winding path to their tasting room. Inside, the room was spacious, with a long tasting bar, scattered four-top tables and chairs along the windows. One interior wall was glass, providing a great view of the barrel room. We could see a busy kitchen through one side door, which gave us a huge boost. It had been hours since our last meal!
Another wall showcased their wine bottles and logo merchandise. There were a number of sales on their wine going on, which made us regret having so little space remaining in our suitcases. One of the few down-sides of our tourist life. The entire space was pleasing to the eye and evoked a calm and natural feeling. Before we had taken a sip or spoken with anyone, we were already having a wonderful time.
We found an open spot along the tasting bar and met wine guide Alex. He set us up for our tastings and told us a bit about himself and the winery. We quickly learned that Alex was "part of the family," working with his mom and his cousin on this particular day. Alex told us that their winemaking approach was simple but effective: show reverence for the land, farm the vineyard with care and let the grapes speak for themselves in the wine.
We ordered a prosciutto and rockets pizza and tasted our way through their flights. Some of our favorites included the Envie Sparkling, with fun notes of elderflower, and Roma's Grace (named after grandma) a Chardonnay with a crispness and dimensionality not often found in a Chard. We got to their Merlot as our pizza arrived. A perfect pairing! The Merlot had a great aroma and fascinating blueberry notes on the finish, a perfect counterpoint for the umami of the meat and cheese.
We spent some time chatting with Alex as we tasted our way through the balance of their flight. It was clear that he genuinely loved the family wine business and felt that he had the best job in the world. Given our tight schedule (we had a rental car to return) we rushed through the delicious pizza a bit, thanked Alex for all the attention, and set off toward Melbourne. What a great afternoon of wine tasting!
---
About the Author
: John grills a mean steak and is always in the market for another wine fridge. Believes that if a winery has more than 10 employees, it's probably too big. Buys wine faster than he drinks it, but who cares?
---
It pays to subscribe!
We will send you a brief email whenever there's a new post, so you'll never miss an article. We promise not to be a pest. Unsubscribe any time you like. And, of course, we won't let ANYONE else use our subscriber list. By subscribing, you agree to our
Privacy Policy
.
So go ahead,
click here to SUBSCRIBE
!