With only two weeks to tour four regions of Australia, our itinerary was tight. But fear not, we DID save some time to do some wine tasting. Top of our list? Yarra Yering!

We had a few hours to explore some wineries in the Yarra Valley, just east of Melbourne, Australia. We sought a lot of advice, and one consistent name became obvious: Yarra Yering. That many people could not be wrong, so we put Yarra Yering at the top of our tour list!
We found the history of Yarra Yering to be fascinating. After obtaining a degree in horticulture at Victoria University in Wellington New Zealand, Dr Bailey Carrodus took a second degree in winemaking at Roseworthy Agricultural College in South Australia. After teaching for some time, he decided to get yet another degree, this time a PhD in plant physiology at Queens College, Oxford University in 1965. While teaching at Melbourne University he started his exploration of Australia's south-east, in search of the ideal location for a vineyard. He eventually settled on Victoria's Yarra Valley, at the base of the Warramate Hills. He planted his first grape vines in 1969 and produced his first vintage in 1973. The vineyard and winery was sold to two local businessmen upon the death of Dr Carrodus in 2008. The current winemaker, Sarah Crowe, was named James Halliday's 2017 Winemaker of the Year, continuing the long tradition of outstanding wine releases.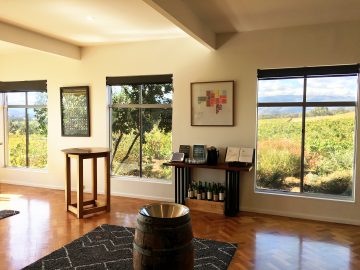 We found the Yarra Yering cellar door (that's Australian for tasting room) down a long, beautiful vineyard road. It was autumn in Australia, so the vines were fully harvested, with the leaves turning red and brown. Quite a lovely vista! The newly remodeled tasting room was designed to bring those vistas indoors, too, with large windows on filling two walls.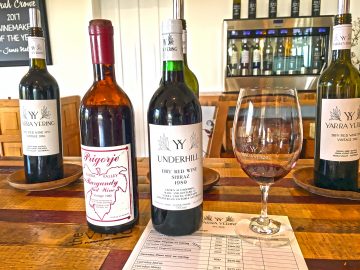 The tasting room was well equipped handle a crowd, with tall tables scattered around the main room and a long, polished wood bar with a view of many of the bottles we were about to taste. For some of the higher end wines, there was a pressurized gas dispensing system to allow single pours to be done without exposing the entire bottle of wine to the oxidizing effects of air.
We found some open space along the main tasting bar and met wine guide Amber. Se welcomed us and gave us a quick orientation to the winery and the tasting room policies. There were three tasting flights available; a current vintage flight with their recent favorites, a "Carrodus" flight of more premium wines, and a flight of "museum releases" with a few of their very best. We split (as usual) our tasting, choosing their current release flight. Brian chose the museum flight, allowing us all to sample and compare. Divide and conquer!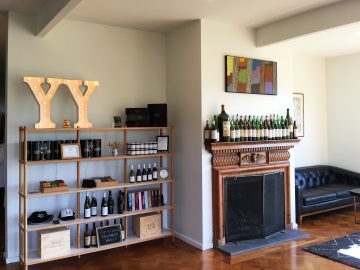 As we tasted our way through our flights, their approach was deliciously clear: let the delicate qualities of each grape come out through loving care at every point in the process. The entire product line was amazing, but we were able to pick out a few favorites. We adored the finish on their 2017 Dry White Wine No 2, with fun fear notes dancing across the tongue. Their 2013 Carrodus Viognier was incredible, with a deep bouquet, striking slate notes, and a mouth feel that kept us wanting more. The 2016 Dry Red Wine No 2 was a symphony of individual component flavors from the Shiraz, Viognier, Mataro (we call it Mouvedre) and Marsanne grapes. This wine came all the way back to California with us.
Yarra Yering is know for producing fine wines that can stand up to extended cellaring. The deft touch of the winemaker is apparent in each glass, showing finesse in balancing the fruit, tannins, and acid to deliver a great taste now and even improve over the coming years. I am not at all certain that our souvenir bottle will last on the wine rack long enough to test its aging ability!
We were hoping to sneak in one more tasting before our return to Melbourne, so we purchased our bottles and thanked Amber for a lovely experience. Off we drove (on the other side of the road, of course) toward our next winery!
---
About the Author
: John grills a mean steak and is always in the market for another wine fridge. Believes that if a winery has more than 10 employees, it's probably too big. Buys wine faster than he drinks it, but who cares?
---
It pays to subscribe!
We will send you a brief email whenever there's a new post, so you'll never miss an article. We promise not to be a pest. Unsubscribe any time you like. And, of course, we won't let ANYONE else use our subscriber list. By subscribing, you agree to our
Privacy Policy
.
So go ahead,
click here to SUBSCRIBE
!