Even if we can't leave our homes, that doesn't mean that we have to stop discovering new wines! In this instance, Zoom was our introduction to Oceano Wines.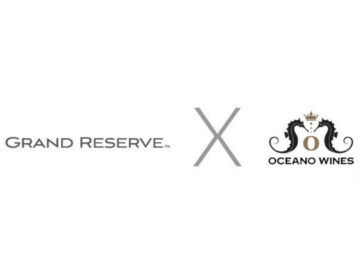 Oceano Wines partnered with Grand Reserve Rewards to present a virtual wine tasting event for wine industry media. Both of these companies were new to us, and it was an intriguing partnership, so we responded to their invitation. Grand Reserve Rewards is an interesting new rewards program for credit card purchases, focused on wine lovers. We were excited to be able to explore new wines, even though the exploration would be virtual. The wine would be real, and the opportunity to hear from the founder and ask questions would be real. What more could we really ask for, given current events?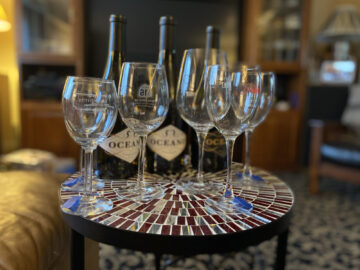 With Shelter in Place being the daily normal for so many months, we were inordinately excited about having a wine tasting event on the calendar! We started preparing for the Zoom meeting about an hour in advance. That meant that we had at least 50 minutes of restless idle time before the appointed hour. We had our wine bottles open, with labeled glasses set out. We even had water, crackers, and nuts beside us for that all important palate cleanse. Yes, this was the highlight of our week and we were prepared with everything we could imagine! Finally the hour arrived and the Zoom application brightened with actual content. The tasting was on!
After a few minutes spent on introductions and reviewing the mechanics of a Zoom call, we met Oceano Wines founder Rachel Martin. She began her presentation with a brief review of her experience in winemaking. We learned that her family owned the Boxwood Estate Winery in Middleburg, Virginia. Working in that winery and helping to grow its reputation and reach helped to reinforce her love for the wine business. Although she was very successful at Boxwood, she yearned to be on the west coast, which led to the discovery of the Spanish Springs Vineyard in San Luis Obispo, California. Soon Rachel, along with her partner Kurt Deutsch and winemaker Marbue Marke, launched Oceana Wines, based exclusively on fruit from this vineyard. We learned that Oceana Wines is a "virtual" winery, in that it owns neither a vineyard nor a winery. Instead, fruit from the Spanish Springs Vineyard is shipped to a custom crush facility in Napa for transformation into a finished product. Oceana owns the fruit and the barrels, but owns no real estate at all. The capital investment savings are huge, and this lets Rachel, Kurt, and Marbue focus on making great wine.
Rachel started our tasting on a very strong footing, with their 2018 Chardonnay. An engaging citrus aroma lured us in, and our palate was treated to flavors of crisp red apple and lemon, with a hint of white pepper and sage, leading to a refreshing finish of lemon zest. This was a Chardonnay for Chardonnay lovers and even people who do not yet love Chardonnay, with the fruit up front and very little of the butter notes found in some Chardonnays that can cloud the wonderful layers of fruit. Rachel told us that they used exclusively French oak barrels, about 35% new, to age the wine and that no malolactic fermentation was allowed. We thought that this wine would pair nicely with a Niçoise salad or a cheese fondue. This was a hit with both of us.
We next tasted their 2017 Chardonnay. That year was a bit colder in the vineyard and Marbue and Rachel chose a somewhat different slate of constituent Chardonnay grape clones for their blend. This produced a wine notably different from their 2018. This wine was more restrained on the nose, with tantalizing hints of citrus. The parade of flavors across the palate was very pleasant, with kumquat and kiwi notes peeking out from behind citrus and honeycrisp apple flavors. This wine served up something for every surface of the mouth to enjoy! It could pair well with a broad range of dishes, from an appetizer of Havarti cheese to a sumptuous plate of veal in cream and dill.
Our final tasting was their 2019 Pinot Noir. Anticipation was high. Rachel told us that this wine was fermented in stainless steel tanks and then aged in French oak, 30% new. Bottled on May 30, 2020, this wine was very, very young. It led with expressive aromas of cherry blossoms and rose petals. We sipped excitedly and found flavors that featured notes of dark plum and a bit of pomegranate. The slightly sweet finish was a bit abrupt (which should extend with aging), with moderate tannins and very little acid. This wine should continue to improve over time, although we enjoyed it immensely just as it was now. This wine was a good ambassador for their Pinot program. Like most good Pinot Noirs, this should pair nicely with thick steak or a rich plate of pasta.
Tasting complete, Rachel invited questions from the participants and closed with an invitation to visit their website regularly to learn about their new releases. Based on the three wines that we enjoyed, that bookmark will get frequent clicks!
---
About the Author
: John grills a mean steak and is always in the market for another wine fridge. Believes that if a winery has more than 10 employees, it's probably too big. Buys wine faster than he drinks it, but who cares?
---
It pays to subscribe!
We will send you a brief email whenever there's a new post, so you'll never miss an article. We promise not to be a pest. Unsubscribe any time you like. And, of course, we won't let ANYONE else use our subscriber list. By subscribing, you agree to our
Privacy Policy
.
So go ahead,
click here to SUBSCRIBE
!