Have you ever thought about how a story of a vineyard shapes our wine tasting experiences? When you know about the certain story behind something you are interested; you are more likely to enjoy it. That applies the wine as well. Wine is a personal journey after all and what we figure, discover and learn in the process can highly affect our perceptions.
I'm going to tell you the story of a family vineyard located in Gallipoli Peninsula, Turkey and how their wines reflect the characteristics of its historical geography. Gallipoli was a battlefield in World War I and faced countless scenes. That's why it has a significant matter in history. Furthermore, such a historical place now has vineyards in that area and is building a future for the next generations while keeping the history in its heart. Suvla is the name of a bay on the coast there. Some product labels too were named after the places in the region; as Kabatepe, Kilitbahir and Behramlı. Grapes grown in a special terroir carry the very characteristics of the region onto the wine.
Suvla Wines was founded by a visionary Turkish couple Pınar-Selim Ellialtı aiming to create value. Selim Ellialtı decided to invest in vineyards after working in the technology industry for a long time. He quit his job at Microsoft and focused on the wine business. His previous experiences in technology explains the strong technical infrastructure within the winery. His wife Pinar on the other hand is the visual side of Suvla, responsible for all the design work. They managed to create a brand from scratch despite the restrictions in Turkey; reaching large volumes but still keeping the quality.
The vineyard being surrounded by pine trees and a salty air was established in 2003 in Dardanelles on the Peninsula of Gallipoli. At the first harvest, it was named after their new-born son Bozok. Vineyards and he have been growing together. Soil, climate, hard work and love have been involved; Suvla Wines launched in 2012 and rapidly became a strong brand. Today it has 3 million bottling capacity, organic certifications and 400+ worldwide awards. Also, wines have been exported to multiple countries so far, and there are offices of Suvla in Germany and Canada besides Turkey.
Suvla has a wide range of grapes. International varieties are Chardonnay, Sauvignon Blanc, Roussanne, Marsanne, Semillon, Viognier, Cabernet Sauvignon, Merlot, Syrah, Cabernet Franc, Petit Verdot, Grenache Noir, Pinot Noir. Kınalı Yapıncak and Karasakız are indigenous varieties peculiar to the region. Emir, Narince, Misket, Öküzgözü, Boğazkere, Kalecik Karası and Papaskarası are the other local varieties. Suvla Wines offers different categories from indigeneous and international series to reserve and grand reserve series.
But what makes these wines so special?
Organic vineyards, strong technical know-how, high winery standards like gravity-flow processing, a dedicated team… At the end of the day, it's this total effort from soil to bottle, that makes the wine valuable. Vineyards were set under the certification of 'Good Agriculture Practice-GAP' at the beginning; then they were switched to organic certification by 2013. There are no chemicals used in the production and all the grapes are being processed meticulously. Then they are being categorized based on their potential and the series are created.
Suvla has a second brand: Kilye. Pınar and Selim Ellialtı started this brand to produce natural products for their son. Kilye now offers healthy boutique products on a larger scale. Olives, tomato paste, tahini, molasses, marmalades, crackers… Especially "The Natural Extra Virgin/Raw Oil" has an extraordinary process in traditional granite stone mills. After the olive is picked by hand and crushed in a stone press; it is separated from its lees and rests in the stainless steel tanks without any process. So the original taste is kept. Natural and healthy Kilye products could be a quite good match to your cheese platters well.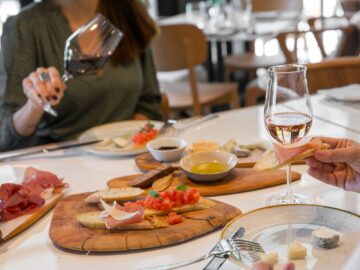 Suvla also owns its restaurants and wine bars offering fine dining beside their wines; and periodically organizing wine tasting events there. So people can pair wine with a variety of foods and enhance their wine tasting experience in an elegant atmosphere. Either at the garden of the winery in Çanakkale or at the terrace of the bistro wine bar in Istanbul, every guest could feel themselves home and have pleasurable moments with their loved ones. That way, they can perceive Suvla as a whole and enjoy the wines much better.
If you get familiar with the story behind the wine you drink; this is where wine tasting becomes an experience, rather than sipping liquid from the wine glass. The story of Suvla begins with motivated people, passion and enthusiasm; then meets with us in the glasses after its journey, and of course in our minds.
Cheers!
---
About the Author
: Beril is a Management Engineer who is passionate about wine and interested in culinary arts. Besides, she loves dancing and travelling. Currently living in Istanbul, Turkey. She has a food blog where she shares recipes with her own style. You can find her blog at Berylicious.com.
---
It pays to subscribe!
We will send you a brief email whenever there's a new post, so you'll never miss an article. We promise not to be a pest. Unsubscribe any time you like. And, of course, we won't let ANYONE else use our subscriber list. By subscribing, you agree to our
Privacy Policy
.
So go ahead,
click here to SUBSCRIBE
!