With the current lock-downs, we can't visit our local wineries. What to do? Why learn about wineries thousands of miles away, of course! Here, we taste and learn about the Stintzi Winery in the Alsace.
We are frequent attendees at APVSA, both face-to-face and virtually. The APVSA promotes European wineries that would like better visibility in the United States. Following a recent virtual event, we were contacted by Olivier Stintzi, owner/winemaker at Stintzi Winery. He offered a virtual tasting to introduce his Alsace wines. Who could say no to such a gracious offer? Soon, a shipping box filled with lovely wine bottles as on our doorstep. A tasting was at hand!
Of course, we first tasted the 2015 Crémant d'Alsace Brut. We can't ignore a beautiful bubbly! This lovely sparkling combines 85% Pinot Auxerrois, 5% Chardonnay, and 10% Reisling. We were lured in by aromas of honey and citrus, which led to wonderful, round and mellow flavors of apples,  cinnamon, and almonds and just a hint of grapefruit, allspice, and cedar on the finish. A very judicious balance of dry and sweet, this could pair with most appetizers (we snacked on butter crackers and soft cheese) or desserts (chocolate cheesecake would be well worth a try). The exceptionally small (but plentiful) bubbles contributed to a luxurious mouth feel. This tasting was off to a great start!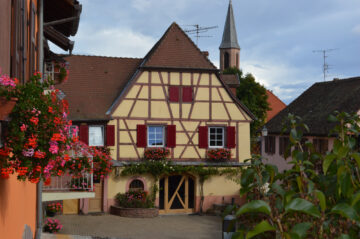 We then tasting the 2018 Riesling. We read that this wine was made from 100% Riesling fruit that was hand harvested and tank aged for 9 months. We were immediately drawn to the aromas of kiwi and slate wafting from the glass, and the flavors did not disappoint. We find many Rieslings to be a bit too sweet, but this wine delivered great fruit without cloying sweetness nor overpowering buttery notes. We found it dry and crisp, with slightly tart peach, apricot and kiwi notes. The front of our mouths were enthralled! We imagined ourselves sipping through this gentle and drinkable Riesling beside the pool all summer long. Next up was the 2019 Pinot Blanc. To be honest, we spent quite a long time just enjoying the aromas. Imagine that a candy apple and a lemon had a baby and bathed it in jasmine and rose water. The wine had a smooth and sinewy mouth feel, supple and vibrant, fruit forward with vanilla floating across the tongue. The long finish featured citrus and slate notes. This was a delight in every way. The 2018 Pinot Gris was another happy encounter. Leading with floral aromas backed by hints of citrus and green apple, this was very much summer in a glass. The flavors started softly, pleasantly sweet with cherry blossom, kumquat and mango notes. The finish hinted of apple cider and peach.
We were very excited to taste the 2019 Gewurztraminer because that was our first reference for the Alsace region. The Stintzi Gewurztraminer did not disappoint! Perfect for a sunny afternoon (or a rainy one, for that matter) the wine's aroma of rose petals and even a bit of sea breeze prepared us for an adventurous tasting. The flavors transitioned from peach to apricot notes, with fresh raspberry in the center of the tongue, ending with orange zest and mango. We found it to be complex and alluring; somewhat sweet but not at all cloying, with a faintly tart final note. We kept coming back for another sip! The 2019 Pinot Noir was our final taste. The nose was an attractive mix of dark plum, chocolate, and a bit of distant hickory smoke without the funk that can sometimes come with a Pinot Noir. The plum theme continued into the velvety tasting, with restrained tannins and nicely balanced acid on the finish. We thought that this wine would stand up well to a pasta bolognese or possibly a BBQ tri-tip.
The tasting was wonderful, but even more wonderful was the opportunity to learn more about the Stintzi Winery from owner/winemaker Olivier Stintzi. With travel completely locked down because of Covid-19, we used email to discuss that past, present, and future of the winery.
1) How did you get into the wine business? Did you expect to be a winemaker from an early age? How did you settle in where you did?
As a child I was always hanging around with my dad and grand father; in the cellar, in the vines or sitting on a tractor! We used to live above the wine cellar of my family which was already in the wine business since the 1950's.
When I turned 16 years old I decided to attend a specific school to get a wine education program but without being very sure it would then become a passion for me… I understood it would be my vocation when I was finally able to taste the wines!
Still watching over the work of my father I little by little could start to see the results of his job: how to read the wines and how to understand the producing of them but still without being able to control everything… a big challenge!
In 2000 I decided to travel to the US in order to discover another way of working in the wine business : I was then employed 4 months in Rutherford (Napa Valley) which was a fantastic experience for me! I finally came back  to Alsace and decided to take over the family property in Husseren-les-Châteaux.
2) Are there other winemakers who helped you along the way?
As mentioned before I was helped by my  family: my grand father started the wine business right after the war and my father took over it in the 1970's. He's always been encouraging me in doing what he used to do and giving me a chance "to try". Even nowadays he is 75 years old but still helping me in the cellar and particularly in the vines.
Most of the wineries in Alsace are on an average size: that means that you have to do a lot yourself and if possible to be good in doing everything :
to produce good quality grapes including the control of the diseases, the work of the ground and the mechanic (to repair the tractors, how to use the tools and the different equipment.. ),
to drive a company with compatibility, bank coordination, administration and paperwork…
to take care of the marketing and the sales of the production.
 As a winemaker there is no secret on making wine! In the village where I live there are around 12 wineries over only 500 inhabitants! With the other wine makers we consider ourselves as colleagues:  we help each other and also have fun together even if we remain kind of competitors as well.
3) Are there particular regional styles that influence your work?
As running into Alsace AOC  appellation, we have to respect the rules of producing of course ( grape varieties, yields, declarations, wine quality, etc.)
4) What are your favorite varietals? Do you prefer to create "pure varietal" wines or blends?
For me the Riesling is a very interesting wine: a good freshness with a nice acidity, pure and elegant aromas. It's a wine full of life, that you can keep for some of them many years (10/12 years and even more sometimes!)
5) Are there any emerging wine trends that interest you? Any changes in what your customers ask for when they come in?
People want to have good wine in their glass but they also want to be sure that it has been made on the right way: respectful of the environment and the ecology. We always took good care of the way to make the vines grow because the earth is unique (it's as if you would not maintain your car: one day it will brake down!) We also decided to go into organic production since 2019  (there is 3 years into converting), and we also got the certification HVE (High environment value).
6) Although it is very early to say, how is your most recent harvest working out? Any stand-outs that are really exciting you?
The last harvest (vintage 2020) was very great for a winemaker (perfectly healthy, a good maturity, and a good level of acidity). We were able to select our juice during the press and we had a very nice balance even on the wines that had a very high maturity (over 15 % alcohol). According to me the Pinot noir is very exciting: a great color, soft and integrated tannins already, the alcohol level (14.5 %) gives power and a great after taste!
7) What's something exciting or unique about your winery that you would love for our readers to know?
The town from our winery  is located on the highest point from the "Route des Vins d'Alsace" (wine road of Alsace). Every morning when we drive to our fields I can admire the Rhein Valley up to Germany and sometimes even to the Swiss Alps. I think there is no better office !
8) How is your winery handling our "shelter in place" situation?
I can not say that the period was very easy as we used to work a lot with tourist groups  coming from France, European countries but also from the US : they come to visit us and buy some wine directly in our cellar. Fortunately we can deliver wine almost everywhere in the world and our customers who could not get wine during the year ordered some and got it delivered to their living place.
We were also looking to increase our market in new countries like the US but the Covid19 made the situation more difficult to meet people: some of them are waiting that the storm goes through. I think that when the situation will be better people will "enjoy life" and reach back the time they lost. We don't have to miss this and have to be ready for it !
9)  Where can we find you, how can our readers connect with you?
Here is our email to contact us : olivier.stintzi@wanadoo.fr.
People can also follow us on our Facebook page : "Domaine Stintzi, Vins et Crémants d'Alsace"
With great thanks to Olivier Stintzi, we raise our glasses to wish all the best for Olivier, his family, and his winery as the world soon recovers from our current challenges. cheers!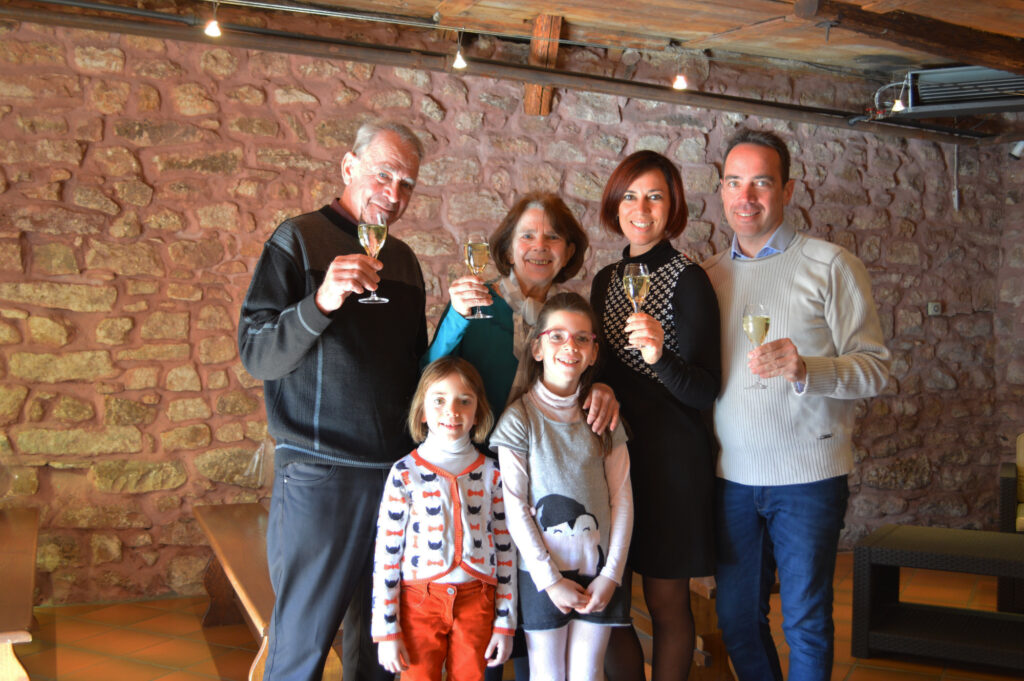 ---
About the Author
: John grills a mean steak and is always in the market for another wine fridge. Believes that if a winery has more than 10 employees, it's probably too big. Buys wine faster than he drinks it, but who cares?
---
It pays to subscribe!
We will send you a brief email whenever there's a new post, so you'll never miss an article. We promise not to be a pest. Unsubscribe any time you like. And, of course, we won't let ANYONE else use our subscriber list. By subscribing, you agree to our
Privacy Policy
.
So go ahead,
click here to SUBSCRIBE
!