Hawaii is known for sun, sand, and surf. During our recent visit to the Big Island, we added a fun new experience to our visit to the Kīlauea volcano, a tasting at Volcano Winery!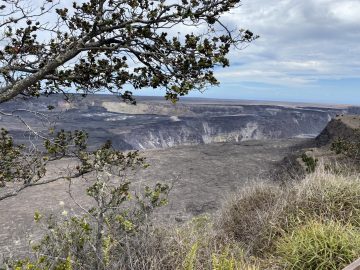 We love visiting the Big Island but our intended visit was severely delayed by Covid restrictions. Finally travel was possible once again and we leapt through all of the hoops to document our health so that we could avoid a two week on-island quarantine. Once we were settled in and had spent enough time snorkeling to be on a first-name basis with the tropical fish, it was time to roam a bit further away from our home base in Kailua-Kona. We decided to check out Volcano National Park. We have visited the volcano quite a few times over the years. Our most memorable visit was years ago during an active lava flow, when our son noticed that the Park Ranger's boots were gradually melting into the crusted lava that was crossing the road. On this visit, however, the volcano was completely dormant, to the point that a small lake was forming in the lowest point of the caldera. After we soaked in all of the scenery, we drove a few miles to  Volcano Winery, the southernmost winery in the United States.
The winery was at the end of a winding, rural road (although to be honest, most Big Island roads are pretty rural compared to Northern California) but featured a generous parking lot where we easily found a spot. We got out of the car and were immediately surrounded by the familiar sights of a winery that could be found anywhere in the world: manicured rows of grape vines leading off into the distance, outdoor tables hosting happy wine lovers enjoying bottle service, and a tasting room featuring big windows and rich woods. We went into the building and checked in with the desk, confirming our arrival for our reservation. After being warmly welcomed by the staff, we were led to a private table for our tasting. Hawaii is not a traditional locale for growing wine grapes, so we were quite intrigued with how Volcano Winery approached their climate challenges. It was time to explore some unique wines.
We settled in at our table and looked around the tasting room full of sunshine yellow walls, blonde woods, and happy wine lovers. This was definitely a must-see spot for all of the local residents. It seemed that most of the people in the tasting room knew each other. Shortly, we met wine guide and winery manager Lani, who immediately made us feel like family. She was a wonderful wine guide for us, as her enthusiasm and passion for their wine program was contagious. She told us that we would be tasting wine made from locally grown grapes, grapes brought in from Northern California, and other non-grape fruits and berries grown locally. So much variety and uniqueness to be explored in this tasting flight, we were intrigued!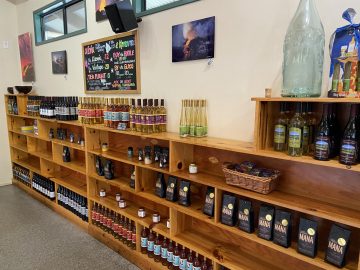 Our first taste was their Symphony Dry. Lani told us that this was made from the Symphony grape, which is a UC Davis cross of Muscat of Alexandria and Grenache Gris. This grape is quite hardy and can stand up to the heat and humidity of Hawaii and does not require a cool winter. Lani said that they can get three harvests a year as a result! We enjoyed the lush fruit and festive aromas and the crisp finish of this unique wine. Lani next poured their Volcano Winery Estate Cayuga White. The Cayuga grape is a hybrid of the Seyval Blanc grape which was created at Cornell University. It flourishes in the cooler climate found in the higher elevations of the Big Island. We loved the light citrus and vanilla notes with just a hint of apricot.  We then tasted their Pinot Noir. We learned that the fruit is grown in Northern California, flash frozen, and air freighted to the Volcano Winery. The grapes are mostly thawed by the time they are received, and go directly into the press for extraction and fermentation. This was another special wine, quite different than the Pinots of Sonoma or Paso Robles. Coming in at 12.5% ABV, the fruit really shines through with a bit of smoke, with the sharp spice and tannins that we normally expect.
Next up was their Volcano Red, a blend of  70% Burgundy, 15 % Symphony, and 15% Jaboticaba berries. Lani said that the Jabotica berries are now native to the area, having been brought to Hawaii originally by the Portuguese. We were fascinated by the aromas of cherry and Red Vines candy, and the slightly sweet (about 3% residual sugar) and wonderful flavors of cranberry and cherry. We then tasted their Symphony Mele. We learned that "Mele" is the Hawaiian word for soft, and this wine certainly lived up to its name. The silky, honey mouthfeel and layers of peach, apricot and kumquat across the tongue made this a languorous sipper of a wine; perfect for equally gentle foods.
Lani next poured their Volcano Blush, which she described as, "Momma's Capri Sun" because of its drinkability. A blend of 70% Symphony and 30% Jaboticaba berries, this wine is somewhat sweet and very fruity. A wine that can definitely get you in trouble as you suddenly discover that the bottle is empty! A wine that can make friends in any situation. Our next taste was something completely different: their Hawaiian Guava-Grape wine. Made from 40% Symphony grapes and 60 whole guava fruit, we thought that this could easily replace Mimosas at breakfast! Smooth and buttery, with a honeysuckle finish, we imagined this wine with Eggs Benedict on a Sunday morning.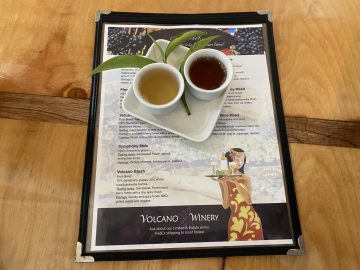 We then tasted two Mead drinks. First was their Macadamia Nut Honey Mead. Made from locally sourced honey, this mid-sweet Mead let the honey show through. Their Infusion Tea Wine Mead infused their macadamia nut honey with black tea leaves to produce a lovely, caffeinated dessert wine. Lani wrapped up our tasting flight with a lovely tea service, displaying some of the Japanese tea grown on the estate. What a lovely was to finish an exploration of Volcano Winery's diverse and unique offerings! We made the difficult decisions as to which wines to purchase, since we didn't have capacity to bring any wine back to California. Then we thanked Lani and set off on the long winding road back to Kailua-Kona, our home away from home.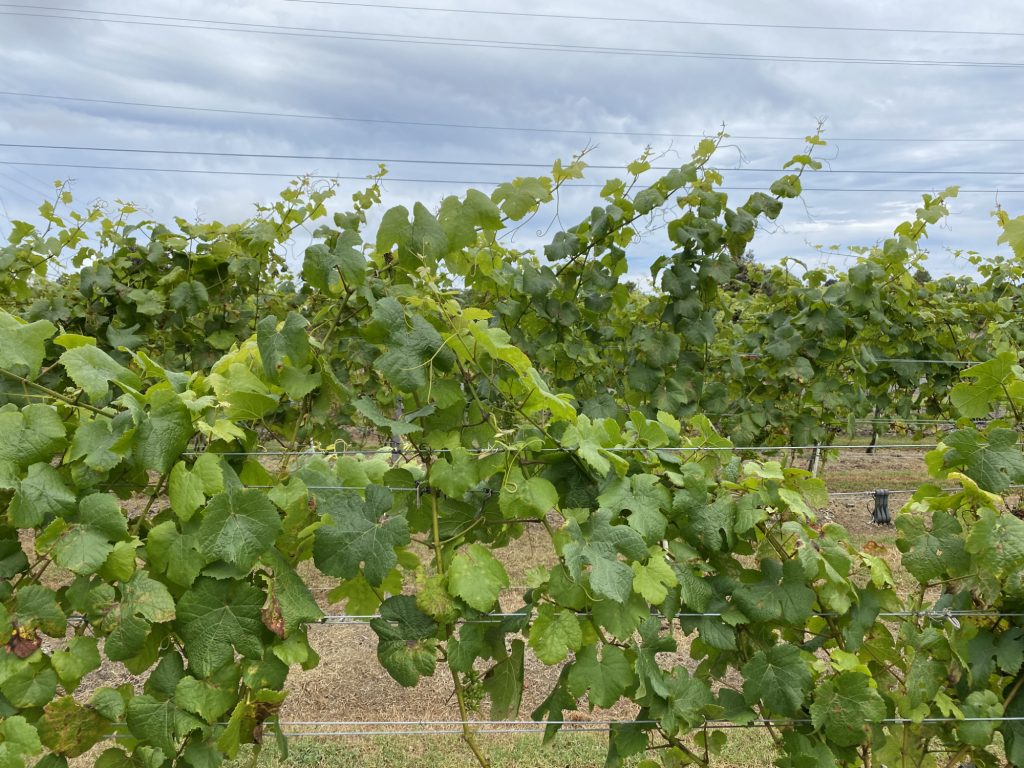 ---
About the Author
: John grills a mean steak and is always in the market for another wine fridge. Believes that if a winery has more than 10 employees, it's probably too big. Buys wine faster than he drinks it, but who cares?
---
It pays to subscribe!
We will send you a brief email whenever there's a new post, so you'll never miss an article. We promise not to be a pest. Unsubscribe any time you like. And, of course, we won't let ANYONE else use our subscriber list. By subscribing, you agree to our
Privacy Policy
.
So go ahead,
click here to SUBSCRIBE
!